Foods to keep you awake
Can't stay awake? Lift yourself up with these energy-boosting snacks, drinks and light meals, packed with seeds, nuts, protein and fruit.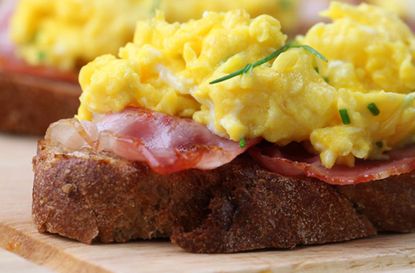 (Image credit: Future)
Can't stay awake? Lift yourself up with these energy-boosting snacks, drinks and light meals, packed with seeds, nuts, protein and fruit.
Feeling tired? Lift yourself up with these energy-boosting snacks, drinks and light meals packed with plenty of protein and slow-energy releasing carbs which are sure to lift the spirits.
Everyone gets tired every now and then and sometimes we need a quick boost of energy to get by. One way of getting an energy boost is through eating. Some foods are bursting with energy and are the perfect choice when you're feeling drowsy but still have a long day ahead of you.
A sip of coffee, a bowlful of walnuts or even a bite of dark chocolate can give you that well needed boost. We've even suggested some recipe ideas for each food too just in case you fancy getting creative.
Click through to see all of our foods that are sure to keep you awake…
Seeds
Avoid the mid-morning slump with these muffins packed with dried fruit, honey and berries but most importantly, seeds which are full of protein which will give you a slow-release of energy.
Try seeds in this recipe: Breakfast muffins
Spicy foods
Feeling tired? Spice up your day with curry, chilli or our peanut chicken. Either way, spicy food is a great way to give your energy a boost, that's if you can take the spice of course!
Try our spicy recipes like this: Spicy peanut chicken
Banana
Give yourself a new lease of life by whipping up a delicious fruit smoothie. Make sure you've got some banana in the mix as it's packed full of natural sugars which take longer to metabolize than the processed sugars you'll find in chocolates and sweets.
Try banana in this recipe: Pomegranate, raspberry and banana smoothie
Egg
Treat yourself to a tasty high-energy breakfast thanks to the egg and bacon combo. Serve on wholemeal toast for an extra boost.
Try eggs in this recipe: Cheesey scrambled egg with bacon
Walnuts
Did you know that walnuts have the most omega-3 concentration of any nut? This makes them a great energy builder during the day, whether its a handful or a whole tart!
Try walnuts in this recipe: Walnut and honey tart
Coffee
Need a quick boost? Coffee is the answer! We don't recommend relying on coffee every day or in the afternoons but the caffeine in coffee is a quick fix that's sure to make you more alert and focused.
Try coffee in this recipe: Maple coffee
Beans
Beans are bursting with B vitamins, protein and complex carbohydrates which means they'll sustain your energy throughout the day.
Try beans in this recipe: Summer white bean salad
Homemade cereal
Make your own granola with oats, seeds, berries, dried fruit and heaps and heaps of nuts which are ideal for boosting those energy levels and feel perky from the word 'Go'!
Make your own cereal with this recipe: Granola
Citrus fruits
Zingy, colourful and super-healthy, you'll feel wide awake after a few gulps of this super-juice especially thanks to the fresh orange juice and pith which are bursting with energy-boosting Vitamin C.
Try citrus fruits in this recipe: Orange, ginger and mango breakfast juice
Salmon
Tired and hungry? This high-energy frittata will fill you up without any post-dinner sluggishness. The omega-3 fatty acids from the fish will help too.
Try salmon in this recipe: Smoked salmon and broccoli frittata
Oats
Swap a chocolate quick-fix for these oaty snacks with ripe bananas, seeds, golden syrup and dried apricots.
Try oats in this recipe: Banana and three-seed energy bars
Dark chocolate
Did you know that dark chocolate is an energy-booster? Well, the darker the chocolate the better - the highest cacao concentration possible. Not only is dark chocolate full of energy, it's a stress releasing food too. Our dark chocolate mousse takes it one step further and adds coffee to the mix.
Try dark chocolate in this recipe: Dark chocolate mocha mousse
Where to next?
Trusted, informative, and empathetic – GoodTo is the ultimate online destination for mums. Established in 2007, our 15-year-strong archive of content includes more than 18,000 articles, 1,500 how-to videos, and 7,000 recipes.