Our 11 best vegetarian lasagne recipes
Who needs meat? We've got 11 delicious and easy vegetarian lasagne recipes the whole family will love...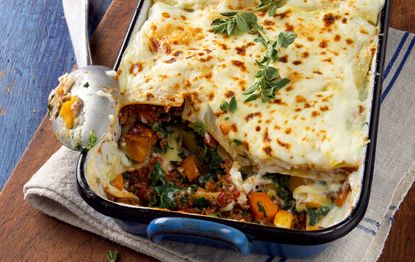 (Image credit: Future)
Here are some of our best healthy vegetarian lasagne recipes, including open lasagne, Mary Berry lasagne, and many more.
It's always worth having a box of lasagne sheets in your cupboard - there are so many recipes you can make with this store-cupboard staple. Classic lasagne may involve beef, but whether you're vegetarian or just looking to cut down on the amount of meat in your family's diet, we've got loads of recipes which are just as delicious as the meatier versions.
When you've got vegetarian friends coming round for dinner, sometimes it's tricky to think of a recipe that will please both the veggies and the carnivores. Mary Berry's delicious butternut squash lasagne and our hearty wild mushroom lasagne are both impressive-looking dishes that will keep everyone happy.
All of our top vegetarian lasagne recipes are packed with nutritious veggies like mushrooms, spinach and squash and make delicious alternatives to classic meat lasagne.
Vegetarian lasagne recipes
1. Antipasti open lasagne
This delicious open lasagne is made with olives, pesto, peppers and artichoke. Full of flavour and super easy to make, this delicious lasagne is a vegetarian favourite.
Get the recipe: Antipasti open lasagne (opens in new tab)
2. Mary Berry's butternut squash lasagne
The Berry's butternut squash lasagne is a must-have recipe for entertaining vegetarian friends and family. Look out for frozen squash chunks in the supermarket, they're a great time saver.
3. Mushroom, pesto and spinach lasagne
This lasagne has a deeply savoury, satisfying flavour from the mushrooms and pesto, and it's packed with nutrient-rich spinach to boot.
4. Dairy and gluten-free vegetable lasagne
If you or a loved one has a gluten or lactose intolerance, you probably think lasagne's off the menu. Not with our clever dairy- and gluten-free recipe. Hurrah!
5. Courgette lasagne
Looking for a novel way to use up courgettes? Layer them up in this simple lasagne - if you don't have a mandolin, slice them lengthways using a y-shaped vegetable peeler instead.
6. Fast mixed vegetable lasagne
Looking for a lasagne recipe that's ready in under half an hour? Thanks to a few clever shortcuts, this mixed veg lasagne will be on the dinner table in next to no time.
7. Quorn, squash and spinach lasagne
If the family's missing mince, sneak some Quorn into their favourite lasagne. With the delicious, sweet squash and filling spinach in this recipe they'll forget all about meat. This lasagne is one of our favourite low calorie vegetarian meals (opens in new tab).
8. Wild mushroom lasagne
It takes only 20 mins to prep this mouth-watering wild mushroom lasagne. This recipe shows you how to make a classic white sauce for your homemade lasagne and is packed with a variety of mushrooms, including porcini.
Get the recipe: Wild mushroom lasagne (opens in new tab)
9. Spinach and corn lasagne
The sweet-tasting corn and creamy spinach combine to make a delicious filling in this easy recipe. We love that seriously golden and crunchy topping, too.
10. Cheddar tortilla lasagne
For a fun change from pasta sheets, try making your vegetarian lasagne using tortillas. It saves time as you don't need to pre-cook them before putting the dish in the oven.
11. Roasted root vegetable lasagne
Root veggies like carrots and parsnips are full of nutrients and really filling to boot - try them in this flavour-packed lasagne recipe.