The Great British Bake Off 2013: the technical challenges
If you are anything like us you will be keen to try your hand at whatever the The Great Bake Off contestants have been up to each week. Here is a collection of the recipes they have been making.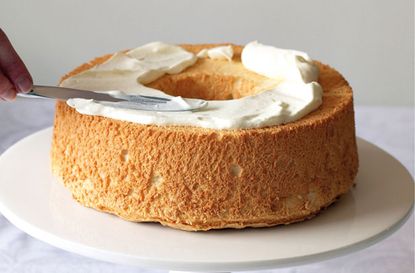 If you are anything like us you will be keen to try your hand at whatever the The Great Bake Off contestants have been up to each week. Here is a collection of the recipes they have been making.
Great British technical challenges
If you're anything like us you'll be keen to try your hand at whatever the The Great Bake Off contestants have been up to each week. We're expecting the usual complicated cakes and bakes and are looking forward to whatever surprises Mary and Paul have up their sleeve too!
Each week, as soon as we know, we will let you into the technical secrets from each episode so that you can impress friends and family with your baking skills. We will even promise to try and bring you these lovely recipes before the show is on because we think that these recipes could help a more serious problem - food envy! We all get it but by baking ahead, no longer will you be drooling over your TV screens on a Tuesday night! Tuck into your home baked goodies from the comfort of your sofa while watching the Bake Off contestants sweat it out under the watchful eye of those stern judges.
We always try to make our recipes as simple to follow as possible so that even if you aren't the world's most precise baker you will be able to produce beautiful and, more importantly, delicious bread, buns, cakes, pies and whatever else the Bake Off comes up with!
Crazy about Bake Off? Vote for it to win in the TV Times Awards 2013. All voters can enter a draw to win a new TV and John Lewis vouchers.
Angel food cake
Week 1: Cake round
We can see why this bake is called angel food cake. Deliciously light and moreish, the recipe uses egg whites and a folding technique to help keep the texture light and fluffy. Try topping it with your favourite buttercream or any other alternative, as the delicious vanilla flavoured sponge is the perfect base for any icing. Baked in a ring mould, this tea party favourite is the ideal centerpiece for any celebration or occasion. We think it looks great topped with white icing and lots of red berries.
Get the recipe: Angel food cake
English muffins
Week 2: Bread round
Warm and buttery muffins are a weekend must, but have you ever made your own? You won't believe how simple they are to whip up for breakfast and will be a sure hit with the whole family. We like ours warm, straight from the pan, topped with lots of butter and homemade jam for a real treat. They're equally as good toasted if you are eating them the day after making. Try using them as the base for cheese on toast or the perfect child-sized pizza bases as a little meal in themselves.
Get the recipe: English muffins
Floating meringue islands
Week 3: Desserts
These soft and fluffy meringues are kept soft by poaching them instead of the usual baking. We love the combination of sweet, sticky caramel sauce, smooth and creamy custard with the floating meringues made out of light egg whites. We think this is a great dessert to impress friends or family with. You can make the custard ahead of time and simply warm it through when you are ready to poach your meringues meaning it's not only a delicious dessert but also a quick one too!
Get the recipe: Floating meringue islands
Custard tarts
Week 4: Pies and tarts
With a smooth and sweet centre these little tarts are a classic for a reason. The soft and creamy custard filling and crisp, buttery pastry shell combines the perfect mix of favours and textures. They can also easily be turned into an impressive dessert with very little work. Try topping them with colourful berries and a little sprinkle of icing sugar or covering them in curls of different coloured chocolate.
Get the recipe: Custard tarts
Tuile biscuits
Week 5: Biscuits and traybakes
These delicate, crunchy little biscuits are a traditional French recipe and make a wonderfully sweet addition to any dessert. We like ours to posh up even a simple bowl of ice cream or popped by the side of a chocolate mousse to add texture. They are extremely soft and fragile when they come out of the oven but this also means they can be moulded into lovely curly shapes easily.
Get the recipe: Tuile biscuits
Where to next? More recipes from The Great British Bake Off
Our favourite naughty Bake Off innuendos
-->
Choux pastry religieuse
Week 7: Pastry
Religieuse is a classic pastry recipe which means 'nun' in French, as they were originally thought to resemble a nun in a habit. Looking past the slightly odd connotations of eating a nun these little choux pastry buns are absolutely delicious. The light and airy cases hold a rich and smooth custard and the chocolate topping adds a richness.
Get the recipe: Choux pastry religieuse
Pretzel
The final!
Paul wasn't about to let the final 3 off with an easy challenge for the final round! His infamous pretzels aren't the hardest thing to make but he expects perfection from the remaining bakers. Our easy pretzel recipe will produce results even the Bake Off judges would be pleased with. Soft, a little bit chewy and covered in flavour, these pretzels are a tasty new bake to try.
Rosie is an experienced food and drinks journalist who has spent over a decade writing about restaurants, cookery, and foodie products. Previously Content Editor at Goodto.com and Digital Food Editor on Woman&Home, Rosie is well used to covering everything from food news through to taste tests. Now, as well as heading up the team at SquareMeal - the UK's leading guide to restaurants and bars - she also runs a wedding floristry business in Scotland called Lavender and Rose.