This genius dryer trick will save you hours of ironing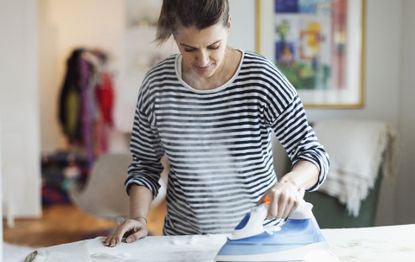 (Image credit: Getty Images/Maskot)
Keeping the house clean and tidy and staying on top of chores and errands, while taking care of the kids is not an easy feat.
But internet users have discovered a genius hack to make your household chores a little quicker and easier by cutting down on your ironing time.
You can get freshly washed and creaseless clothes without spending hours standing and carrying out the mundane chore, and with this trick there's not an iron or ironing board in sight.
All you need is a working tumble dryer and a handful of ice. Yes, really!
Just pop your clothes in the tumble dryer and place a few cubes of ice inside along with them. Then set the dryer on a high heat setting for a few minutes and let it do its magic.
When you take the clothes out they should be crease free and look freshly ironed.
Mrs Hinch's best cleaning tips (opens in new tab) Cleaning hacks for every part of your home (opens in new tab) How often you should be washing your bedding (opens in new tab)
It might sound unbelievable but it actually creates the same effect as a clothes steamer does, as when the high heat melts the ice into water it then causes the water to turn into, essentially steaming your clothes.
Countless videos across the internet have proved the effect of the ironless ironing hack, with users recommending that you don't overfill the dryer and only out in a few items of clothing at a time.
If you've run out of ice and don't have time to wait for the ice cube tray to freeze, spray a bit of water over the clothes so that they are slightly damp, especially where there are any big creases, and then pop it in the dryer and it should have the same effect.
If you don't have time to get the dryer running and need a quick crease-buster, try hanging up your clothes and using your hairdryer to ease the creases out.
Dampen the creases a little and uses the straight attachment on the hairdryer to make sure the hot air comes out in a concentrated line.
Happy cleaning!
Aleesha Badkar is a lifestyle writer who specialises in health, beauty - and the royals. After completing her MA in Magazine Journalism at the City, the University of London in 2017, she interned at Women's Health, Stylist, and Harper's Bazaar, creating features and news pieces on health, beauty, and fitness, wellbeing, and food. She loves to practice what she preaches in her everyday life with copious amounts of herbal tea, Pilates, and hyaluronic acid.