How to get cheap cinema tickets, including the Martin Lewis-approved hack for bagging 2 for 1 tickets
Wondering how to get cheap cinema tickets? Take a look at these handy tips and tricks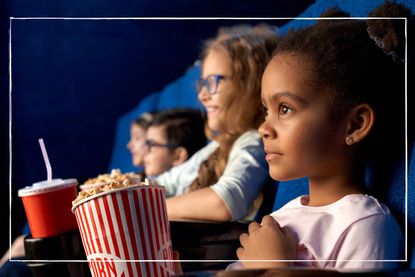 (Image credit: Getty Images)
Knowing how to get cheap cinema tickets can allow you and your family to continue to enjoy the latest movie releases without worrying about the impact it's having on your bank balance.
Understanding how to save money (opens in new tab) is key at a time when household budgets remain under pressure and families scramble to figure out how to cut household bills (opens in new tab).
Trips to the cinema, or even paying for streaming services like Netflix, can feel like a luxury we simply can't afford right now. But fortunately there are ways to save money on Netflix, Amazon and Disney Plus (opens in new tab) and tricks you can use to cut the cost of a cinema trip too.
Money expert at ABC Finance, Gary Hemming (opens in new tab), told us: "The cinema is a great way to relax, but with the cost of living rising rapidly, the cost is prohibitive for many. We're all having to look for ways to reduce costs without severely impacting our lifestyle and the cinema is an activity that has scope to save big when you take the time to look for savings."
How to get cheap cinema tickets
1. Go on specific days or at certain times
Getting your timing right can make a big difference to the price you pay for cinema tickets. Money expert Gary Hemming says: "Check your local cinema's peak and off-peak schedule – you'll usually find that weekends are peak time and weekdays off peak, though the rules vary between cinemas. Off-peak rates are often significantly cheaper and can mean big savings."
Empire Cinemas also offers Sav£rday Tuesday (opens in new tab) with cheaper tickets on a Tuesday, while Odeon cinemas offer Saver tickets (opens in new tab) on selected showings Tuesday to Sunday and all day on Member Mondays. Prices start from £6 and you'll need to sign up to myOdeon to qualify, but you can do this for free.
2. Wait until films have been out for a while
If you can wait a few weeks before you see a newly released film, you might be able to nab some cheaper tickets.
Founder of The Pay at Home Parent, Trinity Owen (opens in new tab), explains: "As a film's popularity declines, the cost of tickets may also decrease. This can be a great way to save money, especially if you're not too concerned about seeing a film as soon as it's released."
3. Grab 2 for 1 tickets
If you buy a product such as home or travel insurance through comparison site Compare The Market, you'll qualify for Meerkat Movies (opens in new tab). This gives you 2 for 1 cinema tickets on a Tuesday or Wednesday for a whole year.
Even if you don't actually need an insurance policy right now, there is a trick you can use to still take advantage of the offer. Money Saving Expert's Martin Lewis suggests buying a cheap one-day UK travel insurance policy (that you won't use) and this will give you access to Meerkat Movies. The cheapest policy found on 9 January only cost £1.01 - not bad for a year's worth of 2 for 1 cinema tickets!
You might also be interested in our article on how much Martin Lewis is worth (opens in new tab).
Martin Lewis shares tip for saving big on cinema tickets by spending £1 https://t.co/6QA0U7l88zJanuary 13, 2023
See more
4. Check if you already qualify for cheap tickets
It's worth checking whether cheap cinema tickets is a perk of any other product or service you pay for.
Andrew Wayland (opens in new tab), chief marketing officer at Everyday Loans, explains: "Many mobile phone and broadband companies offer customers 2 for 1 or discounted cinema tickets as a customer reward – O2, Vodafone, Three and Virgin Media, for example – so check with your provider to see if you qualify."
Vodafone, for instance, offers two weekly Vue tickets for £7 through its VeryMe Rewards programme (opens in new tab), while Three customers can get one £3 adult cinema ticket for Cineworld each week to use Friday to Sunday.
O2 and Virgin Media broadband customers can also enjoy one free Odeon adult ticket each week. Codes are released via the O2 Priority app each Wednesday from 2pm, but you'll have to be quick as they get snapped up fast.
Alternatively, if you have Club Lloyds bank account (opens in new tab) you will be able to enjoy six free Odeon or Vue tickets a year. As long as you pay at least £1,500 a month into your account (rising to £2,000 from April), there's no fee. Otherwise you'll pay £3 a month.
You might also be able to get cheaper cinema tickets using your Tesco Clubcard vouchers (opens in new tab)!
5. Buy tickets through Groupon
Keep an eye on deals site Groupon (opens in new tab) or MyVoucherCodes (opens in new tab) as they regularly offer cheap cinema tickets. For example, at the time of writing, with Groupon you could get two tickets for Vue cinemas (opens in new tab) for £9 (£4.50 each), five tickets for £20 (£4 each) or 10 tickets for £38 (£3.80 each). Tickets can be used for 2D films at any Vue cinema across the UK until 14 March 2023.
We also had our first NYCU of 2023! 🎇@MartinSLewis shared deals to look out for, including:🚿Ways to save on water bills💊Why you may be entitled to a refund for NHS Prescriptions🎫And a cinema ticket deal not to miss!All info correct at time of broadcast#MartinLewis pic.twitter.com/LFxchaLYnkJanuary 12, 2023
See more
6. Invest in a membership
Buying a cinema membership will involve paying an upfront fee, but you'll receive free tickets in return. For example, a Picturehouse membership (opens in new tab) costs from £52 a year (more if you visit London cinemas) and you'll get five free tickets, plus discounts on food and drink.
Alternatively, if you're an avid cinema-goer, Odeon's myLimitless (opens in new tab) lets you see as many movies as you want each month. If you sign up to myLimitless before 31 January, you can get a 12-month membership for £110 instead of the usual £170 (prices are higher for West End cinemas).
7. Go with your kids
Many cinemas offer cheaper tickets for selected kids' screenings. With Cineworld Movies for Juniors (opens in new tab), for instance, tickets cost £2.50 for kids and accompanying adults on weekends and school holidays. Screenings won't usually be new releases, but there's also Premium Movies for Juniors which offers tickets from £5.50 and includes new films.
Vue also offers Mini Mornings (opens in new tab) where kids and adult tickets start from £2.49. Screenings are every weekend morning from 10am, plus every day in the school holidays.
What's the average price of a cinema ticket?
The average price for a cinema ticket was £7.52 in 2021, according to the UK Cinema Association (opens in new tab).
Founder of Movie Metropolis, Adam Brannon (opens in new tab) says: "In 2021, the average price of a UK cinema ticket rose to its highest level since records began. According to the UK Cinema Association, since 2000, the average price has risen from £4.40 to £7.52 meaning cash-strapped individuals are having to find more money than ever before to enjoy watching new films."
Prices across cinema chains can vary depending on their location and the day of your visit, but Vue and Cineworld often offer the cheapest tickets.
For example, to watch a 2D screening of Avatar at Vue Bedford, you can choose from the following ticket types:
Luxury recliner seats: £9.99
VIP seats: £7.99
Regular seats £6.49
Saver seats £5.49
Super saver seats: £4.99
Meanwhile, a 2D screening of Avatar at Cineworld Bedford would cost £5.99 for an adult and £5.99 for a child on a Saturday or Sunday.
What's the cheapest day to go to the cinema?
"The cheapest days to go to the cinema are usually Monday-Thursday, during off-peak times," says Gary Hemming of ABC Finance (opens in new tab). "Be careful though, as bank holidays are usually charged at weekend prices, meaning you will pay much more."
Ticket offers, including Meerkat Movies and Empire's Sav£rday Tuesday, tend to run on these days as they are less popular than Fridays and weekends.
Other ways to save on your cinema trip
However much you pay for your cinema ticket, you can make further savings by avoiding buying drinks and food from the cinema kiosk. These usually have a huge markup so eat before you go or find out whether you're allowed to bring in your own snacks. Some cinemas will allow this as long as it's not alcohol or hot food.
Adam Brannon of Movie Metropolis says: "Each cinema will have its own rules on whether you can take your own snacks, but this is a great way to save money. Brands like B&M and Home Bargains offer a huge variety of drinks and snacks, allowing you to save money before you even book your tickets."
Rachel is a freelance personal finance journalist who has been writing about everything from mortgages to car insurance for over a decade. Having previously worked at Shares Magazine, where she specialised in small-cap stocks, Rachel developed a passion for consumer finance and saving money when she moved to lovemoney.com (opens in new tab). She later spent more than 8 years as an editor at price comparison site MoneySuperMarket where she helped support the CRM programme, as well as the SEO and PR teams, often acting as spokesperson. Rachel went freelance in 2020, just as the pandemic hit, and has since written for numerous websites and national newspapers, including The Mail on Sunday, The Observer, The Sun and Forbes. She is passionate about helping consumers become more confident with their finances, giving them the tools they need to take control of their money and make savings. In her spare time, Rachel is a keen traveller and baker.