How to get free baby formula if you need it and can't afford it
We look at how to get free baby formula for parents and caregivers who are struggling with the high cost of living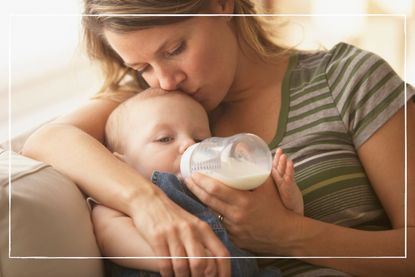 (Image credit: Getty Images)
With price hikes all around, many parents will be wondering how to get free baby formula as the high cost of living continues. Most parents, including those who are unable or choose not to breastfeed, will use baby formula at some point. But with the cost of raising a child on the up, rising baby formula costs can be incredible difficult for struggling parents to manage.
Data compiled by the British Pregnancy Advisory Service (BPAS) shows that the price of the cheapest brand of baby formula has increased by 22% over the past year.
Goodto.com's Money Editor Sarah Handley says: "Living costs have been so high for so long, that it's no wonder family budgets are so stretched. But for parents who are struggling with the cost of feeding their babies, this cost of living crisis must be completely heartbreaking."
If you are struggling with the rising cost of formula, we explain how you can get it for free.
How to get free baby formula
Some parents will be able to get free baby formula via something called the Healthy Start Scheme. This is a government initiative run by the NHS. To be eligible, you'll need to be on a low income and receiving a 'qualifying benefit' such as Universal Credit, income-based jobseeker's allowance, child tax credit or income support.
You can sign up to the Healthy Start Scheme when you're 10 weeks pregnant and use it until your child turns 4. You'll be sent a Healthy Start card with money on it that you can use in some UK shops. Money will be added to your card every four weeks.
You'll get £4.25 a week during pregnancy, then £8.50 a week for babies up to one-year-old, and £4.25 a week from when your child is aged one to four. You can only use your card to buy:
plain liquid cow's milk
fresh, frozen, and tinned fruit and vegetables
fresh, dried, and tinned pulses
infant formula milk based on cow's milk
Healthy Start vitamins
vitamin drops for babies and young children
Scotland has a different scheme called Best Start Foods which works via a prepaid card. You'll get £19.80 every four weeks during pregnancy, £39.60 every four weeks from your child being born up until they're one-year-old, then £19.80 every four weeks when your child is between the ages of one and three-years-old.
Rules around the sale of baby formula
There are specific laws governing the sale of baby formula and these mean that retailers aren't allowed to offer deals and discounts on baby formula. Parents are not allowed to use Boots Advantage Card points, Sainsbury's Nectar Points or Tesco Clubcard points to buy these products either.
The aim of the rules is to not undermine breastfeeding. However, there is no restriction on baby formula products being sold, as long as they comply with labelling and composition requirements.
All brands of baby milk meet the same nutritional standards and all infant formula is subject to strict legal guidelines regarding the composition and manufacture.
Can I get baby formula from a food bank?
Unfortunately, you can't normally get baby formula from a food bank. The largest networks – including the Trussell Trust and Fareshare – have policies in place which prevent their food banks from redistributing formula donations.
This is because they follow guidance from Unicef, which suggests giving out formula in these settings 'can inadvertently cause harm' as young babies could accidentally be given the wrong kind of formula by volunteers and staff. However, infant feeding charity Feed UK disagrees with this stance and says food banks should be able to accept and provide formula to families in need.
You might have more luck at a baby bank. These set-ups are like food banks but offer baby-specific items. Some baby banks don't accept donations of baby formula but they do buy it – and pass it on to families – using money from donations.
What should I do if I still can't afford baby formula?
If you can't afford to feed your baby, double check if you are claiming all the benefits you're entitled to (as well as receiving the benefit, you could also find yourself eligible for future cost of living payments from the government). You should also check whether you qualify for the Healthy Start Scheme. You might be able to get help from your local authority via the Household Support Fund or a crisis loan or grant.
Make sure you shop around for baby formula too – all formulae have the same nutritional standards but brands can vary in price. The BPAS says Mamia First Infant Milk is the cheapest infant formula on the market. It currently costs £9.39 for 900g from Aldi (£1.04 per 100g).
Formula comes in two different forms: a dry powder you make up with water, or a ready-to-feed liquid formula. Baby sleep and mother wellbeing expert, Emma Roberts of Dear Mama, said: "The powdered version works out much more cost effective compared to ready-made. Consider buying in bulk, you can often save a bit here." Which? found that for most baby formula milk powders, Asda and Morrisons tend to have the best price.
Cows' milk formula is often cheaper than soy or goat milk – so if your baby doesn't have any allergies or intolerances, this will be cheaper. If your baby is diagnosed as being allergic to cows' milk, a GP will prescribe an appropriate hypoallergenic infant formula with fully hydrolysed (broken down) proteins. If you get free prescriptions, this will mean you can get this type of milk for free.
Can I make my own baby formula?
It's not a good idea to make your own baby formula, as it could be dangerous for your child. It's not a good idea to water down formula or feed babies with food that is not suitable, such as porridge, either. Feed UK said these practices put babies at risk of malnutrition and serious illness.
Emma Lunn is a multi-award-winning journalist who specialises in personal finance and consumer issues. With more than 18 years of experience in personal finance, Emma has covered topics including all aspects of energy - from the energy price cap to prepayment meter tricks, as well as mortgages, banking, debt, budgeting, broadband, pensions and investments. Emma's one of the most prolific freelance personal finance journalists with a back catalogue of work in newspapers such as The Guardian, The Independent, The Daily Telegraph, the Mail on Sunday and the Mirror.