When are the cost of living payments 2023?
With loads of prices being hiked in April, it's no wonder that families are eager to know when the cost of living payments for 2023 will be paid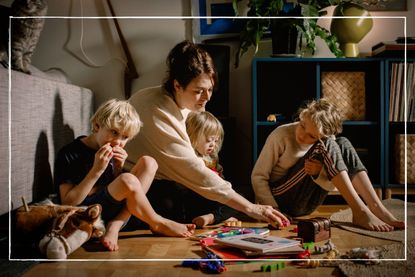 (Image credit: Getty images)
Knowing when the cost of living payments for 2023 are due to be made will be important information for families struggling with the high cost of living.
In 2022, low income families, who are the most vulnerable to rising prices, received a £650 cost of living payment from the government to help ease the pressure on family finances. But as living costs remain high, and more price hikes have come into force in April, another cost of living payment for 2023-24 was announced by Chancellor Jeremy Hunt in his Autumn Statement in November 2022.
This payment will total £900 and be paid in three instalments, with different qualifying dates for each.
When are the cost of living payments 2023?
The first instalment of the payment will be £301, paid to eligible households between 25 April and 17 May 2023. The second instalment of £300 will be paid in Autumn 2023, and the third instalment (£299) will be paid in Spring 2024. The specific payment dates for the second and third instalments will be confirmed nearer the time.
If you qualify, the payment will be made automatically - you won't need to apply for it.
Swipe to scroll horizontally
| Header Cell - Column 0 | Amount | When will you get it? |
| --- | --- | --- |
| First instalment | £301 | £301 paid between 25 April 2023 and 17 May 2023 for most people on DWP benefits |
| Second instalment | £300 | Autumn 2023 |
| Third instalment | £299 | Spring 2024 |
Each of the payments is a slightly different amount to help make it easier to track when the payments have been made. The payment will also be tax-free, will not count towards the benefit cap, and will not have any impact on existing benefit awards.
There has been criticism that the payments aren't coming soon enough to help struggling families. In 2022, the cost of living payments totalled £650, but with the final instalment of the £900 payment not due until spring 2024, that means that eligible households are only getting £601 of help this year.
Head of personal finance at AJ Bell, Laura Suter, said: "Millions of people now know when they will get crucial government support to help with the cost of living this year, with the first payments coming in Spring. But the government isn't delivering exactly what it promised, making millions of families wait longer for their payments.
"The government promised more money for the eight million people on Universal Credit and certain other benefits, increasing the pay out from £650 in 2022 to £900 in 2023. But in reality, those millions of low-income households will actually get a lower pay out this year, getting just £601 of the support in 2023 and having to wait until 2024 for the final £299 of help."
How to maximise how much of the cost of living payment you can get
In order to be eligible for the cost of living payments, you must be receiving one of the qualifying benefits, or have already submitted an application that went on to be successful, in a specific assessment period.
For the first instalment, this assessment period is between 26 January 2023 and 25 February 2023. Assessment periods for the second and third instalments have not yet been announced (they tend to be announced at the same time as the next payment date).
If you don't qualify for the first instalment, but think you might be eligible for one of the qualifying benefits, including child tax credit, income-related job seeker's allowance and universal credit, it's important to submit your application as soon as possible.
Even if you will have missed out on the first payment, you may qualify for the second and third, and any future cost of living payments that the government may announce.
Use the benefits calculator at Entitledto to see what help you might qualify for.
Where does the payment come from?
The cost of living payment will come from the government's Department of Work and Pensions. If you qualify for it, you'll get the payment in the same way that you receive your benefit, but it will be a separate payment rather than being lumped in with your benefit payment.
This should make it easier to check when you receive it. In your bank, building society, credit union account, or on your Payment Exemption Service voucher receipt, it will be labelled as 'DWP Cost of Living'.
Sarah is Goodto.com's Money Editor. After segueing into the world of personal finance from the Homes sector, and acting as launch editor of Goodto's sister brand TheMoneyEdit.com, Sarah now focuses on family finance. She is passionate about cutting through confusing jargon to help people make sound financial decisions, avoid overspending and set themselves and their families up for a financially-stable future.