I'd never spend more than £400 on a pram - you may disagree, but hear me out
One mum explains why she refused to fork out several hundred pounds on a fancy pram for her kids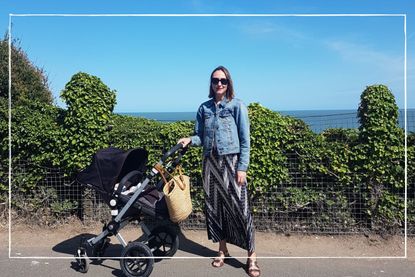 (Image credit: Lucy Baker)
Buying all the baby essentials you need is an expensive endeavour, as any parent will tell you. The cost-of-living crisis and soaring childcare costs mean that the cost of raising a child is becoming increasingly expensive. That's why, when saving for a baby, it can feel like you have a very big mountain to climb - particularly when looking at all the equipment you need to buy.
Alongside essentials such as nappies and clothes, there's also the issue of buying a pram. With so many different categories to choose from, whether it's a pram, pushchair, or travel system, it can seem like a minefield out there.
So how do you decide which pram to buy and how much do you need to spend? Is a branded pram really worth the hefty price tag, or could you get away with a lesser-known, budget-friendly brand instead?
Goodto's Money Editor Sarah Handley says: "The cost of living is really high right now, and household budgets are more stretched than ever before. So it's not surprising that parents (and parents-to-be) are concerned about the price of all the essentials they need to buy for their children and are looking for ways to keep costs down."
We spoke to Lucy, a mum of three, about why the best pram for her family, wasn't one that broke the bank.
"I bought a Maclaren buggy for £400"
Mum-of-three, Lucy Baker, a confidence coach and blogger at Geriatric Mum shares her views on buying a pram. "For babies one and two (back in 2010 and 2012) I had a Maclaren buggy (with newborn attachment). I bought it in John Lewis for £400 and it was great. It folded up very small (umbrella fold) and it was great from birth until age three or four if needed. It was lightweight, easy to push and it had adjustable handles for my six foot three husband. It was also affordable, lasted ages and we sold it for £150.
"I always thought spending a huge deal of £700+ was ridiculous. I wanted to save that money for other things; weekends away, experiences for the kids and for me. As a knackered mum, I felt I really deserved the odd spa weekend or new outfit."
"I am not a fan of the label pram crew. A) They are often huge, and b) they are a walking fashion statement and my focus was on the baby, not the wheels I pushed."
For baby number three (2019), Lucy bought a second-hand Bugaboo from a friend of a friend and it cost £100. "The Bugaboo was bought because it was available - I wasn't on a search for a Bugaboo – we needed a pram and my sister told me about it. It was more a case of - it is available, has been well kept and I don't have to enter into the paralysing choice of what to buy!
"I actually found the Bugaboo too big. Although I liked the one bar handle (unlike the two handled Maclaren), it was really only the right pram for up to age 1.5 I think. It was great for babies, but bad for walkers!
"We actually bought a very simple stroller (for around £70) to pick up the needs of a 1.5 year old (climbing in and out, in and out) and that folded up and was easier to pack into the car. Three kids means not much space!"
But not all mums agree. Goodto's Consumer Editor and mum-of-three, Heidi Scrimgeour says: "Prams (and car seats) are the one thing you should not scrimp on, if you can avoid it, because they make such an overwhelming difference to how easy (or awful...) it is to get out and about with a baby."
Does paying more for a pram or buggy mean it's better? Here's what the experts say
Research by Which? shows that pushchair prices can vary from £50 to well over £1,500, but that paying more doesn't always mean you'll be getting a better pushchair. In fact, in some cases, you could simply be paying a premium for a big brand name or additional accessories rather than a practical pushchair that's easy and safe to use.
Founder of designer buggy outlet Buggy Park, Nina Weisfeld, told us: "There will be some differences between the big brands and the lesser-known, cheaper ones. The more budget-friendly brands tend to be less durable and definitely use less sustainable materials. But I don't believe that means you shouldn't buy them.
"If you think about the length of time you will use a buggy, a less robust one will still serve you well for up to two years, it's very unlikely to 'break down' as it were. Will it manoeuvre as smoothly, collapse as efficiently and look as stylish? That's a clear no, but it will do the job you need."
Fiona Suffield from pram brand ABC Design adds: "In our experience, budget brands don't offer the same level of safety or comfort as more expensive options - when it comes to prams you do get what you pay for. But there is an affordable middle-ground where families can rest assured that their baby is travelling in style, without the designer price tag."
How to save money on a pram
With family finances still stretched thin thanks to the high cost of living, there are multiple ways you can reduce how much you spend on a pram for your baby, without compromising quality or safety.
Do your research
Consider buying second hand - but be careful
Keep an eye out for major sales
Think about resale value
Try a pram rental service
1. Do your research
As with any big purchase you make, it's essential to carry out some research and read reviews from other parents to help you find something you feel comfortable with and is within your budget.
Rather than focusing on the brand name, consider the types of features you need and the size of the pram. Are you looking for a relatively straightforward lightweight buggy that folds down quickly and can be stored in your boot? Or would you prefer a more robust pram that has plenty of basket storage and large wheels to cope with different surfaces?
You should think too about a pram that can adapt as your child grows. It might be more expensive, but if you have to buy more than one budget pram or buggy over your child's younger years that will likely cost you more in the long run.
2. Consider buying second-hand, but be careful
You could also consider buying second-hand as you might be able to snap up a decent buggy at a cheaper price. But you will need to check the pram over carefully before purchasing to make sure it's not faulty.
Buggy Park's Nina Weisfeld says: "There's a huge rise in people choosing second-hand over new, but with more of an emphasis on choosing the sustainable option. I've also seen a big increase from people who are generally looking out for a bargain in the last 12 months or so."
But you will need to be careful, as our Consumer Editor Heidi Scrimgeour adds: "I'd also urge a little bit of caution with buying a secondhand pram or pushchair unless you're buying from a close friend or family member because, a bit like buying a secondhand car, you don't really know what might be wrong with it until you actually start using it.
"Also many prams come with guarantees which can add real value if something goes wrong and you need a replacement part - you don't get that when you buy second-hand."
3. Keep an eye out for major discounts
At certain times of the year you'll be able to pick up a brilliant pram for a fraction of the price. Black Friday, Amazon Prime Day, post-Christmas sales - retailers will be slashing their prices left, right and centre, so its a great opportunity to bag a bargain on a better pram that you otherwise wouldn't be able to afford.
This tactic works for any baby gear you're looking to buy, from breast pumps to baby car seats and baby monitors.
Here at Goodto, we cover all the major sales and bargain deals on a whole host of baby essentials, so make sure you follow our coverage!
4. Buy something with decent resale value
Even if you pay a bit more for a pram, if you do your best to keep it in good condition, you can usually maximise how much you can get for it if you choose to sell it on to friends or family.
5. Try a pram rental service
For some parents, renting a pram will be the best solution. And there are a host of options available that offer a range of baby essentials, for short or long-term hire. Baboodle, Tiny Explorers and Baby Comes 2 are worth looking into. But while renting may be a sustainable option, again, make sure you do your research to see whether it's better for your bank balance to buy or rent.
---
Lucy has three children, so knows what she's talking about when it comes to parenting essentials. After becoming a mum for the third time at 43, Lucy also created the Geriatric Mum blog, to support, celebrate and inspire women to feel good as a geriatric mum.
As a parenting specialist for more than 15 years, Heidi has written for most national newspapers and for a wide range of consumer magazines, including Mother & Baby where she was the Shopping Editor for six years. There is virtually nothing Heidi doesn't know about baby gear. From which car seat will actually make your life easier, to whether you really need off-road wheels on your buggy, there is no parenting problem she hasn't solved when it comes to shopping for essentials for your baby, toddler or youngster. Heidi has her hands full as a parent to her three children aged between seven and 16 years old.
As well as being a mum of two, Rachel is a freelance personal finance journalist who has been writing about everything from mortgages to car insurance for over a decade. Having previously worked at Shares Magazine, where she specialised in small-cap stocks, Rachel developed a passion for consumer finance and saving money when she moved to lovemoney.com. She later spent more than 8 years as an editor at price comparison site MoneySuperMarket where she helped support the CRM programme, as well as the SEO and PR teams, often acting as spokesperson. Rachel went freelance in 2020, just as the pandemic hit, and has since written for numerous websites and national newspapers, including The Mail on Sunday, The Observer, The Sun and Forbes. She is passionate about helping consumers become more confident with their finances, giving them the tools they need to take control of their money and make savings. In her spare time, Rachel is a keen traveller and baker.