Qualifying dates for the cost of living payment 2023 - and what to do if you haven't received it
Check the qualifying dates for the cost of living payment to make sure you are eligible for the first instalment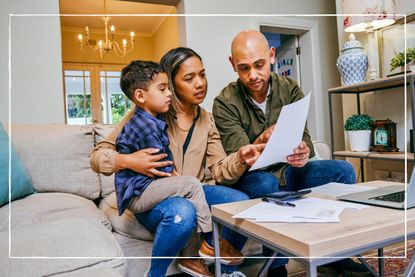 (Image credit: Getty Images)
There are very specific qualifying dates for the cost of living payment and it's important you know when they are as it will determine whether you are eligible for the first instalment that is now being paid.
The 2023 cost of living payment is £900, and will be paid in instalments (with the final instalment actually arriving in spring 2024). It's worthwhile bookmarking our article on when the cost of living payments are to be paid - we'll keep it up to date with the latest government announcements.
The government decides who is entitled to the payment based on who was claiming, or had submitted a claim that went on to be successful, during a very specific assessment window. There is a different assessment window for each instalment, so if you're not already claiming one of the eligible benefits and think you should be, apply as soon as possible to maximise how much of cost of living help you can get.
What are the qualifying dates for the cost of living payment 2023?
The qualifying dates for the first instalment of the cost of living payment is between 26 January 2023 and 25 February 2023. If you were claiming eligible benefits, including Universal Credit, Child Tax Credit, Jobseekers Allowance or Employment & Support Allowance, during that time, then you will receive the £301 payment.
Most people will receive the funds between 25 April and 17 May 2023. Payments won't be made on weekends or bank holidays.
The qualifying dates for the other instalments, due in autumn 2023 (£300) and spring 2024 (£299) have not yet been announced. But they will be announced about a couple of months before the payment is due.
What should I do if I haven't received the payment?
The payments are still in the process of being made, but most people should receive the money by 17 May 2023. It's paid in the same way as your benefit so it's a good idea to keep an eye on your bank account to see when it lands. It'll be separate to any benefit payments you get and should have the reference DWP COL or DWP Cost of Living.
If the 17 May comes and goes and you still haven't received the £301, there's still more you can do:
Double check your eligibility - you can get in touch with the DWP office that pays your benefit if you're not sure whether you qualify for not.
Some 'complex cases' might see a delay in their payment. But if you are eligible, it will be paid automatically, you might just get it later than 17 May.
If you receive a joint benefit with your partner, you will only get one cost of living payment.
If you receive Working Tax Credit or Child Tax Credit and no other benefits, you should receive your payment slightly later, between 2 and 9 May 2023.
You will not get a payment if you are only getting New Style ESA, contributory ESA, or New Style JSA.
You will not be eligible for the money if your benefit was reduced to £0 for the qualifying period. This might have been because your earnings or savings went up or you were given a sanction.
Sarah is Goodto.com's Money Editor. After segueing into the world of personal finance from the Homes sector, and acting as launch editor of Goodto's sister brand TheMoneyEdit.com, Sarah now focuses on family finance. She is passionate about cutting through confusing jargon to help people make sound financial decisions, avoid overspending and set themselves and their families up for a financially-stable future.