This is the EXACT date you should turn your heating off for spring, according to experts
Families are wondering when to turn their heating off as we head into spring, after months of high energy bills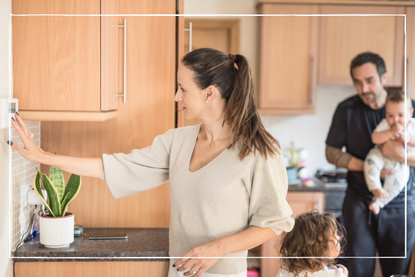 (Image credit: Getty Images)
With warmer weather not too far away, families are wondering when they should turn their heating off in order to keep bills as low as possible.
Households have been worried about how much their energy bills will cost for months. Even with the Energy Price Guarantee in place, we're paying more than ever before for the energy we use. While the price guarantee isn't going up in April as planned, families will be facing more expensive bills from April as the £400 energy rebate ends.
David Johnson, Technical Manager at The Underfloor Heating Store, says: "Energy costs are anticipated to peak in or around April 2023. The Energy Savings Trust predicts that UK energy costs will continue to be high through 2024. This indicates starting in the summer or autumn of 2023, energy costs should start to decline."
When should I turn the heating off for spring?
This year, many people will aim turn their heating off on Sunday 26th March. This is because people aim for the date the clocks go forward to turn their heating off, according to David Johnson from The Underfloor Heating Store. While some people might aim for a specific date, others tend to wait until temperatures warm up. There's no specific temperature at which the experts say you should turn your heating off, but it's sensible to be mindful at this time of year whether you need your heating on.
Martyn Bridges, Director of Technical Services at Worcester Bosch agrees: "As spring approaches and it's warmer outside, your heating system doesn't have to work as hard as it did in the depths of winter. The end of March and the beginning of daylight-saving time is a very common time for heating adjustments by households."
But there is no guarantee that it will be warm enough to turn off your heating on this date. In fact, Britain has seen snow on this exact date in previous years, so it's not an exact science. The Energy Saving Trust says heating and hot water accounts for more than half of your total energy costs, so if you're looking to keep your bills low, it's advisable to turn your heating off as soon as you can, or reduce how many hours your heating is on for.
Worcester Bosch's Martyn Bridges adds: "If you prefer, you can adjust your room thermostat and turn it down by a degree or two. You may also find that you don't have to switch the heating system on so early in the morning or evening, allowing you to readjust your timer to bring the heating on 30 minutes or even an hour later."
Stay warm when you turn the heating off
Keep the heat in
If you want to keep your home feeling warm, even after you've turned your heating off (or down), it's important you try to eliminate draughts as much as you can. Keep windows and doors closed, and continue to use a draught excluders if you have them.
This will not only help prevent heat from escaping, especially in the rooms you used most often, but cutting out draughts will help you feel warmer too.
For homes with ineffective insulation, it's worth checking to see if you qualify for any government grants to help improve your home's insulation in the roof, walls and floors. But this is likely to be a longer term solution rather than a quick fix.
Heat yourself
Making sure you are wearing suitable clothing, and laying up, is a simple way to keep yourself warm even if you're turning the heating off. Similarly, having a blanket nearby, even an electric blanket, can help ward off any chill.
Using a hot water bottle, and having a steady supply of warm drinks will also help to keep you warm.
---
If you have health concerns or young children, it may not suit you to turn your heating off when others advise. If you need to keep the heating on longer and are struggling to afford your energy bills, speak to your supplier as you may qualify for additional assistance.
Sarah is Goodto.com's Money Editor. After segueing into the world of personal finance from the Homes sector, and acting as launch editor of Goodto's sister brand TheMoneyEdit.com, Sarah now focuses on family finance. She is passionate about cutting through confusing jargon to help people make sound financial decisions, avoid overspending and set themselves and their families up for a financially-stable future.