Could shared parental leave work for your family?
Find out if you are eligible and how much statutory pay you could get if you and your partner decide to share parental leave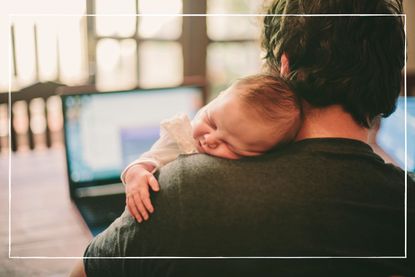 (Image credit: Getty Images)
Goodto Newsletter
Parenting advice, hot topics, best buys and family finance tips delivered straight to your inbox.
Thank you for signing up to GoodTo. You will receive a verification email shortly.
There was a problem. Please refresh the page and try again.
Shared parental leave could help families balance work and childcare commitments, while also allowing both parents to bond with their new baby (or babies). But how does it work and could it be the right solution for your family?
If you're expecting a baby, you'll be wanting to research how much maternity pay you'll get, how it's calculated, and who will pay it. You might also be adding any paternity pay and leave into the mix.
But while your partner may normally only be able to take a couple of weeks of leave, it might be worth considering shared parental leave and whether it is a way for your and your partner to both take time off work to look after your child. This article looks into what shared parental leave is, how long it's for, and who's entitled to it, as well as the pros and cons to consider.
Goodto.com's Money Editor Sarah Handley says: "If you're worried about what will happen to your career when taking the best part of a year off work when you have a baby, and your partner wants to enjoy some of that time too, then shared parental leave might be an option worth considering. It can not only help your partner to bond with your baby from a young age, but also aid post-partum wellbeing. But it is important to consider the financial implications of this decision before you commit."
What is shared parental leave?
Shared parental leave is a block of time off work, shared between both parents during the first year of their child's life, and it was introduced by the government into workplaces in 2015.
Sarah Pennells, consumer finance specialist at financial adviser Royal London explains: "Mums must take the first two weeks of maternity leave, but couples can share up to 50 weeks of leave."
"It's designed to be flexible enough to let parents take time off work at the same time or separately and you can each take the leave in up to three separate blocks," she adds.
Dad-of-one, Kyle Caldwell took advantage of the scheme when his son was born in 2018. "For our son, Quinn, who is now five - I took over the reins for the final three months, when my partner went back to work. I spent the summer taking him swimming, to baby classes (I was the only Dad!), spending time in Liverpool (to hone his scouse dialect and visit grandparents) and watching the World Cup!"
Who is eligible for shared parental leave and pay?
Any parents who meet the below-listed criteria can qualify for shared parental leave and pay;
The mum must:
Have been employed continuously for 26 weeks by the end of the 15th week before the baby's due date
Earn at least £123 a week
The mum's partner must:
Have been working for 26 out of the 66 weeks before the due date
Earned £390 in 13 of those 66 weeks
You should also be able to take shared parental leave if you're adopting a child or using a surrogate, however the eligibility rules are slightly different.
Do you get paid on shared parental leave?
Yes, you will get statutory pay while on parental leave. However, although shared parental leave allows you to take up to 50 weeks off between you and your partner, you'll only get pay during the first 37 weeks. Shared parental leave is paid at the same rate as statutory maternity pay for the bulk of this period, which is the lower of £172.48 a week, or 90% of your average weekly earnings.
However, if you plan to use shared parental leave during the early days, it's important to note that shared parental leave pay will be less than statutory maternity pay, which is paid at a rate of 90% of weekly earnings – however much you earn – for the first six weeks.
You may also not get paid if shared parental leave is taken right at the end of your baby's first year. Kyle Caldwell says: "My partner ended up going back to work after the statutory 39-week maternity pay ended and I took unpaid leave for three months.
"To fund my time with Quinn, we dipped into some savings, which we had built up when my partner was pregnant as we decided back then that we wanted to both play our part in those precious early moments."
If you're interested in using shared parental leave, it's worth discussing it with your employer. Many employers will just pay the statutory minimum, but some forward-thinking businesses may offer a better package to new parents.
Personal finance expert Sarah Pennells says: "Some employers offer more generous levels of maternity pay but only pay shared parental pay at the statutory amount. Others will offer the same deal for maternity pay and shared parental pay."
Can your employer deny you shared parental leave?
No, as long as you meet the eligibility criteria, it's your right to take shared parental leave – it cannot be refused by your employer. But, as finance expert Sarah Pennells explains, it's important you tell your employer in the correct way. "The rules on how you give notice for shared parental leave are quite specific, so make sure you don't fall foul of them," she says.
"For example, as part of the process, the mum has to give eight weeks' notice that she's going to end her maternity leave early. If you don't do this, your employer may refuse your request for shared parental leave."
If you're not sure whether you will qualify for shared parental leave, there's a useful planning tool on the government website to help. It will also show you how you can take shared parental leave.
What are the pros and cons of shared parental leave?
Pros of shared parental leave
The key benefit of shared parental leave will always be that both parents get to spend some quality time with their baby, but as Sarah Pennells says, it may not be the only advantage.
"Sharing leave can help dads develop their relationship with their children early on. However, it can also lessen the impact of having a baby on the mother's career, as she doesn't need to take up to a year out of work."
Kyle Caldwell has no regrets taking shared parental leave. "I look back very fondly on those three months with my son. Everyone says 'they don't stay little for long', which is absolutely true, so I would encourage others to make the most of the shared parental leave policy if they can. It was enjoyable, but it wasn't easy, and it made me appreciate my better half even more!"
Shared parental leave can also be a valuable way to increase a mother's post-partum wellbeing and mental health.
Cons of shared parental leave
An important downside of shared parental leave is that your finances will likely take a hit, especially if it means the highest paid parent is taking time off work. Some partners may also worry that their own career may suffer if they take a few months off work.
Kyle Caldwell, who works for stockbroker Interactive Investor, says: "Overall the take-up of shared parental leave is very low. The main reason is that financially it's a non-starter for many couples. However, another factor behind the low take-up is concerns that taking time out of work will jeopardise career opportunities.
"This is, of course, something women have been dealing with for generations. Thankfully, I was in the fortunate position of not having to worry about the latter as I had a very supportive employer, who I still work for, and line manager."
If you find yourself weighing up the feasibility of returning to work after having a baby, you won't be alone. It's also worth looking into the benefits that you could claim while on maternity leave to help cushion any financial blow of taking shared parental leave.
Parenting advice, hot topics, best buys and family finance tips delivered straight to your inbox.
As well as being a mum, Rachel Lacey is a freelance journalist with more than 20 years' experience writing about all areas of personal finance and retirement planning. After 17 years at Moneywise magazine as both writer and editor, Rachel now writes for a variety of websites and newspapers as well as corporate clients. She is passionate about financial education and simplifying money matters for all.