Return to work vs childcare costs: is it financially worth returning to work after a baby?
With childcare costs hitting the headlines, we explore whether it's financially worth returning to work after maternity leave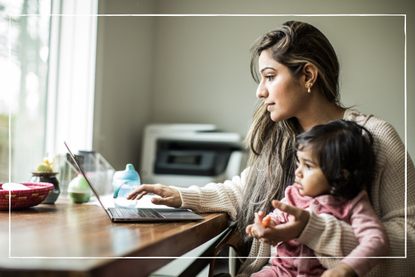 (Image credit: Getty Images)
If you've recently had a baby, you might be weighing up returning to work with the cost of childcare to see which is best for your family.
Given that average childcare costs in the UK are soaring and the cost of raising a child is becoming increasingly expensive, it's no wonder that many parents feel they cannot afford to return to work.
However, thanks to changes announced in the Spring Budget, the 30 hours free childcare scheme, which is currently only available to qualifying parents of three and four year olds, will be extended to all eligible parents with children over nine months old. The downside is that it will be rolled out in stages and won't be fully in place until September 2025. So, if you are thinking of going back to work before then, how do you work out whether it's financially viable?
CEO and co-founder of private pension provider Penfold, Pete Hykin, says: "When considering whether to return to work or pay for childcare, it's important to do a thorough cost-benefit analysis. This should include calculating the actual costs of childcare and comparing it to the parent's net income after taxes, commuting costs, and other work-related expenses."
Return to work versus cost of childcare - how to work it out
To calculate whether it's worth returning to work, you'll need to find out exactly how much nursery will cost (or other childcare options) each month and weigh this up against how much you'll be earning. As part of this calculation, you'll need to deduct income tax and National Insurance.
Example if you earn £30,000 a year
£30,000 a year salary before tax
Works out as £2,035 a month after tax
Commuting costs of £200, leaves you with take home pay of £1,835 per month
Nursery costs £1,240 per month
This will leave you with £595 a month to live on.
As an example, let's say a full-time nursery place costs £1,240 a month for your one child. You earn £30,000 a year, or £2,500 a month before tax.
You can use our calculator to work out how much income tax you pay and what your take home pay will be. In this example, your take home pay will be £2,035 a month, once income tax and National Insurance have been deducted.
If you also commute, you'll need to factor in these costs too. Let's say you pay £200 a month to commute. That knocks your monthly take home pay down to £1,835.
Take off your childcare costs (£1,240) and you're left with £595 a month. You'll then need to assess whether this will be enough depending on your overall situation and whether your partner will be able to cover other living costs.
Example if you earn £20,000 a year
£20,000 a year salary before tax
Works out as £1,469 a month after tax
Commuting costs of £200, leaves you with take home pay of £1,269 per month
Nursery costs £1,240 per month
This will leave you with £29 a month to live on.
On the other hand, if your annual salary is £20,000, your take home pay would be £1,469, or £1,269 once commuting costs are factored in. In this example, this would give you just £29 left over each month once childcare costs are deducted, meaning that returning to work is unlikely to be financially worth it.
Keep in mind that if your child will be two by April 2024, you'll be able to benefit from 15 hours of free childcare, provided both parents are in work. So if you can make ends meet until this point, this might help with your decision.
The 15 hours of free childcare is being extended to working parents of children aged nine months to three years in September 2024, before the full 30 hours of free childcare kicks in the following September.
Is it financially worth returning to work after maternity leave?
Whether it's financially worth returning to work after maternity leave will ultimately depend on your personal and financial situation. You'll also need to check whether your employer requires you to repay your maternity pay if you do not return to work.
Lea Henry, co-founder of childcare agency CocoRio, says: "Statutory maternity pay does not need to be repaid, however many companies offer a top up to their employees in addition to what they are entitled to by the government. Often, employers will ask that this top up is repaid if the employee does not come back to work after their leave or they come back and then leave during a set period (often three months)."
You should be able to find this information in your employment contract or, if not, speak to your HR department.
How many mothers return to work after having a baby?
According to data from the Office for National Statistics, three in four mothers (75.6%) in the UK are currently in work, while a separate study shows around 32% of mothers return to full-time work after maternity leave and 44% return on a part-time basis.
Part-time work is something that your employer might be willing to discuss with you. This gives you the flexibility of not needing a full-time childcare place and gives you time to spend with your young children. However, it also means getting a pro rata salary so you'll get less in your pay packet each month. You'll therefore need to do the sums again to see whether this works out any better for you.
Real life stories
As well as our Family Editor, Stephanie Lowe sharing her story of how childcare costs have impacted her family life, we also spoke to other parents about their return to work after having kids.
"When we got married I made sure my husband knew that if we had kids, I would be giving up work. I made this choice because I know there is no balance with work and family. I see my friends working themselves into the ground to take £12 home a month after childcare and bills. I know that I'm in a privileged enough position to make that call, as my husband earns enough to pay for our bills."
"I left my job as a teacher as it made more financial sense for my wife to work, as she earns more. Now we're both in a sad situation because I love my job and didn't want to leave, and she doesn't want to leave her babies every day."
What should you consider when weighing up returning to work and the cost of childcare?
As well as your own salary, you should consider factors such as how much your partner earns (if you have one), how many other children you have that require childcare, and whether you might be able to call on family or friends to help you.
For example, if a grandparent could cover two to three days of childcare a week, this would help reduce your childcare costs, making the return to work more financially viable. There is also growing conversation around whether the government should pay grandparents who provide childcare, which could help to make this set-up more feasible. Don't forget too that once your child reaches a certain age, you will qualify for 15 hours free childcare (at least).
It's also worth asking your employer how open they are to flexible working. Thanks to the Covid-19 pandemic and lockdowns, many employers now offer hybrid working, whereby you only need to go into the office a few days a week and can work from home the rest of the time. This can help reduce commuting costs as well as the number of hours of required childcare.
Childcare expert and community manager at childminder agency tiney, Lisa Holmes, says: "The decision for mothers to return to work at the end of maternity leave is a deeply personal one, but sadly it's often not as straightforward as doing what you might prefer to do or what you think is best for your family.
"In not returning to work, women often face the 'motherhood pay penalty,' lose a portion of the family's income, delay their career progression, and miss out on working in a job they might really enjoy. And yet, if they return to work, rising childcare costs might nullify (or exceed) their salary."
As well as being a mum of two, Rachel is a freelance personal finance journalist who has been writing about everything from mortgages to car insurance for over a decade. Having previously worked at Shares Magazine, where she specialised in small-cap stocks, Rachel developed a passion for consumer finance and saving money when she moved to lovemoney.com. She later spent more than 8 years as an editor at price comparison site MoneySuperMarket where she helped support the CRM programme, as well as the SEO and PR teams, often acting as spokesperson. Rachel went freelance in 2020, just as the pandemic hit, and has since written for numerous websites and national newspapers, including The Mail on Sunday, The Observer, The Sun and Forbes. She is passionate about helping consumers become more confident with their finances, giving them the tools they need to take control of their money and make savings. In her spare time, Rachel is a keen traveller and baker.