What benefits can I claim while on maternity leave?
Do you know what benefits you can claim on maternity leave that can help cover your time off work?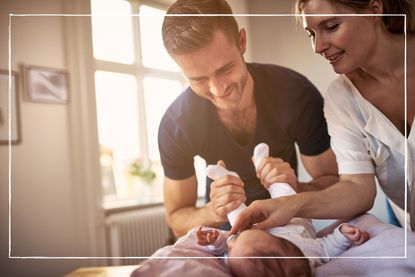 (Image credit: Getty Images)
Most people who take time off work to have a baby will be paid maternity pay – but many families will be able to claim certain benefits while on maternity leave too. If you're pregnant, you'll want to find out and how much maternity pay you'll get, and how maternity pay is calculated in order to plan your finances while you are on leave.
It also helps to understand who pays for maternity leave - this will depend on whether you qualify for statutory maternity pay or maternity allowance instead.
Lisa Holmes, childcare expert at Tiney said: "It's so important to know how much Statutory Maternity Pay (SMP) you're entitled to and, crucially, how long you can expect to receive it for. Having certainty about your income during this time can help new parents to budget more effectively, plan ahead, and make decisions about timings like whether to head back to work – especially with childcare costs increasingly disrupting the return of mothers to the workforce."
7 benefits you can claim on maternity leave
Depending on your circumstances, there may also be benefits you can claim while on maternity leave.
Tom Church, co-founder of money-saving community LatestDeals.co.uk, says: "You can use a benefits calculator to see what help you can get from Universal Credit, Child Benefit, Child Tax Credit, Working Tax Credit (which can continue for 39 weeks after you go on maternity leave) and Income Support (you may get this while you're not working). You could also get a £500 Sure Start Maternity Grant (usually if it's your first child)."
1. Universal Credit
Universal Credit is the main benefit for people on a low income or not working.
You can claim Universal Credit at the same time as statutory maternity pay or maternity allowance. But some or all of your maternity pay will be taken into account when calculating your Universal Credit payment, as will your partner's income.
To get Universal Credit on maternity leave, you must:
Be out of work or on a low income
Together with your partner, not have more than £16,000 in savings
Be over 18 and under state pension age
Meet work-related requirements (but you won't have these while your baby is less than one-year-old, and you're the main carer).
2. Child Tax Credit
Child Tax Credit is a benefit that helps with the costs of raising a child if you're on a low income.
To get Child Tax Credit on maternity leave, you must:
Already be on Tax Credits – you can't make a new claim
Normally work at least 16 hours a week.
3. New-Style Employment and Support Allowance
New-style Employment and Support Allowance (ESA) is for people with a health condition or disability that limits their ability to work.
To get ESA on maternity leave, you must:
Not qualify for statutory maternity pay or maternity allowance
Have sufficient National Insurance contributions in the past two years
Claim for the period six weeks before the baby's due date to two weeks after the baby is born.
4. Sure Start Maternity Grant
The Sure Start Maternity Grant is a £500 payment to help with the costs of a new baby. It doesn't need to be repaid.
To get Sure Start you must:
Live in England (but there are similar schemes in Scotland, Wales and Northern Ireland)
Be in receipt of certain benefits (e.g. Universal Credit or Child Tax Credits)
Be expecting your first child or a multiple birth
Make the claim within six months of the baby's birth.
5. Healthy Start Scheme
The Healthy Start Scheme helps expectant mothers, new parents and their children to eat healthily. You'll be sent a card you can use in shops.
The government will add £4.25 to the card for each week of your pregnancy from the 10th week and £8.50 each week for children from birth to 12-months-old. The rate then goes back to £4.25 until the child turns four. You can only spend the money on healthy food such as milk and fruit.
To be eligible for the Healthy Start Scheme you must:
Be claiming certain benefits (e.g. Universal Credit or Child Tax Credit)
Be more than 10 weeks pregnant or have a child under four.
6. Child Benefit
You can start claiming Child Benefit once your child is born. You'll get £24 a week for the eldest child and £15.90 a week for other children.
You might have to repay some of your Child Benefit if you or your partner earn more than £50,000 a year.
To be eligible for Child Benefit, you must:
Be responsible a child under 16, or under 20 if they are in approved education or training
Be the only person claiming Child Benefit for the child (both parents can't claim).
7. Free NHS prescriptions
All NHS prescriptions and NHS dental treatment are free for mums while pregnant and up until the child's first birthday.
To be eligible for free prescriptions, you must:
Be pregnant or have had a baby in the past 12 months
Get a maternity exemption certificate from your doctor, midwife or health visitor.
Can I also claim these benefits if I get the Maternity Allowance?
Yes, you can get these benefits if you receive maternity allowance rather than statutory maternity pay.
However, for Universal Credit, the maternity allowance is treated as 'unearned income' and is deducted from your Universal Credit pound for pound.
On the other hand, statutory maternity pay is treated as 'earnings' and is partially disregarded from your Universal Credit payment as a result of the 'work allowance'.
How long can I claim these benefits for?
How long you can claim benefits for depends on your circumstances and the benefit in question.
With Universal Credit, you'll need to meet work requirements after your child turns one. You can only claim new-style Employment and Support Allowance from six weeks before your baby is due until two weeks after your baby is born.
The Healthy Start Scheme runs until your child is four, and Child Benefit until they are 16 (or 20 if still in education). New mums get free NHS prescriptions until their child turns one.
---
Related features you might be interested in:
Emma Lunn is a multi-award-winning journalist who specialises in personal finance and consumer issues. With more than 18 years of experience in personal finance, Emma has covered topics including all aspects of energy - from the energy price cap to prepayment meter tricks, as well as mortgages, banking, debt, budgeting, broadband, pensions and investments. Emma's one of the most prolific freelance personal finance journalists with a back catalogue of work in newspapers such as The Guardian, The Independent, The Daily Telegraph, the Mail on Sunday and the Mirror.