Why is Keir Starmer a Sir and why was he knighted?
Sir Keir is the leader of the Labour Party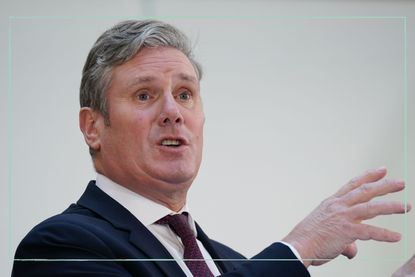 (Image credit: Getty Images)
Members of the public are wondering how he got his knighthood and why is Keir Starmer a Sir?
Sir Keir has been at the helm of the Labour Party since 2020 and in that time has faced three Conservative Prime Ministers - Boris Johnson, Liz Truss and Rishi Sunak - and after the next general election (opens in new tab) there's a chance that he could be the one leading the country.
It's no surprise, then, that the public want to know more about the man that holds one of the highest positions in British politics. Just like people want to know everything about Prime Minister Rishi Sunak (opens in new tab) - including what is his net worth (opens in new tab) - many are also asking why is Keir Starmer a sir?
Why is Keir Starmer a Sir?
Keir Starmer was previously the Head of the Crown Prosecution Service and Director of Public Prosecutions, a role that traditionally comes with a knighthood. He obtained the role through his work as a human rights defence lawyer, before he was a politician.
After he became Queen's Counsel and joint head of Doughty Street Chambers in 2002, he was appointed head of the Crown Prosecution Service in 2008. The position lasts for five years and plays a vital role in deciding which prosecutions are pursued by the CPS.
29 years ago, Stephen Lawrence was murdered in a racist attack.I'm proud to have helped bring his killers to justice — we must do more to rid racism from our society.I stand with my friend, Baroness @DLawrenceOBE, to champion and honour Stephen's legacy for change. pic.twitter.com/MK1UNiGiBpApril 22, 2022
See more
One of the most notorious cases Sir Keir worked on during this time was the Stephen Lawrence case, where he brought the prosecution against two men accused of murdering the 18-year-old.
The CPS came under fire during the same period for failing to prosecute Jimmy Savile. However, it has since surfaced that Keir Starmer was not the reviewing lawyer for the case and that the suggestion of a link between the handling of the cases and Starmer is baseless.
Why was Keir Starmer knighted?
Sir Keir received his knighthood for "services to law and criminal justice" in 2014, following his time as Head of the Crown Prosecution Service and Director of Public Prosecutions.
However, the Labour leader chooses not to use the title himself, as he has previously said that he doesn't like formal titles.
It's also likely that using the title wouldn't be well received with other Labour Party members and voters
What is a knighthood?
A knighthood or a damehood is known as a GBE, which stands for Grand Cross of the British Empire. Knighthoods are given to men, while damehoods are given to women.
Other Honours include CBE (Commander of the Most Excellent Order of the British Empire), OBE (Officer of the Most Excellent Order of the British Empire), and MBE (Member of the Most Excellent Order of the British Empire).
Nominating someone for an honour award can be done online (opens in new tab) via the GOV.uk websites, or by email. The honours committee then decide which honour will be awarded.
Keir Starmer: His career so far
Keir Starmer studied Law at university, before qualifying for the bar and working as a defence lawyer. He graduated with a Bachelor of Laws from the University of Leeds in 1985 and went on to complete a postgraduate Bachelor of Civil Law degree at the University of Oxford in 1986.
After qualifying for the bar, Starmer acted exclusively as a defence lawyer and specialised in human rights issues as a member of Doughty Street Chambers.
He was then named a Queen's Counsel (QC) in 2002, and became Director of Public Prosecutions (DPP) and Head of the Crown Prosecution Service (CPS) in 2008, roles that he held until 2013.
In 2015, Sir Keir won his seat in Parliament as MP for Holborn and St Pancras, and became Shadow Minister for Immigration later the same year. In 2016, he was appointed as Shadow Secretary of State for Exiting the European Union by then Labour leader Jeremy Corbyn.
After Labour's defeat in the 2019 general election, Corbyn resigned. Sir Keir won his bid for Labour leadership with 56 per cent of the vote in the first round, going on to become Leader of the Opposition.
Keir Starmer lives with his wife Victoria Alexander in his constituency in Kentish Town, North West London, with their son and daughter.
Keir Starmer net worth
It's difficult to know Keir Starmer's net worth, as varying sources have suggested it could be anywhere between £1million and £7.7million.
Keir Starmer has previously shared his annual salary, telling Sky News, "I earn just over £80,000 as an MP, and I earn more than that for being leader of the opposition." He estimated that in total he earns somewhere between £130,000-£140,000 per year.
Video of the Week
Ellie joined Goodto as a Junior Features Writer in 2022 after finishing her Master's in Magazine Journalism at Nottingham Trent University. Previously, she completed successful work experience placements with BBC Good Food, The Big Issue and the Nottingham Post, and freelanced as an arts and entertainment writer alongside her studies. In 2021, Ellie graduated from Cardiff University with a first-class degree in Journalism.