It takes just three steps to make these delicious air fried Brussels sprouts.
Yes, you really can air fry Brussels sprouts, and these mouthwatering Brussels sprouts are just perfect tossed with shallots and served with a homemade lemon-chive dipping sauce. It takes just four ingredients; Brussels sprouts, extra virgin olive oil, seasoning, and lemon to transform this favourite festive vegetable. A drizzle of oil and just 20 minutes in the air fryer and they are ready to serve.
Ingredients
450g (1lb) Brussels sprouts, trimmed and halved
1 tbsp extra-virgin olive oil
Salt and pepper
Lemon wedges
Method
Toss Brussels sprouts with oil, ¼ teaspoon salt, and ⅛ teaspoon pepper in a bowl; transfer to an air-fryer basket.
Place the basket in the air fryer and set the temperature to 350 degrees.
Cook Brussels sprouts until tender, well browned, and crisp, 20 to 25 minutes, tossing halfway through cooking. Season with salt and pepper to taste. Serve with lemon wedges.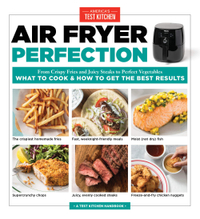 Air Fryer Perfection: From Crispy Fries and Juicy Steaks to Perfect Vegetables What to Cook and How to Get the Best Results by America's Test Kitchen
Top tips for making air fried Brussels sprouts
America's Test Kitchen says; "Fried Brussels sprouts have become a menu staple - and for good reason. The tiny cabbages caramelize and crisp while maintaining enough structure to work as a dipping vessel.
Of course, deep-frying them is something of a project and doesn't yield the healthiest results. We wanted to see if we could use the air fryer to make "fried" Brussels sprouts that kept their virtuous qualities but tasted as decadent as their deep-fried counterparts.
Our first attempts were promising but not perfect. Since we usually achieve crispiness (when not frying) by using a very hot oven, we tossed the Brussels sprouts in a little oil and roasted them in the air fryer at 400 degrees. They crisped up but tasted raw inside: The air fryer was doing too good a job at browning. We tried adding a splash of water before cooking the sprouts, hoping the resulting steam might soften them faster, but no luck.
The solution turned out to be more obvious: Lowering the heat to 350 gave the sprouts time to soften on the inside while crisping. The results mimicked the deep-fried sprouts so well that we were inspired to create a version with another beloved fried vegetable: crispy shallots. Both versions were delicious with a squeeze of lemon but irresistible with Lemon-Chive Dipping Sauce.
If you are buying loose Brussels sprouts, select those that are about 1 ½ inches long. Quarter Brussels sprouts longer than 2 ½ inches."
Air fried Brussels sprouts with crispy shallots
Add 3 thinly sliced shallots to the bowl with Brussels sprouts along with oil, salt, and pepper.
Lemon-chive dipping sauce
Whisk together ¼ cup mayonnaise, 1 tbsp minced fresh chives, ½ tsp grated lemon zest plus 2 tsp juice, ½ tsp Worcestershire sauce, ½ tsp Dijon mustard, and ¼ tsp garlic powder in a bowl.
America's Test Kitchen, a cookery television programme popular in the USA, is now an established hub of confident cooks who test everything from cookware to supermarket ingredients and more. Their ethos is all about "sharing what we learn to help everyone cook with confidence." Established in 1993, and still going strong America's Test Kitchen's chefs and cooks have written a variety of cookbooks, and run online cookery schools as well as websites, magazines, podcasts, apps, and more.
You might also like...
Jessica Dady is Food Editor at Goodto.com and has over 10 years of experience as a digital editor, specialising in all things food, recipes, and SEO. From the best food hampers to cookbooks, from the best cake stands to kitchen appliances, Jessica has a wealth of knowledge when it comes to must-have food products. A passionate baker, she spends some of her time creating celebration cakes for friends and family including her two lucky children.