Air fried chicken cooked in under 20 minutes in the air fryer - the perfect midweek option served with homemade chips and greens.
Tender chicken breasts coated in a golden crumb infused with mustard, garlic, and crunchy cornflakes. The paprika and cayenne pepper give this air fried chicken a delicious spice. This recipe serves two people but can easily be doubled to cater to a family of four.
Ingredients
Vegetable oil spray
2 (12oz) bone-in split chicken breasts, trimmed
Salt and pepper
⅓ cup buttermilk
½ tsp dry mustard
½ tsp garlic powder
¼ cup all-purpose flour
2oz cornflakes, finely crushed
1½ tsp poultry seasoning
½ tsp paprika
⅛ tsp cayenne pepper
Method
Lightly spray the base of the air-fryer basket with oil spray. Remove skin from chicken and trim any excess fat. Halve each breast crosswise, pat dry with paper towels, and ­season with salt and pepper.
Whisk buttermilk, mustard, garlic powder, ½ teaspoon salt, and ¼ teaspoon pepper together in a medium bowl. Spread flour in a shallow dish. Combine cornflakes, poultry seasoning, paprika, ¼ ­teaspoon salt, and cayenne in a second shallow dish.
Working with 1 piece of chicken at a time, dredge in flour, dip in buttermilk mixture, letting excess drip off, then coat with cornflake mixture, pressing ­gently to adhere; transfer to a large plate. Lightly spray chicken with oil spray.
Arrange chicken pieces in a prepared basket, spaced evenly apart. Place the basket in the air fryer and set the temperature to 400 degrees. Cook until chicken is crisp and registers 160 degrees, 16 to 24 minutes, flipping and rotating pieces halfway through cooking. Serve.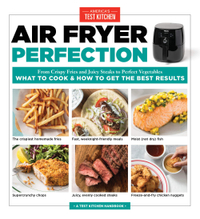 Air Fryer Perfection: From Crispy Fries and Juicy Steaks to Perfect Vegetables What to Cook and How to Get the Best Results by America's Test Kitchen
Top tips for making air fried chicken
America's Test Kitchen says; "Our air-fried chicken comes out golden and crispy on the outside and moist and juicy on the inside, and needs only a light spray of vegetable oil to become crisp. The secret was removing the fatty skin and finding a coating that would become crunchy without needing to be fried in a pan of hot oil. In a side-by-side taste test, crushed cornflakes won out over bread crumbs and Melba toast, offering the best color and crispness, but the results tasted a bit like breakfast cereal.
Spicing up the cornflakes with poultry seasoning, paprika, and cayenne pepper gave the coating the savory element it needed. Dredging the floured chicken pieces in buttermilk added tang and ensured the crumbs stuck to the chicken.
To crush the cornflakes, place them inside a zipper-lock bag and use a rolling pin or the bottom of a large skillet to break them into fine crumbs.
To help remove the skin from the chicken, use a paper towel to grasp the skin. If you prefer, you can use a combination of two 5-ounce thighs and two 5-ounce drumsticks instead of the chicken breasts; if using drumsticks and thighs, be sure to cook them until they register 175C, 20 to 25 mins."
America's Test Kitchen, a cookery television programme popular in the USA, is now an established hub of confident cooks who test everything from cookware to supermarket ingredients and more. Their ethos is all about "sharing what we learn to help everyone cook with confidence." Established in 1993, and still going strong America's Test Kitchen's chefs and cooks have written a variety of cookbooks, and run online cookery schools as well as websites, magazines, podcasts, apps, and more.
You might also like...
Jessica Dady is Food Editor at Goodto.com and has over 10 years of experience as a digital editor, specialising in all things food, recipes, and SEO. From the best food hampers to cookbooks, from the best cake stands to kitchen appliances, Jessica has a wealth of knowledge when it comes to must-have food products. A passionate baker, she spends some of her time creating celebration cakes for friends and family including her two lucky children.