A speedy 20-minute air fryer aubergine recipe that makes the perfect mid-week meal for vegetarians.
This Turkish-style stuffed aubergine with saffron and yogurt dip is just bursting with flavor thanks to the combination of aubergine, harissa paste, and sweet pomegranate seeds. The aubergines are stuffed with a mixture of finely chopped courgette, red pepper, and red onion - counting towards your five-a-day. The perfect vegetarian-friendly recipe to make in one of the best air fryers.
Ingredients
1 aubergine, halved lengthways
1 red onion, roughly chopped
1 red pepper, deseeded and roughly chopped
1 courgette, roughly chopped
1 tsp harissa paste
1 tbsp olive oil
olive oil spray, to cook
2 tbsp pomegranate seeds, to garnish
small bunch of fresh coriander, leaves picked and chopped, to garnish
sea salt and freshly ground black pepper
For the saffron and yogurt sauce:
pinch of saffron (optional)
120ml low-fat Greek yogurt
Method
Lay your aubergine halves, cut-side up, on a board and use a spoon to scoop out the flesh to make boat shapes. The aim is to make a well just large enough to hold the other vegetables, so don't try and remove all of the aubergine flesh.
Roughly chop the scooped-out aubergine flesh, then add to a large bowl along with the chopped red onion, red pepper and courgette.
Add the harissa paste and olive oil to the bowl with the vegetables and give everything a good mix to combine, ensuring that all of the vegetables are well coated. Season with salt and pepper and stir again.
Spoon the vegetable mixture into the hulled aubergine halves, piling them up nice and high to make a generous portion.
Transfer the filled aubergine boats to the air fryer, spray with a little olive oil and cook at 180°C for 15–20 minutes, until all of the vegetables are tender.
While the aubergines are cooking, make the saffron dip by soaking the saffron in 2 tablespoons of boiling water for a couple of minutes, if using. Put the yoghurt in a serving bowl, season with salt and pepper and pour over the bloomed saffron mixture. Stir to combine.
Transfer the cooked aubergines to serving plates, scatter with pomegranate seeds and fresh coriander, then serve hot, with the saffron and yoghurt sauce alongside.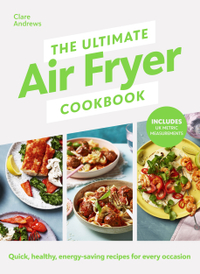 The Ultimate Air Fryer Cookbook by Clare Andrews (Penguin Michael Joseph, £20) – photography by Danielle Woods.
Top tips for making air fryer aubergine
Author and recipe writer, Clare Andrews says; "This is a really versatile recipe that is perfect for when you have a glut of vegetables on hand and want something fresh and vibrant. Feel free to swap out the red pepper or courgette for some mushrooms or carrots, or anything else you have to hand! The harissa brings an earthy spice to the dish that I love, but feel free to adjust the amount used to suit the tastes of the people that you're cooking for."
You might also like...
Recipe writer and cookbook author
Recipe writer and cookbook author, Clare Andrews specializes in air fryer recipes and has published The Ultimate Air Fryer Cookbook packed full of delicious, inspiring air fryer recipes to try in the comfort of your own home. Clare started developing her recipes and ideas on Instagram and after a lot of attraction during lockdown decided to join forces with the publishing company Penguin Michael Joseph. The cookbook has been voted The Sunday Times' No.2 Bestseller.