Air fryer baked potatoes are ready in just 55 minutes in the air fryer - a quick and efficient way to cook everyone's favourite carb.
Making jacket potatoes in the air fryer is pretty simple; just prick with a fork, rub with a little olive oil, cook for 40-45 minutes, and then carefully remove them from the air fryer. America's Test Kitchen recommends topping your air fryer baked potatoes with either blue cheese pepper butter or lemon thyme butter, both of which you can read how to make in the top tips section below.
Ingredients
2 russet potatoes (8 oz), unpeeled
¼ tsp vegetable oil
Salt and pepper
Method
Lightly prick each potato several times with a fork. Rub potatoes with oil and sprinkle with ⅛ teaspoon salt. Arrange potatoes in an air-fryer basket, spaced evenly apart.
Place the basket in the air fryer and set the temperature to 400 degrees. Cook until the paring knife inserted into the potatoes meets little resistance, 40 to 45 minutes.
Transfer potatoes to a large plate and, using a paring knife, cut 2 slits, forming X, in each potato. Press in at the ends of potatoes to push flesh up and out. Season with salt and pepper to taste. Serve.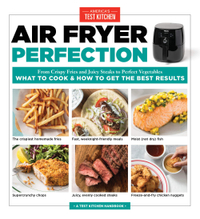 Air Fryer Perfection: From Crispy Fries and Juicy Steaks to Perfect Vegetables What to Cook and How to Get the Best Results by America's Test Kitchen
Top tips for making air fryer baked potatoes
America's Test Kitchen says; "One great advantage of an air fryer is how it untethers you from your oven - no more heating up the house for a small project. Enter baked potatoes: Typically requiring at least an hour of oven time at high heat, simple baked potatoes can become a nuisance on a hot day, or when trying to bake another dish at a different temperature. The air fryer handily solved that problem.
With no need to preheat, it took just 40 minutes to bake two fluffy, tender potatoes. Our foolproof method of lightly oiling and salting the outside of the potatoes produced crisp, tasty, well-seasoned skins, and poking holes for steam to escape ensured the centers became fluffy. Top the potatoes as desired or with one of our compound butter."
Blue cheese–pepper butter
Mash 1½ tablespoons softened unsalted butter, 1 ­tablespoon crumbled blue cheese, and ¼ teaspoon ­pepper together in a bowl.
Lemon-thyme butter
Mash 2 tablespoons softened unsalted butter, 1 teaspoon minced fresh thyme, ¼ teaspoon grated lemon zest, and ¼ teaspoon juice together in a bowl.
America's Test Kitchen, a cookery television programme popular in the USA, is now an established hub of confident cooks who test everything from cookware to supermarket ingredients and more. Their ethos is all about "sharing what we learn to help everyone cook with confidence." Established in 1993, and still going strong America's Test Kitchen's chefs and cooks have written a variety of cookbooks, and run online cookery schools as well as websites, magazines, podcasts, apps, and more.
You might also like...
Jessica Dady is Food Editor at Goodto.com and has over 10 years of experience as a digital editor, specialising in all things food, recipes, and SEO. From the best food hampers to cookbooks, from the best cake stands to kitchen appliances, Jessica has a wealth of knowledge when it comes to must-have food products. A passionate baker, she spends some of her time creating celebration cakes for friends and family including her two lucky children.