This chicken apricot pie serves six and can easily be prepared ahead if you want to serve at a dinner party.
Our pie is a little richer than Joe Wicks chicken pie as the filling has a smooth white sauce made from wine, mustard and cream. Although the wine is optional, we recommend including if you have a bottle open as it will make the sauce even more flavoursome. You could crumble in half a stock cube for some extra richness if you want to omit the wine.
Ingredients
2 x 320g sheets of ready-rolled puff pastry
100g butter
6 skinless chicken breasts, approx 950g, cubed
1tbsp flour
450ml milk
80g chopped dried apricots
300ml cream
2tbsp white wine (optional)
1tsp Dijon mustard
A little salt and freshly ground black pepper
1 beaten egg
Method
Heat the oven to 200C (180C fan, Gas 6). Grease a 23cm x 30cm pie dish or tin and line it with one of the sheets of puff pastry.
Heat 50g butter in a large frying pan and cook the chicken until golden brown on all sides. Remove from the pan and set aside, it should be mostly cooked through but will finish in the oven.
Melt the remaining butter in the pan and mix in the flour. Cook for 1 minute, before gradually adding the milk. Stir continuously until the sauce thickens.
Mix in the chicken, chopped apricots, cream, wine (if wanted) and Dijon mustard. Season with salt and freshly ground pepper.
Pour the sauce into the lined pastry dish.
Brush the edge of the lined pastry dish with beaten egg and cover the pie with the remaining sheet of puff pastry.
Trim off any excess pastry and seal the pie by crimping the pastry together around the edges.
Cut a small cross in the centre of the pie and brush the top with the remaining beaten egg.
Cook in the oven for 30 minutes, or until the pastry is puffed up and golden brown and the filling is piping hot and cooked through.
Top tips for making chicken apricot pie
For a quicker preparation time, use chopped leftover chicken from the Sunday roast. You could also replace the chicken with leftover cooked turkey or ham for a delicious alternative.
You can also buy whole dried apricots and cut them into smaller chunks, these bags are often cheaper.
Continue reading for more serving suggestions and helpful tips.
How to make a chicken and apricot tagine pie?
If you like the combination of chicken and apricots which can often be found in the classic Moroccan dish tagine, and you want to make it into a pie, we have some simple ingredient substitutions to help.
Firstly, we recommend adding a pinch of saffron to the white sauce for flavour and colour. You can also fry the chicken with spices such as cinnamon, cumin, turmeric and ras-el-hanout for the final couple of minutes of cooking.
You might also want to include some red onions and peppers in the pie filling to bulk it out. If you have some leftover roasted or boiled carrots, they make a great addition too.
Can I make chicken apricot pie ahead?
You could make the filling for the pie ahead of time. We recommend ensuring the chicken is cooked all the way through once it is mixed into the sauce. Then transfer to a container or bowl and cover with clingfilm. The next day you can assemble the pie with the pastry just before cooking.
What can I serve with chicken apricot pie?
We recommend a side of roasted or steamed vegetables. A traditional chicken pie would be served with mashed potatoes or chips to soak up and dip into the gravy from the pie filling. If you prefer you could serve with some couscous or rice. A simple green salad would also be enjoyable and lower in calories.
To double check if the chicken is cooked through, we recommend using a meat thermometer. If you've never used one before, read our guide on how to use a meat thermometer.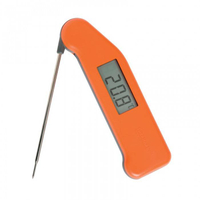 Thermapen® Classic - Orange - View at Thermapen
With this compact digital thermometer, you can read temperatures of -49.9C-299C. We love the orange but there are lots more colours to choose from. The digital screen is quick and easy to read and gives a very accurate reading so you can cook with confidence. Chicken is cooked at 74C and above.
Try out chicken and leek pie next, or you might like this chicken casserole pot pie. We also have an excellent turkey and mushroom pie if you prefer.
Parenting advice, hot topics, best buys and family finance tips delivered straight to your inbox.