Our chicken plate pie is under 600 calories per portion and only uses eight ingredients.
If you like Joe Wicks chicken pie, we think you'll love this easy recipe. The combination of peas, spring onions and tarragon is light and fresh and would work well with the addition of some mustard if you like it.
Ingredients
1 tbsp olive oil
400g fresh chicken breast chunks, in 1cm (½in) pieces
Salt and ground black pepper
150ml crème fraîche
1 tbsp thickening granules
1 bunch spring onions, trimmed and roughly sliced
125g frozen peas
2 tsp tarragon leaves, finely chopped, optional
2 x 230g shortcrust pastry sheets
Method
Heat the oil in a frying pan and fry the chicken chunks for about 5 minutes, turning them occasionally, until browned. Season well with salt and ground black pepper and leave to cool for 10 minutes.
Set the oven to 200C (180C fan, Gas 6). Put a baking sheet in the oven to heat up.
Mix the crème fraîche, thickening granules, spring onion, peas and tarragon in a large bowl. Now stir in the cooled chicken.
Use one of the pastry sheets to line a 20cm pie plate or tin. Spoon in the chicken mixture; pile it high in the middle, leaving a wide border around the edge. Brush the pastry edge with water.
Put the other pastry sheet on top and seal them together well. Trim off excess pastry and crimp the edges.
Use any offcuts to make leaf shapes and stick them on the top with a little water, if you like. Use a sharp knife to create a hole in the middle for steam to escape. Bake for 35-40 minutes, until the pastry is a pale golden colour.
Top tips for making a chicken plate pie
This pie is great eaten warm or cold and is an excellent recipe to make and use up leftover roast chicken if you prefer. You can bulk out the meatiness and add some chopped ham or crispy bacon if you like. For those who find tarragon too strong, consider using thyme or basil instead.
Continue reading below for more tips, including what to do with any leftovers.
How do I thicken my chicken pie filling?
If you don't have thickening granules or can't find them at the supermarket, toss the chicken in a couple of tablespoons of plain flour before adding to the rest of the ingredients. This will help thicken the sauce a little.
How do I get a golden finish on my pastry?
We recommend buying an all-butter pastry as this will give a lovely deep colour and flavour. You could also glaze the pie with a beaten egg yolk to intensify the golden colour of the pastry. You can also use a little milk but the effect will be less dramatic.
Which pastry is best for pie?
This recipe calls for shortcrust pastry but you could use puff pastry if you prefer. You might also like to use filo. If you want to use filo we recommend only using it on the top. Cut the sheets into quarters and brush with a little oil or melted butter. Scrunch on top then bake until crisp.
For this recipe we recommend placing the pie plate on top of a preheated baking tray. Not only does this help catch any filling that might bubble over the edges and cause your oven to become dirty, it also helps to cook the bottom of the pie as it acts as a direct heat source.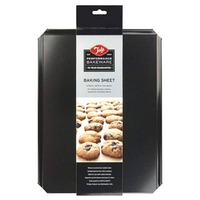 Tala Performance Baking Sheet - View at Amazon
You can buy this baking sheet in medium or large. It is non-stick which makes it ideal when baking cookies but also makes it easier to clean too. The edges are raised which makes it easy to lift in and out of the oven.
You might also like our chicken and mushroom pie or our chicken pot pie instead. We also have the Hairy Bikers steak and ale pie on site which is very popular.
Parenting advice, hot topics, best buys and family finance tips delivered straight to your inbox.