Gordon Ramsay's roast potatoes are cooked in olive oil but you can use goose or duck fat for more flavour.
Chef Gordon Ramsay knows a thing or two about cooking great food and the addition of turmeric to his roast potatoes is genius. It gives them a wonderful golden colour and an extra boost of flavour without overpowering other items on your plate. The chilli flakes bring a delicious hint of spice but you can omit if you want to stick with more traditional flavours.
Ingredients
2.5kg potatoes, such as Maris Piper
2 tbsp semolina
1½ tsp ground turmeric
Pinch of chilli flakes, to taste
4–5 tbsp olive oil (or goose or duck fat)
Method
Heat the oven to 200C (180C fan, Gas 6). Peel the potatoes, quarter lengthways and place in a large saucepan of salted cold water. Bring to the boil, then lower the heat and simmer for about 8 minutes.
Drain the potatoes in a colander and sprinkle with the semolina, turmeric, chilli flakes and some salt and pepper. Toss in the colander to coat evenly, then drizzle with a little of the olive oil and toss again. Leave to steam for 5 minutes.
Put the rest of the olive oil in a roasting tray and place in the oven for a few minutes to heat up. Carefully add the potatoes and toss to coat in the oil.
Roast for 40–45 minutes, turning a few times, until crisp and golden. Drain on kitchen paper and transfer to a warmed dish to serve.
Top tips for making Gorden Ramsay's roast potatoes
Consider serving Gordon's turmeric and chilli potatoes instead of rice or naan with your Friday night curry. You could also add some fresh curry leaves to the roasting tray for an extra infusion of flavour and they make for a nice presentation too.
What's the secret to really crispy roast potatoes?
The key to crunchy roasties is getting a fluffy exterior before they go in the oven. Drain the potatoes well and give them a moment to steam and dry out further. Then don't be afraid to shake the colander or pan vigorously to rough up the edges before you add the oil.
Why can't I get my roast potatoes crispy?
Make sure you allow the potatoes to steam dry before adding to the hot oil. If the potatoes are too wet when they hit the oil they won't crisp. It's also essential the oil is very hot when you add the potatoes and there should be a noticeable sizzle. If when you add the first potato there is no sound, get the oil back on the heat before adding the rest of the potatoes.
How does Gordon Ramsay make the best roast potatoes?
Sprinkling the potatoes with semolina helps Gordon achieve a super crispy crust to his roast potatoes. He also likes to use goose or duck fat but olive oil is a good alternative.
For a more traditional flavour combination, swap the turmeric and chilli flakes for a couple of garlic cloves and some sprigs of fresh rosemary. Add to the tray once the potatoes are tossed in the hot oil.
Which type of potatoes are best for roasting?
King Edward potatoes or Maris Pipers are the very best types for roasting. Desiree and Albert Bartlett Rooster are good too - Roosters are very easy to peel as well, which makes them nice to prepare. White potatoes are cheap and make good roasties as long as you parboil and fluff them, but don't let them overboil and fall to pieces.
Food writer Jessica Ransom says: 'When adding the parboiled potatoes to hot oil I like to use a set of kitchen tongs for greater control. They are also great for turning the potatoes during cooking.'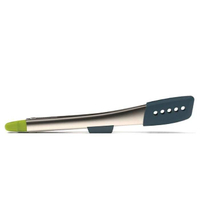 Joseph Joseph 12 inch Elevate Stainless Steel Tongs - View at Amazon
These tongs have a lockable handle for easy storage and a clever elevated design to reduce mess on your surface. The tips are heat resistant up to 270C and the silicone will protect your cookware from damage.
Serve these potatoes alongside this Gordon Ramsay beef Wellington recipe or perhaps this Gordon Ramsay turkey is what you're looking for. For an easy side dish, Gordon Ramsay's Brussels sprouts with pancetta are a great choice as are Gordon Ramsay's honey-glaze