This Mary Berry fruit cake is decorated with blanched almonds, glacé cherries, and glacé pineapple.
Some people find Christmas cake a little dense and too rich but this recipe from Mary is lighter in flavour and texture thanks to the use of canned pineapple and dried apricots. The fruit isn't soaked in booze either so it's a great bake the whole family can enjoy.
Please note that nutritional info is per person based on this cake serving an average of 10 people.
Ingredients
350g (12 oz) red or natural glacé cherries
225g (8 oz) can of pineapple in natural juice
350g (12 oz) ready-to-eat dried apricots
100g (4 oz) blanched almonds (skins removed)
Finely grated rind of 2 lemons
350g (12 oz) sultanas
250g (9 oz) self-raising flour
250g (9 oz) caster sugar
250g (9 oz) softened butter
75g (3 oz) ground almonds
5 large eggs
To decorate:
Blanched almonds
Red or natural glacé cherries
Glacé pineapple (available from health-food shops)
100 g (4 oz) sifted icing sugar
Method
Heat the oven to 140C (160C fan, Gas 3). Grease a 23cm (9 in) deep round cake tin then line the base and sides with a double layer of baking parchment.
Cut the cherries into quarters, put in a sieve and rinse under running water then drain well. Drain and roughly chop the pineapple, then dry the pineapple and cherries very thoroughly on kitchen paper. Snip the apricots into small pieces. Roughly chop the almonds. Place the prepared fruit and nuts in a bowl with the grated lemon rind and sultanas and gently mix together.
Measure the flour, sugar, butter, ground almonds and eggs into a large bowl and beat well for 1 min until smooth. Lightly fold in the fruit and nuts then turn the mixture into the prepared cake tin. Level the surface and decorate the top with blanched whole almonds, halved glacé cherries and pieces of glacé pineapple, if liked.
Bake in the pre-heated oven for about 2 hours 15 minutes or until golden brown. A skewer inserted into the centre of the cake should come out clean. Cover the cake loosely with foil after 1 hour to prevent the top becoming too dark.
Leave to cool in the tin for 30 mins then turn out, peel off the parchment and finish cooling on a wire rack. Mix the icing sugar with a little water, and drizzle over the cake to glaze.
Top tips for making this Mary Berry fruit cake
This cake uses almonds but you could use a mix of nuts like pistachios, pecans, and Brazil nuts too if you like. If you plan to decorate the cake with the traditional almond paste and royal icing coating, there is no need to decorate with almonds and cherries before baking.
Can you freeze Mary Berry's fruit cake?
Yes, the cake freezes well according to Mary. Simply, wrap tightly and freeze for up to two months. Allow the cake to thaw at room temperature overnight. You can only freeze the cake if it is un-iced.
How do you cook Mary Berry's fruit cake in an AGA?
To bake this fruit cake in an AGA Mary says: 'Stand a grill rack in its lowest position in the roasting tin and place the cake on top. Slide the roasting tin onto the lowest set of runners in the roasting oven, with the cold plain shelf above on the second set of runners."
She adds: "Bake the cake for about 30 minutes until it is a pale golden brown. Watch very carefully. Then transfer the roasting tin and cake to the simmering oven and cook for a further while a skewer comes out clean when inserted into the cake." This will likely take around 2 hours and 30 minutes.
How far in advance should you make Christmas cake?
For a traditional rich sponge cake with alcohol, about 2-3 months in advance is ideal, giving the cake plenty of time to settle and mellow. You can 'feed' it regularly this time by prodding a few holes in the top with a skewer and pouring a teaspoon of brandy over the top. However, this cake with its lighter, golden crumb, is made 2-3 weeks in advance.
How do I tell when my cake is ready?
Around the end of the cooking time, remove the cake from the oven and gently press on the top. It should feel nicely firm and springy. Take a clean skewer or knife and push it into the middle of the cake at a slight angle.
Try to push it in somewhere where there is a natural crack in the top of the cake, to preserve the look of the cake. Leave it for a few seconds then pull it out again. If the knife looks clean, the cake is ready. If it has clear smears of batter on it, cover the cake with foil or parchment paper to prevent further browning and pop it back in the oven.
Why does the top of my fruit cake crack?
The oven temperature is too high, causing the top of the cake to be ready before the middle has finished cooking, so the middle tries to push through later.
Even if your oven is at the 'right' temperature according to the dial, some ovens run hot, so check the real temperature with an oven thermometer.
If you're unhappy with the presentation of your baked fruit cake, you could cover it with marzipan and royal or fondant icing.
How can I make the top of the cake look more glossy and beautiful?
Try glazing the fruitcake with a generous brushing of warmed apricot jam.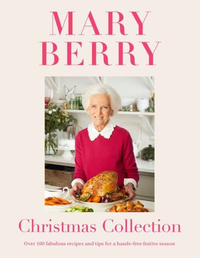 Mary Berry's Christmas Collection: Over 100 Fabulous Recipes and Tips for a Hassle-free Festive Season by Mary Berry (Headline, £30) - View at Amazon
For tips on a foolproof turkey, canapes, and a full festive timeline to keep your cooking schedule on track, Mary has all the answers in this Christmas collection.
We have more Christmas cake ideas for you to explore if you'd like more inspiration. Try this easy Christmas cake recipe if you want to go back to basics or have a go at our Christmas tree cake. Read our guide on how to cook a Christmas cake in an air fryer if you don't like the idea of having the oven on for hours.