These panda cupcakes look impressive but are easy to achieve with a few clever techniques and ingredients.
This fun cupcake recipe is perfect for the panda-loving person in your life. They make a great addition to birthday parties or picnics and also make an excellent afternoon activity to make with children.
Ingredients
3tbsps fresh lime juice
30ml milk
150g unsalted butter at room temperature
200g golden caster sugar
2 eggs
¼tsp baking powder
150g self-raising flour
Zest of 2 limes
To decorate:
100g dark chocolate
Large white confetti sprinkles or white fondant
Black edible ink marker or fondant icing
For the buttercream:
200g icing sugar
150g butter
2tbsps coconut cream
3tbsps coconut milk (as needed)
Desiccated coconut
Method
Heat the oven to 160C (140C fan, Gas 3) and line your muffin tray with 12 paper cases.
Add the lime juice to the milk and leave to one side. Cream the butter and sugar until light in colour and fluffy, add the eggs and beat again.
Add the baking powder and a third of the flour with the lime juice and milk and mix until just combined and repeat until all the flour and lime and milk have been added. Add the zest and fold in with a metal spoon.
Fill the cases to two thirds full and bake for 25 minutes until golden brown and spring back to the touch. Remove and cool on a wire rack.
For the toppers: Melt the dark chocolate in the microwave on 10 second bursts until melted. Add the chocolate to a parchment piping bag and snip the end, not too much or the chocolate will fall out of the bag.
Onto parchment paper or a silicone baking mat on a cutting board, pipe 24 ears (large circles) and eyes (large ovals), then 12 noses (triangles) and mouths - be as creative as you like. Pop into the fridge for 30 mins.
To make the buttercream, combine icing sugar, butter and coconut cream in a large bowl and mix until smooth. Add the coconut milk as you need it, to loosen the buttercream if necessary
Using a palette knife spread the buttercream over the tops of the cupcakes and dip into the desiccated coconut to give the cupcakes a furry texture.
To make the centres of the eyes, draw a black dot onto the large white confetti sprinkles with a black edible marker and stick onto the eyes with a touch of leftover chocolate. Add the chocolate eyes, nose, ears and mouth to the topper.
Top tips for making panda cupcakes
If you'd like an extra hit of coconut, swap 20g of the self-raising flour for some desiccated coconut in the cupcake batter. For more tips on how to create panda cupcakes, continue reading below.
How to create panda cupcakes with icing and chocolate buttons?
For a simpler decoration, mix icing sugar with water until you have a smooth consistency that is thick enough to pour onto the top of the cupcake without it running off the sides.
Use two chocolate buttons as eyes and break another button in half to create ears. Break a button into quarters and use one piece to make a nice. Melt some chocolate and transfer to a piping bag so you can draw the mouth of the panda. Use some more plain icing to draw the white detail for the eyes.
How to make panda cupcakes with Oreos?
Mini Oreo biscuits make a good alternative to chocolate buttons for the ears of the panda if you like. You can also split the Oreo biscuit in half and cut the side without a cream filling into small pieces for the eyes and nose.
Can you freeze panda cupcakes?
You can freeze the cupcakes before coating the cakes in buttercream and topping with the chocolate decorations. Allow to defrost fully before decorating.
To melt the dark chocolate for this recipe you will need a microwave-safe bowl. We like this one from Pyrex which doubles up as an excellent mixing bowl for future recipes.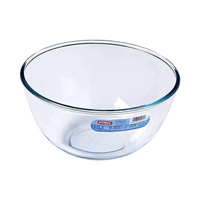 Pyrex glass bowl - View at Amazon
When you're not using the bowl to melt chocolate in your microwave, you can use it as a mixing bowl when baking cakes, or to toss a salad with a dressing or for marinating chicken overnight. This is a good medium size and can go in the dishwasher for easy cleaning.
Check out these animal cupcakes if you want more wildlife designs. You might also like our rainbow cupcakes or these ice cream cupcakes are perfect for summer parties and picnics.
Parenting advice, hot topics, best buys and family finance tips delivered straight to your inbox.