Our rose cupcakes have a rich chocolate sponge and a creamy vanilla buttercream icing.
To decorate this cupcake recipe with a buttercream rose you'll need a piping bag and a special nozzle. It is a simple technique but looks very impressive. These cupcakes can be served at any occasion and will be loved by your guests.
Ingredients
110g butter
110g 48% dark chocolate
10g coffee granules
60g self raising flour
60g plain flour
10g cornflour
25g cocoa powder
⅓ tsp bicarbonate of soda
240g caster sugar
2 eggs, lightly beaten
3½ tsp vegetable oil or olive oil (not virgin oil)
50ml buttermilk
For the icing:
110g butter
400g icing sugar
2 tbls milk
1 tsp vanilla extract
Red colouring
For the leaves:
50g flower paste or sugar flower paste
Green colouring
1 small rose leaf cutter
Method
To make the leaves, colour the flower paste with the green colouring until you reach the desired shade of green. Roll the paste thinly, approximately 3mm (1/8th of an inch) thick. Use a rose leaf cutter to cut 12 leaves and place on a sponge to dry.
To make the cakes: Heat the oven to 160C (140C fan, Gas 3) and line a 12-hole muffin tray with cupcake cases.
Put 80ml water and the butter, chopped chocolate and coffee granules in a large bowl over a pan of boiling water. Stir gently until melted then remove from the heat and allow to cool.
Sift the flours, cocoa and bicarbonate of soda into a large bowl. Stir in the sugar and make a well in the centre. Add the beaten eggs, oil and buttermilk and the chocolate mixture, stirring with a large spoon until completely combined and there are no lumps.
Fill cupcake cases to 2/3 full and bake for 30 minutes. Remove and cool in the tins for 10 minutes before cooling on a wire rack ready for icing.
To make the icing: Add butter, icing sugar and vanilla extract to a large mixing bowl, then beat for about 5 minutes with an electric whisk until smooth. Add the red colouring and beat again. If you need to loosen the mixture, add a little milk until you read a dropping consistency that is loose enough to pipe. Pipe roses onto your cakes.
Transfer to a piping bag with a drop flower nozzle fitted. Pipe a rose onto each cupcake and finish with a sugar paste leaf.
Top tips for making rose cupcakes
You can easily adapt our rose cupcakes recipe to suit other special occasions. Leave out the red food colouring and pipe white buttercream roses for a wedding. Choose blue or pink food colouring for a baby shower. Read our guide on how to ice cupcakes if you'd like to discover different designs and techniques or continue reading below for more tips and tricks.
What is flower paste icing?
It is similar to sugar paste and can be used to make a whole host of edible decorations. The main difference is that it dries hard. This can make it a good choice if you are using intricate moulds or designs. If you can't find it for this recipe, regular sugar paste will still be fine.
What is a rose cupcake?
This rose cupcake recipe features a rose design on the top. If you'd prefer a rose flavoured cupcake, you could add some rose water to the buttercream. The flavours of raspberry, rose and chocolate pair well together so you could also press some fresh raspberries into the cake batter before baking.
What tip do you use for rose cupcakes?
Victoria uses and recommends the Wilton 1B tip which is also called a drop flower nozzle.
For the most professional finish to this recipe, it's important to use a piping bag and the correct nozzle. If you need to buy some, consider this set which includes a reusable piping bag and six different tips.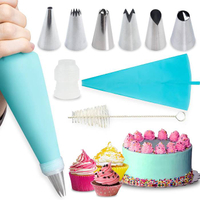 Silicone Piping Bags, 6 pcs Stainless Steel Nozzles Set - View at Amazon
This piping bag is easy to clean so you can use it over and over again. It comes with six different nozzles and there is a drop flower tip which is perfect for making these rose cupcakes. The set also comes with a tool for easy cleaning of the nozzles.
For something simpler but also delicious, try making our chocolate cupcakes recipe. You might also like our mini cupcakes or for something bright and striking, these rainbow cupcakes are an excellent option.