Our easy Union Jack cupcakes use ready-to-roll icing and take 20 minutes to bake.
This cupcake recipe was originally designed to celebrate the Royal Wedding but is perfect for British celebrations like VE Day. It can easily be adapted for any flag but it works especially for those who celebrate America's Fourth of July. Our recipe makes 12 cupcakes but if you're hosting a big party you can easily double the ingredients.
Ingredients
115g caster sugar
115g margarine
115g self raising flour
2 eggs
1tsp baking powder
1tsp vanilla essence
For the icing:
250g white ready roll icing
15g apricot jam
Blue and red edible ink pens
Method
Line a cupcake tin with 12 cupcake cases and heat the oven to 180C (160C fan, Gas 4).
Cream the sugar and margarine together with an electric mixer until light and creamy. Gradually add the eggs, flour, baking powder and vanilla essence while whisking.
Fill the cupcake cases half full and put them in the oven for 20-25 minutes until well risen and lightly golden brown. Then take the cupcakes out of the oven and put them on a wire rack to cool.
When the cupcakes are cool, roll out the ready roll icing to about 3mm thick. Then, using a circular biscuit cutter, cut out 12 circles.
Gently warm the apricot jam in the microwave for about 20 seconds or on the hob until runny. Brush the cupcakes with apricot jam so you can stick one of the icing circles on the top.
Use the edible ink pens to draw a Union Jack flag onto each cake. Serve with tea for the full British experience.
Top tips for making Union Jack cupcakes
Keep the theme going by using Union Jack coloured cupcake cases for your cakes. You can buy them at Lakeland, Home Bargains or on Amazon. Swap the apricot jam for strawberry or raspberry if you prefer.
If you can't find edible ink pens you can also use a little food colouring and some small paint brushes. For more tips on how to create an effective Union Jack design, continue reading below.
Should I use red, white and blue icing to create a Union Jack flag?
Yes, instead of using edible ink pens, the other option is to use red, white and blue fondant icing. We recommend cutting white circles as the base layer still. Then cut strips of red fondant icing to create the central and horizontal lines of the flag. Finally cut small triangles of blue to fit in the gaps and complete your flag design.
How to make flag cupcake toppers?
If the idea of creating a flag from icing sounds too fiddly, you could top four cupcakes with a circle of white icing, four with a circle or red icing and the final four with a circle of blue icing. Then print off some triangular or rectangle shaped union jacks flags. Secure the flags to a cocktail stick with a little tape and stick in each cupcake to decorate. You can also buy ready-made Union Jack cupcake toppers and decorations if you like.
Alternatively, use some white washi tape on the top of a cocktail stick and then use permanent markers to draw on the flags.
How to make a cupcake display?
First you'll need some cupcakes! Once decorated, arrange the cakes on a cake stand, wooden board or just on a plate. You could group the cupcakes into colours or create a random pattern. The important thing is not to overthink it! Your guests will simply be delighted you've provided a homemade treat for them to enjoy.
If you never know if you've rolled icing or pastry thin enough, you need an adjustable rolling pin. It's one of our best kitchen gadgets under £50.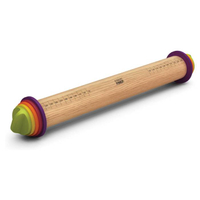 Joseph Joseph Adjustable Rolling Pin - View at Amazon
This rolling pin comes with removable discs which will help you achieve thicknesses of either 2mm, 4mm, 6mm or 10mm. It is excellent for rolling icing but can also be used for pastry and biscuit dough.
For more royal-themed recipes, check out this Coronation cake and our collection of Coronation cakes. These are our best British cakes including classics like a Vicky sponge and lots of drizzle cakes!
Parenting advice, hot topics, best buys and family finance tips delivered straight to your inbox.