The Weight Watchers chicken pie has a delicious homemade pastry lid and a succulent chicken and porcini mushroom filling.
This recipe has an easy two ingredient shortcrust pastry style topping. The lid and filling can be prepared ahead of time and then assemble and cook 25 minutes before you'd like to serve. For freezing instructions, scroll down to read our tips.
Ingredients
For the pastry:
150g plain flour
Pinch of salt
65g low fat spread
For the filling:
Low-fat cooking spray
230g skinless boneless chicken breasts, diced
1 onion, sliced thinly
2 garlic cloves, crushed
250g closed cup mushrooms, quartered
1 heaped tbsp plain flour
1 tbsp chopped fresh sage or 1 tsp dried sage
10g dried porcini mushrooms, snipped into small pieces
100ml white wine
300ml chicken stock
1tbsp skimmed milk, to brush
Method
Sift the flour and salt into a bowl. Rub in the low-fat spread until the mixture resembles breadcrumbs. Add just enough cold water to bring the dough together. Shape into a disc, wrap in clingfilm and chill for 30 minutes.
Heat the oven to 190C (170C fan, Gas 5).
Heat a large, lidded, non-stick frying pan, spray with the cooking spray and brown the chicken pieces. Don't crowd the pan otherwise the chicken won't brown and you'll reduce the temperature of the pan. Cook in batches to avoid this. Remove the chicken to a plate. In the same frying pan, soften the onion for 3 minutes before adding the garlic and mushrooms. Cook for a further 2 minutes. Stir in the flour, sage and porcini mushrooms, then gradually stir in the wine and chicken stock. Return the chicken to the pan. Bring to the boil, season, then cover and simmer for 15 minutes until the sauce has thickened. Tip into a ceramic pie dish with a lip and cool for 10 minutes.
Roll out the pastry to a circle slightly larger than the top of the dish. Cut a narrow strip of pastry from around the outside, brush the edge of the dish with water and press the pastry strip onto the lip of the dish. Dampen the pastry border, then lift the pastry lid into place. Press down well and trim the edges. Use a fork to stamp a pattern around the edge, and use the pastry trimmings to decorate the top.
Brush with the milk and then bake the pie for 25 minutes until crisp and golden on top and piping hot in the middle.
Top tips for making a Weight Watchers chicken pie
To keep the overall calories of the meal down we recommend serving with some steamed carrots, broccoli and cauliflower. All of these vegetables have a value of zero points on the Weight Watchers plan. Lots of salad ingredients are also zero points so could be another option. Continue reading below for more tasty inspiration and pie tips.
Can you freeze Weight Watchers chicken pie?
Yes! Allow the pie filling to cool completely then transfer it to an oven-proof and freezer-safe dish. Top with the pastry lid and freezer for an hour until solid. Wrap in clingfilm to protect the pie from freezer burn then cook for around 40-50 minutes from frozen until the pastry is cooked and the filling is piping hot.
Why is my Weight Watchers chicken pie filling runny?
It's important to cook the closed cup mushrooms until they release water and this is evaporated off otherwise it will loosen your sauce's consistency. If you aren't using fresh chicken stock you might like to add a little more flour to thicken the sauce. High quality stocks are naturally high in gelatin which help thicken your sauce but if you make stock from a cube this will be lacking.
What can I use instead of mushrooms in pie?
If you don't like the flavour or texture of mushrooms you can swap them for another vegetable. Leeks, courgettes and peas all pair nicely with chicken.
For this recipe we recommend using a large round pie dish. We have used a ceramic one but an enamel pie plate is a traditional and popular choice.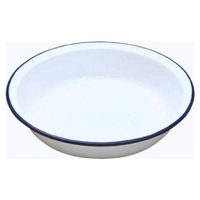 Traditional Circular Round 24cm Falcon White Enamel Pie Dish - View at Amazon
This pie dish is 24cm in diameter and is suitable for freezer and oven-use. The lip makes it easy to secure your pastry lid on top and will also make it easier to lift in and out of the oven. We like to crimp the edges of our pies but you can also use a fork to gently press down and create an attractive seal.