DockATot+ Deluxe review - our Editor puts it to the test
Read our DockATot+ Deluxe review to find out what our Editor thinks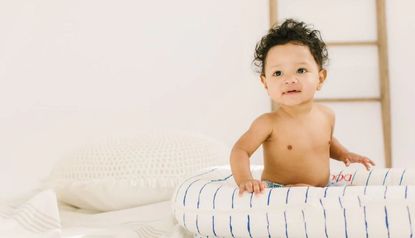 (Image credit: DockATot)
'It's very important to note that this is not a sleep product and should never be used for naps or sleeping but if you want somewhere comfortable to place your baby for short periods of closely supervised lounging and play, this is the thing to buy,' says Goodto.com Editor, Anna, who tested it for this DockATot Deluxe+ review. 'It's the original and the best baby lounger in terms of design and quality.'
Reasons to buy
+

A cosy place to put your baby down awake

+

Easy to carry from room to room

+

High-quality, sturdy and robust

+

Beautiful range of designs
Reasons to avoid
-

Not suitable for sleep or naps

-

Expensive - but premium quality

-

Doesn't fold away easily for storage

-

Putting the cover back on is tricky
Important safety note
The DockATot Deluxe+ is not a suitable place for a baby to sleep.
Never place it inside a Moses basket, bassinet, crib or cot.
Don't use blankets, pillows or bedding with the DockATot Deluxe+ dock.
---
Goodto.com Editor Anna Bailey tested out the DockATot+ Deluxe.
Anna Bailey - mum of one and Editor of Goodto, reviewed the DockATot Deluxe+ with her daughter, Freddie. A lifestyle journalist and online editor with more than 18 years of experience, she has written on a variety of family topics and reviewed a wide range of baby products.
A DockATot dock (try saying that quickly...) baby dock is a luxurious, cushion-like space to 'dock' your baby when your arms need a rest. Previously called a Sleepyhead Deluxe+ pod, the DockATot Deluxe+ is suitable for babies aged between 0-8 months old.
Anna put the DockATot+ Deluxe baby lounger to the test with her newborn daughter, Freddie, and found it provided a snug and cosy place for supervised relaxation.
'As Freddie has grown older, we've used the DockATot+ Deluxe for play and tummy time but mostly it's a really handy place to pop Freddie down for a few minutes now and then,' Anna explains. 'I can pop her in it while I get ready for the day, or while I make a bottle or a cup of coffee. She seems really content just lounging in it and looking around, especially if I place it underneath her baby gym.'
The DockATot Deluxe+ is also a helpful accessory for use after bathtime. 'Freddie hated the bath at first, so to go from the water back to a nice, snug and familiar environment really seemed to help calm her down afterwards,' says Anna.
Our parent tester, Anna, says:
'The DockATot+ Deluxe has also been so handy for dressing and undressing Freddie. I always use it when putting her in or taking her out of her pram suit - it's just so much easier than doing it while she's actually in the pram. It can also be used as a changing mat but I've only done this once or twice (and only with a muslin underneath her), as it feels too nice to risk getting dirty.'
If it does end up in need of a clean, the cover on the DockATot Deluxe+ is easy to remove and machine washable, plus you can buy replacement covers in case of spillages.
'It's also been good for having Freddie lounge on the bed or sofa next to me while I'm eating or watching TV,' adds Anna. 'We have a dog who jumps everywhere, so it's good to have her on a clean, separate surface away from any stray dog hairs.'
Like lots of parents, Anna received lots of gifts for new mums including items of clothing for Freddie, and found the DockATot Deluxe+ the perfect place for those all-important photoshoots. 'It's the perfect place to photograph her wearing a new outfit, as she doesn't wriggle around and you can clearly see what she's wearing,' explains Anna. 'My friend from NCT classes bought the same DockATot which was the perfect setting for photographing our babies side-by-side on their one-month birthday.'
Design
Dimensions: H14 x W46 x L75cm
Age range: 0-8 months

The DockATot+ Deluxe was ready to use and fully assembled when it arrived. Anna chose the William Morris Willow Bough print for her DockATot+ Deluxe, but she was impressed by the range of other designs available. 'As well as more Morris prints and other traditional and bohemian designs, there's a wide variety of floral, animal, marble prints and block colours,' she says. 'It's great that you can buy different covers too if you want to give it a revamp, or just have a spare one around in case of spillages or leaks. Given the price, it would be great if an extra one came with it, though.'
Although sturdy and robust, the DockATot+ Deluxe is lightweight enough to carry easily from room to room, even whilst holding your baby. Handles on three sides make it extra easy to grab hold of.
'I love that it came with a zip-up plastic carry case, which also has handles, however you can't fold the DockATot away compactly, which could be tricky for storage.'
For travel use, a Get Away Tote bag is sold separately.
Comfort and features
The DockATot Deluxe+ is suitable for babies aged 0-8 months. (Once it's outgrown, the Grand Dock, which is 50% longer and wider, is the brand's stage 2 lounging dock, suitable for babies aged 9 months to 36+ months.)
'Although the Deluxe+ is wide enoug for Freddie, her feet seem to be edging closer to the bottom everyday,' says Anna. 'With the buckle closed, it's 18 inches long but this can easily be extended to 34 inches when it's opened up. I'm keeping my fingers crossed she won't have outgrown it by 8 months.'
'We've had a few sick-ups and a lot of a dribble on our DockATot, and I found the fabric was really easy to spot clean. When we were ready to remove the cover and give it a wash, it came off easily but getting it back on was a bit harder. It took two of us to wrestle it back on. Although, to be fair, it's the same when we wash the sofa covers.'
A number of accessories including spare covers are available to buy separately.
Safety advice

The DockATot comes with a panel of safety advice helpfully stitched onto the base, outlining how to use it safely. Anna found this very useful and noted that the safety advice states not to use a blanket with the DockATot due to the risk of babies suffocating on additional soft bedding - something she was not previously aware of.
'It also advises to always place your baby on their back (other than for tummy time) to reduce the risk of SIDS (Sudden Infant Death Syndrome), to never add pillows, and never to let your baby use the DockATot Deluxe+ unsupervised,' adds Anna.
'The safety advice also states it should never be used in a crib, bassinet or other contained area as the baby can move between the dock and side structure, and become entrapped and suffocate. This advice surprised me, as I had heard anecdotally and from reading reviews that some people use it in this way to get their baby used to the transition from a Moses basket to a cot - but I now know it is not safe to do so.'
Value for money

'Although it's lovely to have, this isn't a baby essential - and with such a hefty price tag, no one should feel they have to buy one,' says Goodto's Editor, Anna, who reviewed the DockATot+ Deluxe.
'The DockATot+ Deluxe - or the 'Sleepyhead' as it was originally known - was the first kind of baby 'nest' or 'pod' on the market and there are lots of similar products around these days but I've seen quite a few and nothing else feels as premium. It's clearly very well made, with a sturdy base, plump and robust cushions and thick luxurious fabric. The brand name is embroidered on the side, but rather than looking garish it's very subtle - and seems to reinforce the luxury feel. It's definitely a premium product, reflected in the price.'
DockATot states this product is for ages 0-8 months, but Anna feels it's so well-made that there'll still be plenty of life in it after her daughter Freddie reaches that age. 'So you could easily use it for a second or even third child - helping you get your money's worth from it,' she adds.
Is DockATot deluxe the same as Sleepyhead?
Yes. Sleepyhead of Sweden merged with its sister brand to become one company known as DockATot, specialising in baby and nursery accessories in a range of striking designs and fabrics.
DockATot safety guidelines
It's important to familiarise yourself with comprehensive DockATot safety guidelines before using this product. Further information is also available in the FAQ and Guideline and warnings sections of DockATot's website.
Why can't babies sleep in a DockATot?
The Lullaby Trust, which raises awareness of sudden infant death syndrome (SIDS) and provides expert advice on safer sleep for babies, recommends sticking to this simple guideline when it comes to where your baby sleeps:
'The safest place for a baby to sleep is in their own clear, flat, separate sleep space, such as a cot or Moses basket. We recommend a firm, flat, waterproof mattress.'
Although they do not comment on individual products, The Lullaby Trust advises against the use of pods, nests or sleep positioners as baby sleep products and pointed us to their Product Guide and Safe Sleep advice for further guidance on safer sleep for babies.
What if my baby falls asleep in a DockATot Deluxe+?
The DockATot Deluxe+ dock is not intended for sleep. Keep a close eye on your baby while using the product and, should they nod off, move them to a safe sleep environment such as a Moses basket, bedside crib or cot.
What's the difference between DockATot and DockATot Deluxe?
The DockATot Deluxe+ is a lounger for babies aged 0-8 months. The Dock ATot Grand Dock is a larger product for older children aged 9-36 months. DockATot is the name of the company that makes both products.
---
As a parenting specialist for more than 15 years, Heidi has written for most national newspapers and for a wide range of consumer magazines, including Mother & Baby where she was the Shopping Editor for six years, looking after regular consumer features including buying guides and gift roundups.