Taf Toys All Around Me Gym review
The Taf Toys All Around Me Gym promises to support your baby's development via neat configurable elements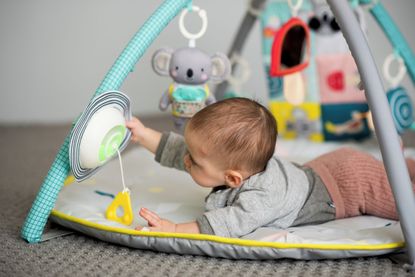 (Image credit: Taf Toys)
"It has a longevity I wouldn't necessarily expect from a product like this, and my baby loved it."
Reasons to buy
+

Stylish design

+

Grows with your child

+

Multiple toys
Reasons to avoid
-

Not machine washable

-

Batteries not included
Leisa Millar and her eight-week-old baby Casper tested out the Taf Toys All Around Me Gym to see how it fared at keeping a tiny baby occupied.
The Taf Toys All Around Me Gym claims to be 'the perfect aid to encourage your little one to practise a variety of body positions from day one'. making it one of the best baby gyms to buy if you're looking for value for money.
Our tester, Leisa, admitted having low expectations of what her eight-week-old would get out of it. "I'll admit I was sceptical - he doesn't really do anything (nor, in fairness, do I expect anything of him)," she explains.
So she was surprised by how much he stretched his arms and legs to play with the toys, even at such a young age. It's been designed to stimulate the senses and help with a baby's development so has calming music and enticing lights to engage them.
"It's a flexible product that can 'grow' with your child," adds Leisa, who also thinks it "looks great".
While expensive, Leisa feels it's worth the price tag as your baby is unlikely to outgrow it quickly and it can be used over a long period of time.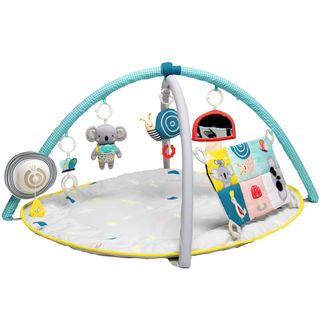 Design
Agesuitability: From birth
The Taf Toys All Around Me Gym comprises five 'multisensory' hanging toys that clip in easily and are simple to move around. Each toy has a different sensory element for the five senses - for example, there's a rattling butterfly and a mushroom mirror. There's also a sixth: a music and light box.
"They're large, colourful and substantial, meaning they're easy for Caspar to see and reach," says Leisa, who is pleasantly surprised by how much her eight-week-old interacted with the toy. "I do feel that it encouraged him to start stretching out his arms and legs to bat at the toys on offer in a way I may not otherwise have seen him do."
The mat on which the baby lies is large, nicely padded, and a pale grey with little pops of colour, so as far as these things go, it's fairly chic. However, it's not machine washable. "After a few days, mine already has a few visible spots of dribble on it. I can only imagine what it might look like post-poonami - not something you ever want to deal with by hand if you can avoid it," says Leisa.
But even this negative didn't dampen her enthusiasm. "It's fun for him and reassuring to me that I'm supporting his motor, cognitive, sensory and learning development, as well as stimulating his head-turning development."
Comfort and features
The headline element of the Taf Toys All Around Me Gym is what the brand calls its 'sensi-center': a large panel of crinkly fabric that can be repositioned on the frame to encourage little ones to position themselves in different ways.
At 0-3 months, for example, you can clip it to the top, so they look at it when lying on their back. This is what Leisa tested out.
"Caspar likes it to be hung horizontally along the side - he's worked out how to hook his arm underneath and whack it, so it makes a sound," she said. "I am genuinely impressed by this."
It's a simple concept but the large surface area makes it very easy for even small babies to interact with. You can also attach it vertically to encourage kicking, or take it off altogether and lay it flat for tummy time.
Another nice touch is that it is double-sided: black and white for small babies on one side, with colourful designs for older babies on the other.
Value for money
At around £80, this baby gym is not cheap, but Leisa thinks it's worth the investment.
"It's on the pricy side but if you're looking to invest in a baby gym, this one does seem to make good on its promise to work with your baby from very early days, with plenty for him to discover as he grows," she said.
That said, she was a bit disappointed that, considering its price tag, it didn't come with batteries included. "This gym is expensive, and given the market for this is likely hassled parents with small babies, it would've been nice for it to be ready to go out of the box."
She'd recommend it still though and thinks it would suit someone who likes stylish, multi-functional products.
Parenting advice, hot topics, best buys and family finance tips delivered straight to your inbox.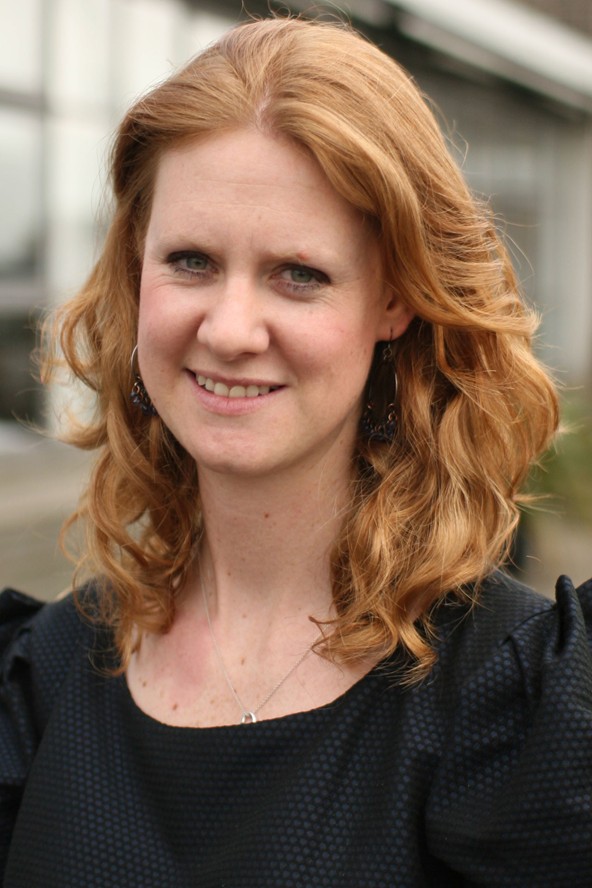 Charlotte Duck is an award-winning journalist who writes who regularly writes for Tatler, the Evening Standard, Yahoo and Hello Magazine about everything from royal hairstyles to fixed-rate mortgages. She was previously Kidswear Editor at M&S and worked in-house at Boden but, while she loves writing about beautiful children's clothes, she has three children who refuse to wear them.