These are the best baby gyms and play mats in 2023: 9 tried and tested options
Our edit on the best baby gyms, including how to find the perfect baby gym for you and your little one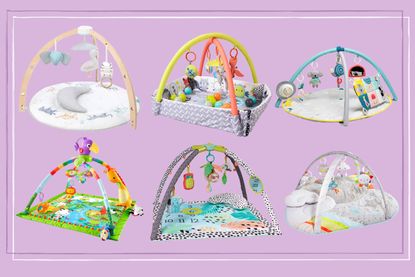 (Image credit: Future)
We're calling it: the best baby gyms or playmats are one of the greatest pieces of equipment you can buy for your little one.
Helping to entertain your child, explore their surroundings and enable you to be hands-free, the best baby gyms are fun and functional. These pop-up designs and colourful creations are easy to use, even easier to set up and super portable. So if you ask us, they are one of the best toys money can buy.
It will entertain your little learner, help them to explore their surroundings, and provide a safe space for them to play. "You want it [the baby gym] to be stimulating enough that it interests your child and helps with their development but not too overstimulating," says Georgina Durrant, author of 100 Ways Your Child Can Learn Through Play.
The classic design of a baby gym hasn't changed much over the years (and why would it when it works so well?). But usually, these handy accessories have a comfortable padded mat and an arch made from plastic or wood with toys dangling down. However, more modern creations tend to encourage sensory exploration with different textures, colours, and sounds to play with.
"To support a baby's visual development and interest, look for bold patterns ideally in black and white," suggests Georgina. "Babies learn so much from listening to us speak, so try talking about what they are doing, describing the feel of the toys, the colours, anything!" she adds. "Praise them when they touch or feel something, kick their legs, or reach with their hands. You could also play peek-a-boo with them hiding behind the toys and peeking back out."
How to choose the best baby gym
Choose your baby gym wisely, and you'll end up with something which will make your life as a parent that little bit easier.
Our testing process is thorough, consistent and fair. We selected the best baby gyms for this buying guide from a range of different prices, so we've covered everything from brilliant budget buys to luxury premium options.
To determine the best baby gyms we looked at:
Mat: There are many types of baby playmats, but choose a flat one because it's better for your baby's back. Mats come in all different sizes and it's likely that your preference will depend on the space you have available and how big your baby is. To keep them looking good, make sure you opt for a mat that can be detached from its arch and is, ideally, machine washable.
Toy arch: When deciding on a playmat, the height of its arch is important. Too high and your baby won't be able to see and enjoy the toys higher up but too low and they might feel enclosed. Ideally, opt for a toy arch that allows you to add your own toys or – at the very least – move toys lower down so they are within reach.
Sensory activities: Sensory toys are probably the main way in which baby gyms have moved on and incorporated modern technology. From sound effects and textured animals to black-and-white patterns and fine-motor-skill toys, most baby gyms now have something for most of the senses. "It's great if you can find something multi-sensory that uses all or many of their senses," says Georgina. "Look for something with different textures to feel or things that make noises when they touch them."
Mirrors: Babies are funny little things and often nothing entertains them more than looking at themselves. This is because they are learning face cognition, which will help them understand emotions and how to express themselves later on.
Longevity: Choose a baby gym that has something for every age and stage of your baby's development. A mirror and black and white patterns will keep a newborn captivated but, by the time they're four months old, they're likely to want something a little more sophisticated to interact with, such as music or animals.
Tummy-time pillow: Many baby gyms now come with a tummy-time pillow. This creates the opportunity for babies to strengthen the muscles in their neck and back whilst lying on the floor, which will eventually help them sit and crawl. "The amount of tummy time a baby should be doing will depend on the baby and their development and muscle strength and I'd recommend asking your health visitor or GP for advice," says Georgina.
Portability: If you plan to take your baby gym out and about, think about how portable it is. You need something that folds down quickly and small and that can then be reassembled with the minimum of fuss.
The best baby gyms as reviewed by our parent testers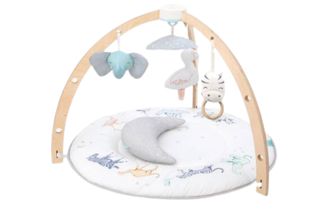 1. Aden + Anais Play + Discover Baby Activity Gym
A tasteful, pastel-coloured baby gym made from high quality materials
Reasons to buy
+
Tasteful design
+
Breathable mat
+
Machine washable
Reasons to avoid
-
Pricey but an investment buy
Tested by: Rebecca Hayward and four-month-old James
Aden & Anais's Play & Discover Baby Activity Gym is very easy to put together, taking our tester, Rebecca, just five minutes from getting it out of the box to being ready.
It has tasteful, pastel-hued toys which hang down from a light-coloured wooden arch and, unsurprising for a brand famed for its muslins, a muslin mat that is safe, breathable, and comfortable for your baby.
Rebecca liked the Scandi feel of this gym, although she did think: "As much as it's nice, the pastel tones are perhaps a bit less appealing for little baby versus other more garish options." The baby gym comprises elephant, zebra, and flamingo toys that hang down at just the right height for your baby to grab at. It also comes with a moon-shaped tummy time pillow which Rebecca thought "could come in handy again when James is a bit older and doing longer stints on the floor".
She thought that the price was a little on the high side and that "it's certainly at the more premium end on the spectrum of baby gyms available." She would recommend this to someone who wasn't on a budget but wanted "stylish design and functionality" and valued good quality products.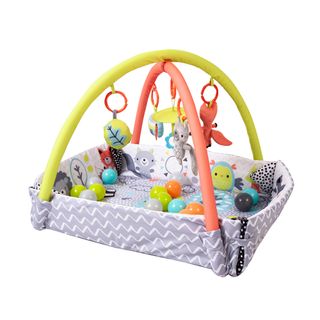 2. Red Kite Peppermint Trail Play Gym
A fun and well-priced play mat that doubles up as a ball pit
Reasons to buy
+
Good value
+
Detachable hooks
+
Eye-catching design
Reasons to avoid
-
Ball pit feels like an afterthought
Tested by: Florence Guppy and six-month-old Josie
Red Kite's colourful baby gym uses a clever mix of bright, neon-coloured animals and black-and-white patterns to appeal to older babies and newborns alike.
"The mat itself is bright, colourful and practical with the folding options," said our tester Florence. "It has room for a good range of toys and enough space for baby to move about."
She found her six-month-old really enjoyed lying on it and would grab at two of the hanging toys in particular, although others she was less enamoured by. "Two of the toys are crinkly balls, one of which rattles, which I don't think really works as hanging toys and haven't really captured Josie."
Josie spent a lot of time looking at herself in the mirror. "The mirror really is fantastic and entertains Josie for ages." One of the big bonuses is that the hooks on this baby gym come off. "The hooks are detachable so you could add your own toys," said Florence, who also used this feature to move the toys lower when Josie couldn't reach up.
This baby gym doubles up as a ball pit, but Florence wasn't that impressed as it made the space inside the mat small and there was only a token six balls included. This is a compact mat and Florence liked that "it is not too bulky in our flat". It is competitively priced and would suit someone who lives where space is a premium.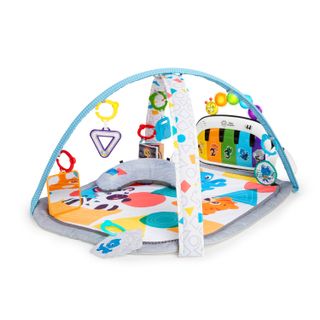 3. Baby Einstein, 4-in-1 Kickin' Tunes Music and Language Discovery Play Gym
A colourful, sensory-based baby gym that grows with your baby
Reasons to buy
+
Grows with your child
+
Multiple toys
+
Easy to assemble
Tested by: Amelia Jean Jones and four-month-old Frederica
Baby Einstein's 4-in-1 Kickin' Tunes Music and Language Discovery Play Gym is so-named because it entertains your baby in four ways: through lying, sitting, tummy time and take-along.
It's rather brightly coloured and our tester Amelia didn't find it "the prettiest toy, which matters to me but not my daughter". That said, it's been cleverly designed so that, as your baby grows, they find different toys interesting or interact with them in a different way.
So newborns will enjoy the mirror and colourful flashcards, three-month-olds, who are starting to control their neck, will make use of the tummy time pillow and older babies will enjoy making music for themselves with the Magic Touch piano.
The piano is a standout feature and has flashing lights, classical music tunes and multi-language keys which describe colours, numbers and animals to little ones. The arch in this gym is high, but you are able to move the toys lower for babies to reach and touch them.
One downside that Amelia found was she felt the mat was too thin which she thought "meant it's uncomfortable on wooden floors".
This is a mid-range product that Amelia thought was worth its price tag because it lasted from newborn through to toddler age and has "multiple toys in one to keep them busy for longer".