Tiny Love Black and White Gymini Baby Play Mat Review
A reasonably priced baby gym that manages to be entertaining and stylish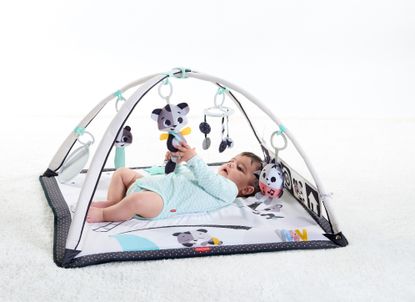 (Image credit: Tiny Love)
"It is better than what else is out there on the market; the company really did their baby development research."
Reasons to buy
+

Good value

+

Stylish design

+

Multiple toys
Ursula Purrington and five-month Violet tested out this Tiny Love play mat to see if it was worth the hype.

This Tiny Love play mat is a decent size, with hanging toys that can slide around the arches, making it one of the best baby gyms to buy if you value versatile design.
"It feels better than another one we had, with a thicker mat and it is much more sturdy," said Ursula. "I found it was a bit tricky to fasten the arches down with the poppers the first time we put it up, however, this does get easier the more you do it."
The toys themselves have been designed with baby development in mind. "They make crinkle noises, and the raccoon comes with a nice chiming sound," added Ursula.
They can all be swapped around to give your baby some variety and easily clip off so they can be played with away from the mat too.
This is a good-looking mat with a monochrome colour palette: "It looks really great in my house and is modern and slick."
In terms of value for money, while it's not the cheapest on our list, at around £50, it is good value and for this reason, we've named it our Best Budget Buy in the Baby Gym guide.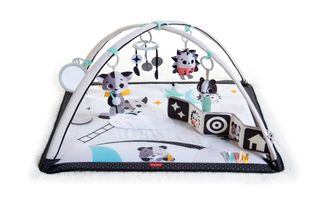 Design
Age: From birth
Stylistically, this gym looks great. "For me, this was very important if it is going to be sitting around my living room for months," said Ursula. "It also matches our interiors, so there is nothing garish or trashy here!"
The playmat itself is well thought out and surprisingly large: "Violet's cousin was also able to fit on it too!"
The design involves overhead bars with a variety of toys hanging down that can be repositioned by sliding or removed if required.
There is also a musical mobile which plays a few different tunes. "My baby really lights up when she sees this in action," said Ursula. "These are quite cathartic melodies, not at all annoying which is always a worry of mine with these things."
The other toys are all very engaging and suitable for sensory stimulation as they make different noises, and come in varying textures and colours.
Comfort and features
This play mat has really been created with baby development in mind and, for this reason, Ursula was impressed.
"The baby-activated, musical area is a really good idea to promote the teaching of cause and effect," she said. "My baby's sure favourite is the black and white mobile that clips in and out of the top of the arch. She smiles, giggles and coos to it."
Another hit was the ribbon that's designed to help promote fine motor skills. "The pull-out picture book isn't as sturdy as I would have preferred, but my baby still really liked it."
The overhead beams can be moved out of the way without removing them completely, so the baby gym can act like a mat only if needed. In terms of quality,
Ursula found the mat to be soft, high quality and clearly well-made. "In fact, a friend of mine commented on that too," she said. And it means she doesn't mind having it around the house. "We tend to just leave ours out because it is used every day, but it does fold away fairly well for storage."
It's also easily wipeable with a baby wipe which is handy for keeping it clean.
Value for money
At just over £50, this is a well-priced gym and Ursula thought it worth the price tag.
"I believe she will find it entertaining for many months to come, and a great sensory experience that will grow with her," she said. "For that reason, I think it is value for money and worth buying, on top of this-the woodland monochrome theme is so adorable!"
While not the cheapest on our list, Ursula thought one would "get lots of use out of it and it looks expensive".
She would recommend it to anyone with a baby under a year old. For its combination of stylish design, reasonable pricing and multiple toys, we've named this our Best Budget Buy in our Baby Gym Buying Guide.
Parenting advice, hot topics, best buys and family finance tips delivered straight to your inbox.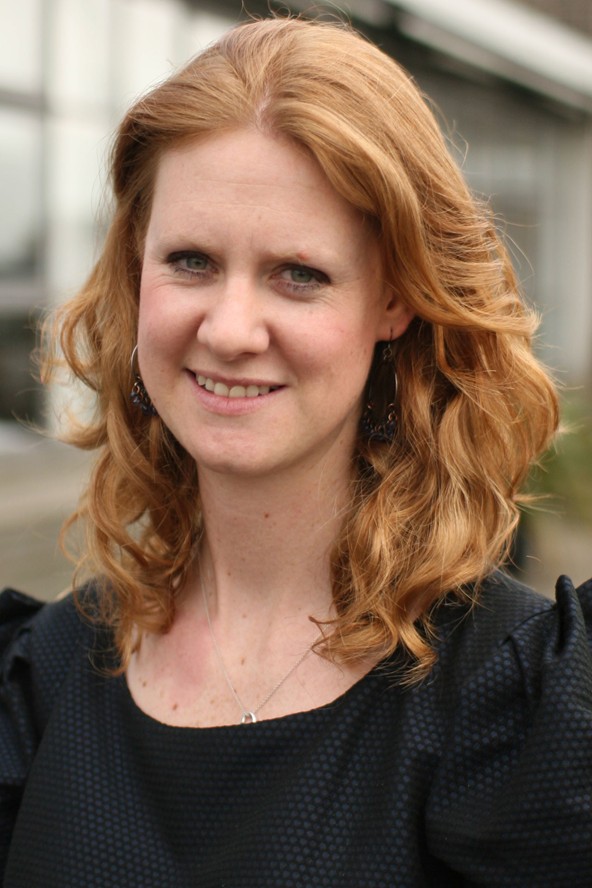 Charlotte Duck is an award-winning journalist who writes who regularly writes for Tatler, the Evening Standard, Yahoo and Hello Magazine about everything from royal hairstyles to fixed-rate mortgages. She was previously Kidswear Editor at M&S and worked in-house at Boden but, while she loves writing about beautiful children's clothes, she has three children who refuse to wear them.