When did Prince Charles and Diana meet? The true story behind The Crown season 4 revealed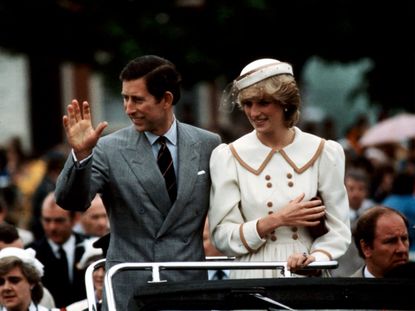 The Crown season 4 has finally arrived on Netflix and the new series will be diving into the story of Prince Charles and Princess Diana.
The Crown season 4 will delve into the start of Princes Charles and Princess Diana's relationship and early years of marriage. But when did Prince Charles and Diana meet in real life and how? Here's the true story behind the TV show...
Emma Corrin plays Lady Diana Spencer, Charles' first wife and the mother of Prince William and Prince Harry, in the hotly anticipated new series of the hit Netflix show.
Camilla, now the Duchess of Cornwall and Prince Charles' second wife, has already made an appearance in The Crown and so many wondered when Diana - who tragically died in a car crash on 31 August 1997 - would make her debut.
Netflix has not disappointed viewers and season 4 will focus intensely on Princess Diana and the early years of her relationship with Prince Charles - including their wedding at St Paul's Cathedral (opens in new tab) and a replica of Diana's iconic wedding dress.
https://www.youtube.com/watch?v=OiXEpminPms
With their relationship playing out on screen, when did Prince Charles and Diana meet in real life and how? Here's the real story...
When did Prince Charles and Diana meet?
Charles first met Diana Spencer in November 1977. The Princes of Wales was actually dating Diana's older sister, Sarah, at the time and had been invited to join a grouse hunt at the Spencer family home of Althorp.
Sarah and Charles' relationship was short-lived and Sarah went on to marry Neil McCorquodale. Sarah reportedly said she wouldn't marry Charles "if he were the dustman or the King of England."
However, while her sister may not have fallen for Charles' charm, Diana was going around telling her friends she was going to marry the Prince of Wales and would joke about him being "The one man on the planet who is not allowed to divorce me," according to The Diana Chronicles (opens in new tab). (Although after their divorce, author Andrew Morton quoted Princess Diana (opens in new tab) as saying that when she first saw Prince Charles she thought, "God, what a sad man.")
How old was Diana when she met Charles?
Diana was 16 years old when she and Prince Charles met.
Charles - who was 29 at the time - recalled his first meeting with Diana in a 1981 interview with The Telegraph, saying: "I remember thinking what a very jolly and amusing and attractive 16-year-old she was. I mean, great fun, and bouncy and full of life and everything."
It's widely accepted now that Charles was still in love with Camilla at the time of meeting Diana, having dated Camilla in the early '70s. Camilla and Charles' doomed courtship was covered in season 3 of The Crown.
Charles had apparently intended to propose to Camilla, but never did. This is thought to be due to Camilla's on-off relationship with Andrew Parker Bowles, the interference of her and Andrew's parents and a feeling within the royal family that Camilla wasn't a suitable match for the heir to the throne.
Camilla eventually married Andrew in 1973, although the couple divorced in 1995.
At the time they released a statement, which read: "Throughout our marriage we have always tended to follow rather different interests, but in recent years we have led completely separate lives."
When did Prince Charles and Diana start dating?
Once Charles' relationship with Sarah ended, he didn't see Diana again until 1980, when they were both invited to stay at Philip de Pass' house in Sussex.
On the documentary, Diana: In Her Own Words, Diana is heard telling her speech coach: "He'd just broken up with his girlfriend and his friend Mountbatten had just been killed. I said it would be nice to see him.
"We were talking about Mountbatten and his girlfriend and I said, 'You must be so lonely.' I said, 'It's pathetic watching you walking up the aisle with Mountbatten's coffin in front, ghastly, you need someone beside you.'
"Whereupon he leapt upon me and started kissing me and I thought, urgh, this is not what people do. And he was all over me for the rest of the evening, following me around like a puppy."
https://www.youtube.com/watch?v=UfaTLTo3250
After that, Charles and Diana started dating quickly, despite their 12-year age difference. The pair had only met in person 13 times before Charles proposed to Diana and most of their dating was over the phone.
When did Prince Charles and Diana get engaged?
Charles and Diana announced their engagement in February, 1981, and revealed that he had popped the question three weeks before.
Talking to BBC Radio at the time, Prince Charles explained: "She had planned to go to Australia quite a long time before anyway with her mother and I thought 'well I'll ask her then so that she'll have a chance of thinking it over when she's away and saying I can't bear the whole idea - or not, as the case may be."
Diana accepted the proposal immediately, but she has since said she had her doubts.
In Diana: In Her Own Words, she said: "We had this ghastly interview the day we announced our engagement. And this ridiculous [reporter] said, 'Are you in love?' I thought, 'what a thick question'. So I said, 'Yes, of course, we are,' and Charles turned round and said, 'Whatever love means.'
"And that threw me completely. I thought, what a strange answer. It traumatised me."
When did Prince Charles and Diana get married?
Charles and Diana married on 29th July 1981, at St. Paul's Cathedral, just six months after their engagement.
The wedding was watched by 7.5 million people around the world, and is still considered to be one of the most iconic TV moments of all time.
How old were Charles and Diana when they married?
Diana was just 20 years old when she married Charles and became the Princess of Wales. Meanwhile, Prince Charles was 32 years old.
The royal couple went on to have two children, Prince William and Prince Harry, but their marriage wasn't to last.
Charles had an affair with Camilla in 1986 and by 1992, Charles and Diana had separated, officially divorcing in 1996 - just a year before she died.
Hayley is a Celebrity Features Editor with more than five years' experience in online and magazines. She currently looks after all things celebrity for Woman, Woman's Own, Woman's Weekly, Woman & Home, and Goodto.com. Before joining Future, Hayley spent a year as a TV reporter for Mirror Online and a year and a half as a showbiz and TV reporter for OK! Online - but was forced to write about tech and cars for a year before that, despite knowing nothing about either!.