Where did Prince Charles and Princess Diana get married?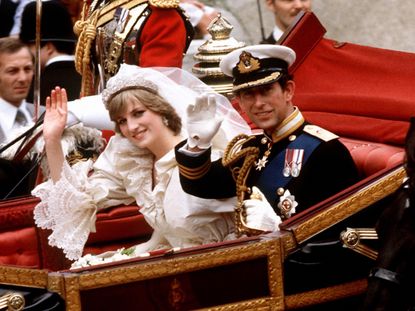 It was a fairytale wedding watched by an estimated 750 million people but where did Prince Charles and Princess Diana get married?
It's safe to say that Princess Diana's life took a dramatic turn when she met Prince Charles (opens in new tab) in 1977. With the young princess born (opens in new tab) into a noble family, going on to become one of the most photographed and adored public figures of the 20th century.
A royal bride with a difference, Princess Diana married her childhood crush (opens in new tab) in a spectacular London venue that broke with centuries of royal tradition. We look back on that special day and the stunning location 40 years on...
Where did Prince Charles and Princess Diana get married?
Charles and Diana's wedding took place at St Paul's Cathedral.
The royal couple shunned the usual royal wedding location of Westminster Abbey, where the Queen and Prince Philip wed (opens in new tab). With the only other royal couple to tie the knot at St Pauls being King Henry VII's son Prince Arthur and his bride Princess Catherine in 1501.
The reason for this decision is said to be because St Paul's offered more seating for their guests. The venue can seat up to 3,500 people as opposed to Westminster Abbey which only seats 2,000.
According to the official St Paul's website (opens in new tab), Charles and Diana were on a "mission to become the people's Prince and Princess". And therefore the wedding needed to be a spectacle.
Indeed England was a buzz with royal wedding fever for months leading up to the big day. And many members of the public made their way to the location to catch a glimpse of the historic moment.
"People had been camping along the route for several days beforehand," says Joe Little, managing editor of Majesty Magazine (opens in new tab), who counts himself as one of them.
"There was a rehearsal at St Paul's and on the eve of the wedding, there was a big fireworks display in Hyde Park and there were tens of thousands of people at that. So, it was a huge thing, which so many people wanted to take a personal part in and to be there."
When did Prince Charles and Princess Diana get married?
Prince Charles and Princess Diana were married on Wednesday 29 July 1981.
The royal couple wasted no time in becoming husband and wife, marrying 5 months on from their engagement.
Princess Diana's father John, the 8th Earl Spencer escorted his nervous-looking daughter up the altar of St Paul's Cathedral. Whilst Diana's bridal party remained close-by.
Her five bridesmaids included Princess Margaret's 17-year-old daughter Lady Sarah Armstrong-Jones (now Chatto) who was the eldest of the group. Meanwhile, five-year-old Clementine Hambro was the youngest bridesmaid on the day.
The great-granddaughter of Winston Churchill, she was a pupil at the kindergarten where Diana had worked as a nursery teacher prior to her wedding. Young Clementine received plenty of attention later that day, when a photographer captured Diana famously scooping her up after she banged her head and was crying at the Buckingham Palace reception.
As for the groomsmen, Prince Charles enlisted his brothers Prince Andrew and Prince Edward for support.
It's safe to say that nerves got to the couple when it came to exchanging their vows. Diana got the order of Charle's names mixed up, whilst her husband said 'thy worldy goods' instead of 'my worldly goods'.
Despite this, crowds gathered outside St Paul's erupted into cheers when Diana said "I will" take Charles to be her partner.
Following the ceremony, the Prince of Wales and his new wife took part in a carriage procession. Where they waved to thousands of well-wishers gathered along the Mall as they returned to Buckingham Palace.
Just after 1pm, the newlyweds appeared on the famous balcony for their first public kiss as husband and wife.
They then retreated to their private wedding reception. Though only 120 of their 3,500 guests on the day were invited.
Princess Diana's wedding dress
Princess Diana's wedding designers (opens in new tab) were David Emanuel and his then-wife Elizabeth.
According to the Emanuels' their brief was to create "something that was going to go down in history, but also something that Diana loved".
Diana's wedding dress (opens in new tab) took five months to make. It was made from ivory silk taffeta and embroidered with 10,000 mother-of-pearl sequins and pearls. Consisting of a fitted bodice and puffed sleeves, Diana's dress included multiple layers of tulle under the skirt - and her 125-yard veil and 25-foot train were some of the longest in royal history.
Because of its length, Diana's train was crushed when trying to fit into the glass coach that took her to the cathedral. This caused wrinkles in the train and dress, that were visible when she arrived.
Time magazine called the dress one of the 'Most Influential British Wedding Dresses of All Time'. It reportedly cost £11,000 to make at the time. Though in 2019 it was re-valued as a whopping £151,000.
Following Princess Diana's death (opens in new tab), it became the possession of Prince William and Prince Harry. Though royal fans can see the gown and Princess Diana's iconic honeymoon dress (opens in new tab) in a new exhibition at Kensington Palace in Summer 2021.
Did the Queen attend Charles and Diana's wedding?
Yes Queen Elizabeth II (opens in new tab) did attend Prince Charles and Diana's wedding.
She was one of 3,500 guests at St Paul's and was accompanied to the venue by her husband Prince Philip.
Other royals in attendance included the late Queen Mother and the Queen's late sister Princess Margaret.
Another infamous wedding guest was Prince Charles' second wife, the Duchess of Cornwall.
Camilla attended Princess Diana's wedding (opens in new tab) to Charles with Diana reportedly spotting her "pale grey, veiled pillbox hat" among the crowd on the day.
As Prince Charles will be king (opens in new tab) one day and in the royal line of succession (opens in new tab), the wedding itself was deemed a "state occasion". This meant that many foreign heads of state were invited to the nuptials, which no doubt explains why the guest list was so big.
How much did Prince Charles and Princess Diana's wedding cost?
Prince Charles and Princess Diana's wedding cost an estimated £57 million. As British royal weddings go, it currently holds the record for being the most expensive in history.
As is royal tradition in Britain, taxpayers contributed to the cost of the wedding. And it's thought that security alone cost up to £20 million.
More than 2,000 police officers were on duty for the event, which included a two-mile procession route. Armed police disguised as footmen travelled with the Queen and Prince Charles, while helicopters hovered overhead.
St Paul's was searched by police and sniffer dogs, for potential explosives, while anybody using the cathedral up to a fortnight before the wedding were vetted by officers, adding to the eye-watering security cost.
Prince Harry's wedding to Meghan Markle (opens in new tab) is next on the list of most expensive British royal weddings, costing around £32m in 2018. Whilst their eldest son William and Kate Middleton's nuptials (opens in new tab) clocked in at £30m in 2011.
One large expense of Charles and Diana's wedding was the wedding cake. The royal couple had an astonishing 27 wedding cakes for their big day. With the official cake made by David Avery standing over five-feet tall.
The main cake featured sentimental touches like Charles' coat of arms, Diana's family crest and the letters 'C' and 'D' (their first name initials). It was finished with roses, lilies of the valley and orchids.
A slice of their wedding cake is still available today and is going up for auction on 11 August. Alongside an order of service and a royal wedding breakfast programme from the day, it is expected to reach £300-500.
When did Prince Charles and Diana get engaged?
Charles and Diana got engaged on 24 February 1981.
This was shortly after they met on a hunting weekend at her family's country estate, Althorp House in Northamptonshire.
After being introduced by Diana's sister Sarah, Charles and Diana didn't see each other again until 1980. This is when they were both invited to stay at Philip de Pass's house in Sussex.
During a conversation with her speech coach, used in the documentary Diana: In Her Own Words, Princess Diana is quoted (opens in new tab) as saying, 'He'd just broken up with his girlfriend and his friend Mountbatten had just been killed. I said it would be nice to see him."
'We were talking about Mountbatten and his girlfriend and I said, "You must be so lonely. It's pathetic watching you walking up the aisle with Mountbatten's coffin in front, ghastly, you need someone beside you". Whereupon he leapt upon me and started kissing me and I thought, urgh, this is not what people do. And he was all over me for the rest of the evening, following me around like a puppy.'
After that meeting it's thought most of Charles and Diana's courtship took place over the phone. Indeed, they only met in person 13 times before he popped the question.
Princess Diana's engagement gift (opens in new tab) from Charles recently fetched £52,000 at an auction in 2021. Diana used it for years to watch Prince Charles play at Polo, but the car was used less when William came along in 1982.
How old was Prince Charles when he married Diana?
Charles was 32-years-old when he married a 20-year-old Princess Diana.
Speaking of meeting Diana, Charles once said, "I remember thinking what a very jolly and amusing and attractive 16-year-old she was. I mean, great fun, and bouncy and full of life and everything."
However, Charles was much younger when he made his first proposal to Amanda Knathbull (opens in new tab) (Lord Mountbatten's daughter) years prior.
When did Prince Charles and Princess Diana separate and divorce - and why?
Charles and Diana separated in 1992. The Prince and Princess of Wales officially divorced in January 1995.
Within three years of being married Charles and Diana were parents to William, born on 21 June 1982, and Harry, who arrived on 15 September 1984.
But it's thought that by 1986, Charles had started seeing Camilla Parker Bowles, who he'd had a brief relationship with before meeting Diana. And in 1992, tapes of conversations between Diana and close friend James Gilbey leaked. Among them was one recording which described life with Charles as 'real torture'.
Diana later opened up about confronting Camilla to biographer Andrew Morton:
"I was terrified of her. I said, "I know what's going on between you and Charles and I just want you to know that".
She said to me, "You've got everything you ever wanted. All the men in the world fall in love with you and you've got two beautiful children, what more do you want?"
So I said, "I want my husband." And I said, "I'm sorry I'm in the way...and it must be hell for both of you. But I do know what's going on. Don't treat me like an idiot".
In June 1994, less than a year before their divorce, Charles confessed to being unfaithful with Camilla. Though he insisted he'd remained faithful until "it became irretrievably broken down, us both having tried".
On the evening that his interview was published, Diana stepped out in what has become known as her 'revenge' dress - a racy LBD.
Then, in November 1995, Diana sat down for her interview with Martin Bashir where she confessed to her divorce 'hell' (opens in new tab). This is where she uttered the now infamous line: "Well, there were three of us in the marriage, so it was a bit crowded.'
Diana went on to date Egyptian film producer Dodi Fayed, son of billionaire businessman Mohamed Al Fayed (opens in new tab). Though sadly their courtship was cut short when Dodi and Diana died in a car crash in Paris in the Summer of 1997.
Emily Stedman is the Features Editor for GoodTo covering all things TV, entertainment, royal, lifestyle, health and wellbeing. Boasting an encyclopaedic knowledge on all things TV, celebrity and royals, career highlights include working at HELLO! Magazine and as a royal researcher to Diana biographer Andrew Morton on his book Meghan: A Hollywood Princess. In her spare time, Emily can be found eating her way around London, swimming at her local Lido or curled up on the sofa binging the next best Netflix show.