21 best perfumes of all time - from classic scents to niche fragrances
Discover your new favourite fragrance from our list of the best perfumes of all time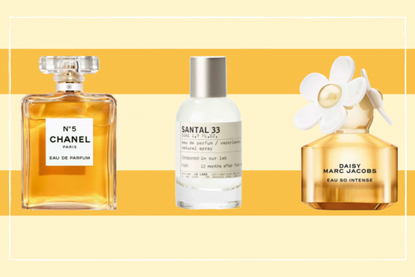 Picking a new fragrance can be overwhelming so we've done the blotting, spritzing and wafting for you to compile a definitive list of the best perfumes of all time.
Fragrance can have the biggest, yet often subliminal, impact on our memories and emotions. It's no surprise then that these classic scents (and even some perfume dupes) (opens in new tab), have enduring appeal. Unlike many beauty products, most of us remain faithful to our favourite fragrance and buy our signature scent on repeat. This is why you'll often find the same perfumes in the top seller lists year after year and available in the annual Black Friday perfume deals (opens in new tab) too.
"We find that the classic fragrances continue to be bestsellers," says Megan Mosley, John Lewis fragrance and make-up buyer. "They are key staples to build a fragrance wardrobe that can be added to over time. Chanel, Dior and Creed are our most popular amongst new and more niche fragrance brands such as Floral Street and Le Labo," she says.
We've based this selection of the best perfumes of all time on a number of factors. From hard sales figures and stats, to iconic classics that have great consumer reviews. We've also included newer, niche scents beloved by celebrities and beauty editors.
Whether you're looking for some scent-spiration to uncover a new olfactory favourite or just interested to see if your personal favourite has made it into the best perfumes of all time, choose one of these and you're guaranteed to smell gorgeous. And, remember - there's no need to save it just for special occasions, as perfumes need to be replaced (opens in new tab) every three to five years.
Best perfumes of all time - ranked:
Why you can trust GoodTo Our expert reviewers spend hours testing and comparing products and services so you can choose the best for you. Find out more about how we test.
1. Chanel No.5 Eau de Parfum
Best perfume for special occasions
Top notes: May rose, jasmine florals, citrus.
It's been 100 years since its launch, but Chanel No.5 remains the world's most famous perfume. This powdery floral is a masterful blend of over 80 ingredients, including ylang-ylang, Rose Centrifolia and jasmine. It treads that delicate line between femininity and strength perfectly, with a layered and intoxicating blend that lingers on the skin for hours.
Gabrielle "Coco" Chanel had launched her eponymous fashion house only 11 years earlier in 1910, with the opening of a millinery boutique in Paris. Fast-forward to 1921 and the fashion designer was ready to launch the house's first scent. The story goes that perfumer Ernest Beaux presented Coco with a selection of samples to test. She chose sample number 5, and so the iconic fragrance and its alluringly simple name was born.
A celebrity endorsement will usually spark a surge in sales for any beauty brand. Chanel No.5 became forever immortalised in 1952 when Marilyn Monroe famously declared that she wore "five drops of Chanel No.5" - and nothing else - to bed. And with this famous quote, Chanel No.5 has secured its place as one of the most famous scents in the world.
2. Marc Jacobs Daisy Eau de Toilette
Best perfume for spring
Top notes: Wild berries, white violet and jasmine
Daisy launched in 2007 with a summery, carefree advertising campaign that perfectly encapsulated the fresh and floral juice. Even the bottle has become iconic, with its playful daisy topper. As a result, it's no surprise it's since inspired many knock-off versions. Model Kaia Garber - Cindy Crawford's daughter admitted to having worn this scent since she 12 or 13. "I have so many incredible memories associated with Daisy, and whenever I put it on, it takes me back to them, so it's an instant mood booster for me," she said in 2021.
3. Giorgio Armani Si Eau de Parfum
Best perfume for a summer vacation
Top notes: Cassis, blackcurrant and Sicilian bergamot.
It may have launched in 2013, but it's still winning awards, clocking up a Best of Beauty Award for Allure magazine in 2020. This sweet floral opens with notes of vanilla and mandarin, and dries down to a lingering musky finish, making it one of the best perfumes of all time in our eyes. Cate Blanchett who models the scent said that it's "deep developing notes" are what draws her to it. "I love a scent that promises to contain experience yet to be had." Armani's Si is also a favourite with GoodTo readers too, with research revealing it as one of the biggest-selling perfumes in our round-up.
4. Jo Malone English Pear & Freesia Cologne
Best earthy perfume
Top notes: King William pear and white freesia.
Jo Malone London recently revealed its top five best-selling fragrances and nabbing the top spot away from fan-favourite Pomegranate Noir and Orange Blossom was English Pear & Freesia. Reportedly beloved by the Duchess of Cambridge, this is a serene and sunny blend of juicy fruit and elegant flowers. "When you smell English Pear & Freesia, you're instantly transported to an orchard where juicy fruit mingles with blooming flowers. There's something unexpected about the combination of key ingredients and it's got that freshness and elegance we're known for," says Celine Roux, Global Head of Fragrance at Jo Malone London. It's also gone down well with our GoodTo users who have made this one of the best-selling perfumes within our article.
5. Dior J'adore Eau de Parfum
Best perfume for date night
Top notes: Pear, melon, magnolia, peach, Mandarin orange and bergamot.
J'adore offers an olfactory slice of Dior luxury, from the gold-topped bottle and decadent floral-fruit juice to the glamorous advertising campaign featuring actress Charlize Theron (opens in new tab). It's no surprise then that Dior J'adore is the fashion house's number one-selling fragrance.
6. YSL Black Opium Eau de Parfum
Best perfume for a night out
Top notes: Pear accord and Mandarin essence.
A perfume with over 13,500 5* reviews needs little introduction. With an ingredients list that includes black coffee, long-wearing patchouli and warming vanilla, this is one addictive floral gourmand fragrance. It is the number two selling fragrance in the UK, and was the most googled fragrance of 2020. "Black Opium for me is a shot of adrenaline, energy and addiction that a woman needs in her everyday life,' says master perfumer Nathalie Lorson. "I've heard that Edie Campbell and Zoe Kravitz love Black Opium, of course, as well as Arina Sheldon and Jourdan Dunn."
7. Chanel Coco Mademoiselle Eau de Parfum
Best perfume for a posh occasion
Top notes: Patchouli and vetiver.
Launched in 2001, this feminine, spicy scent is still one of the best-selling fragrances today. In fact, it's the top selling fragrance at both John Lewis (opens in new tab) and The Fragrance Shop (opens in new tab). Sweet citrus top notes, lingering patchouli, vanilla and white musk make an alluring combination that lasts really well on the skin. "This was the fragrance I wore on my wedding day in 2013," says Beauty Editor, Stephanie Maylor. "It was the perfume I wore a decade earlier when I met my now-husband, and I still get compliments when I wear it today."
8. Guerlain Shalimar Eau de Toilette
Best for summer nights
Top notes: Citruses, bergamot, lemon, cedar and Mandarin orange.
Created in 1925 and loved by icons Brigitte Bardot and Rita Hayworth, Shalimar is a warm and spicy fragrance, opening with refreshing bergamot. As it develops, you'll detect notes of jasmine, rose, with a powdery vanilla and iris base. It may be nearing its 100th birthday, but Shalimar remains one of the most popular fragrances today. It was voted the 'best fragrance ever' by Fragrantica readers - an online encyclopedia of fragrance and perfume-loving community.