Which is the best night cream for glowing skin? Our tried-and-tested picks
Wake up to healthy, hydrated skin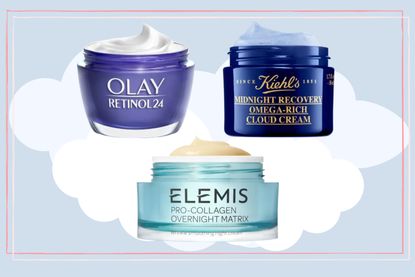 (Image credit: Future)
The best night cream will supercharge your beauty sleep. More than just your average moisturiser, these overnight formulas are designed to support the skin's nocturnal repair process so you wake up to healthy, hydrated skin in the morning.
A solid skincare routine should include a good cleanser, SPF protection using one of the best sunscreens for your face, a trusty facial oil and moisturiser, and the best primer to keep your makeup in place all day. But what about night cream? Do you even need a sleep-specific formula, or will the best moisturisers for skin be enough to support skin overnight? Your skin behaves differently from day to night, and your face cream should be tailored towards its changing needs, beyond simply adding moisture. During the day, your skin is focused on defence, protecting itself from UV exposure, pollution and other environmental aggressors. As we sleep, it's all about rest and renewal, and the best night cream will maximise your beauty sleep and support the skin's natural repair process.
"The first thing you should consider when looking for a night cream is your skin type, needs and concerns then you can start to consider certain ingredients that will address these concerns," explains Dr Sonia Khorana, Clinical Dermatology GP and Expert for Olay. "One popular ingredient that works well in a night cream is Retinol, as it increases surface cell renewal by working with the skin's natural rejuvenation process while you sleep – which is more active at night than during day." Whether you want to max out on moisture or smooth wrinkles, our selection of the best night creams will improve skin health and enhance its appearance as you sleep so you wake up to brighter, smoother, more radiant skin by morning.
What to consider when looking for the best night cream
Star rating: Our in-house star-rating system is based on peer reviews. They've tried and tested the best night creams and awarded stars based on factors such as formula, active ingredients, customer feedback, awards and value for money. Products that have received a 5 star status are rare and considered exceptional, going above and beyond our reviewer's expectations.
Active ingredients: The ingredients in a night cream should enhance the skin's own repair process to improve its overall health and appearance. The best night serums contain potent active ingredients, such as antioxidants, peptides and even gentle skincare acids that help to speed up skin renewal. Retinol is one of the most effective actives designed for evening application, supporting the skin's repair process and stimulating collagen production.
Cruelty-free: More and more beauty brands have realised that testing on animals is not a humane or sustainable practice. We're keen to select products from brands that follow this ethos - such as Skin Proud, Lumene, Green People and Medik8. Some of the other brands included cannot claim the cruelty-free certfication as they are sold in regions where governments still mandate animal testing.
Packaging: Night creams usually come in tubs or jars so you can scoop out just the right amount for the area you need. It also means you can ensure every last drop of cream is used, as opposed to squeeze bottles that always retain some product. Sustainability is a serious concern too - we'll always strive to include products that are at least in part recyclable.
Which is the best night cream for glowing skin?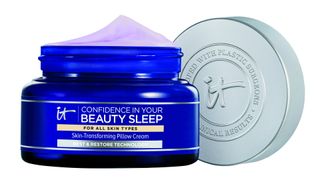 1. IT Cosmetics Confidence in Your Beauty Sleep Skin-Transforming Pillow Cream Moisturizer
Best overall
Specifications
RRP: £43
Active ingredients: Hyaluronic acid, Adenosine, Ceramides
Packaging: The jar is made up of 25% recycled material. The carton is recyclable.
Reasons to buy
+
Light, bouncy texture
+
Improves 5 signs of ageing
+
Results in 7 days
The skin barrier is crucial to healthy, smooth, comfortable-feeling skin. If this is compromised then you may start to notice your skin becomes dry, sensitive and rough. This cream piles on the hydration with superstar skin quencher, Hyaluronic acid, as well as ceramides, which help repair the skin barrier. The result? It has a visible effect on fine lines, wrinkles, dryness, dullness and loss of firmness.
This night cream has made such a noticeable improvement to my skin. f you've been turned off by heavy, occlusive moisturisers in the past, this will be the formula to get you back on the night cream wagon. It is light and springy, more like a gel than a traditional cream, and has a spa-like scent that really puts your mind in the sleep zone. In a couple of weeks, it had taken my dry skin from flaky and rough to smooth and springy. That has a lot to do with the MemoryBounce Technology, which not only prevents the cream from transferring on to your pillow (because who wants to waste good product?!) but also locks in all the skincare you've applied before so your skin is maxed out on moisture.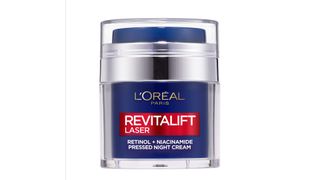 2. L'Oreal Paris Revitalift Laser Retinol & Niacinamide Pressed Cream
Best night cream for smoothing wrinkles
Specifications
RRP: £27.99
Active ingredients: Retinol, Niacinamide, Hyaluronic Acid, Glycerin, Peptides