Then and now: The 80s heartthrobs we loved as teens (and still do!)
From A-list actors to chart topping pop stars, these 80s heartthrobs are just as handsome now as they were back then!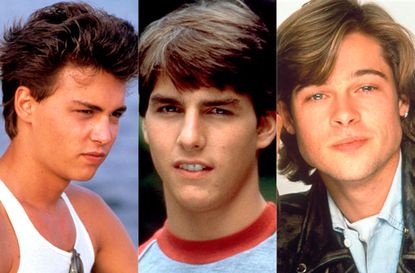 The 1980s was a great decade for good looking men. Whether they were on the big screen, starring in the soaps or serenading us on Top of the Pops (we just knew that kiss to the camera was for us), we had a LOT of celeb crushes in our youth - but do we still love them now they're all grown up?Let's take a walk down memory lane and remember the brooding stares, the fledgling beards and frankly spectacular 80s mullets, and find out what happened when these boys became men. Spoiler alert: they're pretty much all stil gorgeous...
1. Tom Cruise
He might be Jack Reacher today, but we'll always remember Tom as the leather jacket-wearing, sunglass-rocking lead in Top Gun (swoon!)
2. Alec Baldwin
The 80s were all about the Baldwin brothers in general, but Alec was obviously our fave - and we still love him in 30 Rock now.
3. Simon Le Bon
We've always been a sucker for a frontman - particularly a New Romantic one! As long as Simon keeps touring, we'll keep standing at the front and screaming.
4. Brad Pitt
Is it just us, or has Brad barely aged at all?! Apart from the token sprinkling of stubble, he's got the same handsome face he had in Growing Pains.
5. Robert Downey Jr
Who'd have thought Julian from Less Than Zero would grow up to be Iron Man?! Although, as the son of writer, director and filmographer Rob Sr, he was always destined for the A-list.
6. Matt and Luke Goss
There were two types of girl at our school - the ones that fancied Matt from Bros, and the ones that fancied Luke. However, whichever camp you were in, we're sure you'd agree that they're both just as good looking now..
7. Rob Lowe
We watched our The Outsiders and St Elmos Fire VHS tapes until they got chewed up - and it wasn't because we were big fans of Demi Moore! Now in 2014, our The West Wing DVDs are just as scratched.
8. Bruce Willis
Hey, he may have lost his hair, but our Die Hard crush Bruce has still got that same twinkle in his eye - and as we all know, bald men make the very best partners...
9. Rick Astley
Rick would never give us up, let us down, run around or desert us. We knew it in 1987, and we still know it now.
10. Christian Slater
Who can resist a bad boy? Not us - which is why we totally fell for Christian's troubled portrayal of J.D. in Heathers. Turns out psychopaths can be dreamy (fake ones at least).
11. Matthew Broderick
Aww, little Ferris Bueller, how we loved thee! If Matthew's ever up for recreating his day off as an adult, we can totally pull a sicky at work. Just saying.
12. David Hasselhoff
Whilst all of the boys were lusting over Pammy, we were sticking pictures of David in our diaries - and even today, we're still working on getting our other halves r to don a pair of red trunks.
13. Matt Dillon
Little Darlings, Drugstore Cowboys, The Outsiders - young Matt never made a film we didn't like, so it's unsurprising that older Matt went on to get an Oscar nomination for his role in Crash (we never doubted him for a second).
14. Emilio Estevez
Erm, The Breakfast Club's Emilio still looks EXACTLY the same as he did when the film was released! Whatever skincare regime he's using, we need it, pronto.
15. Keanu Reeves
Our teenage years were ruled by Keanu's brooding good looks, and we thought he'd reached peak handsome in Dangerous Liasons. Then we grew up and watched the Matrix, and got obsessed all over again.
16. George Michael
If you look really closely in our childhood bedrooms, you can still see the blu-tack marks from our Wham! posters. Michael avoids the public eye much more nowadays, but whenever we catch a glimpse, he's just as dashing.
17. Jon Bon Jovi
People always say what a difference a haircut can make, but we think Jon looks great with OR without his long locks. Either way, he's still got those piercing blue eyes...
18. Jason Donovan
Kylie Minogue gave us the biggest case of the green-eyed monster back in the day - she got to MARRY Jason (okay, albeit in Soapland). We hear he's married to a lovely lady called Angela in real life now, and yes, our jealous streak is still there.
19. Johnny Depp
Not just an 80's dreamboat, Johnny's hearthrob status is timeless - cheekbones that chiselled transcend all decades (which is why he can make the generations before and after ours go weak at the knees simultanously).
20. John Cusack
Like a fine wine, John has just got better with age - we'd 'say anything' to have him stood outside our house with a boombox now.
Trusted, informative, and empathetic – GoodTo is the ultimate online destination for mums. Established in 2007, our 15-year-strong archive of content includes more than 18,000 articles, 1,500 how-to videos, and 7,000 recipes.