12 best moisturisers for skin to soothe and hydrate
Face feeling dry and tight? Discover the best moisturisers for skin to suit every complexion and budget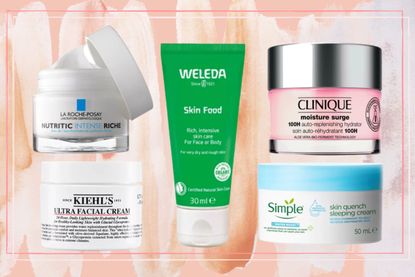 (Image credit: Future)
The best moisturisers for skin are usually a non-negotiable part of our daily skincare arsenal. Find the right one, and your skin will thank you for it.
Moisturising is an essential and unmissable step in any good skincare regime. Once you've cleansed your face, applied your skin toner and put on your best facial oil, it's time for the all-important moisture application. But as is the case with all skincare products - finding the one that is right and works for you is the ultimate goal. If you're struggling to quench your skin's thirst and are struggling with cakey-looking makeup, look for moisturisers with the right combination of ingredients, says NHS dermatologist Dr Cristina Psomadakis who boasts an MSc in Skin Ageing & Aesthetics. "Most moisturisers will have three general categories of ingredients to provide targeted support: emollient ingredients that smooth the skin, humectant ingredients that add moisture and occlusive ingredients that reinforce the skin barrier."
Contrary to popular belief - much like the best hand creams for dry skin - the best moisturisers aren't necessarily the thickest and most sumptuous. More important is the chosen moisture-grabbing ingredients within the formula. Hyaluronic acid is probably the hottest hydrator on the block, known to attract up to 1000 times its weight in water. Ceramides are essential in supporting the skin barrier, while glycerin is one of the most commonly used ingredients in moisturisers, thanks to its ability to pull water from the air into the outer layer of your skin. Dr Psomadakis has her own personal favourites - "Individual ingredients I like to look for include ceramides, glycerin, panthenol and allantoin." From high street favourites and sensitive skin saviours to luxurious formulas with anti-ageing benefits, we've collated the best moisturisers for skin in one comprehensive list so you can treat your complexion to some TLC.
What to consider when choosing the best moisturisers for skin
Star rating: Our in-house star-rating system is based on peer reviews. They've tried and tested the best moisturisers for skin and awarded stars based on factors such as product quality, ease of use, customer feedback, awards and value for money. Products that have received a 5 star status are rare and considered exceptional, going above and beyond our reviewer's expectations.
Active ingredients: We looked for a combination of emollient, humectant and occlusive ingredients. Some of the most potent hydrators include Hyaluronic acid, a moisture-binding molecule, barrier-supporting ceramides and peptides, glycerin and fatty acids.
Cruelty-free: More and more beauty brands have realised that testing on animals is not a humane or sustainable practice. We're keen to select products from brands that follow this ethos.
Packaging: Moisturisers usually come in tubs so you can scoop out just the right amount for the area you need. It also means you can ensure every last drop of cream is used, as opposed to squeeze bottles that always retain some product. If we have included squeeze bottles, it's because the formula justifies the inclusion, and the packaging is widely recyclable. Because of course, sustainability is a serious concern - anything that is non-recyclable is a no-no for us.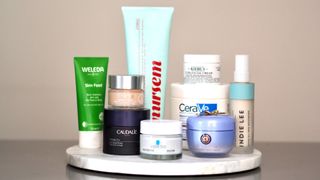 12 best moisturisers for skin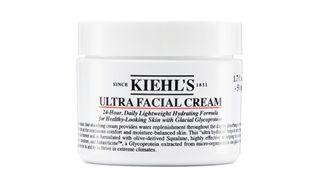 1. Kiehl's Ultra Facial Cream
Best moisturiser to suit all skin types
Specifications
RRP: $33/£28.50
Active ingredients: Glacial Glycoprotein, Olive-Derived Squalane
Cruelty-free: Yes
Packaging: Recyclable jar
Reasons to buy
+
Featherlight texture
+
All-day supple feeling
+
Tested in extreme climates
This is Kiehl's number one-selling product, and it's one that Beauty Editors fawn over. It's a real no-mess, 'does what it says on the tin' moisturiser that quenches skin's thirst throughout the day, leaving it feeling plump and bouncy. In fact, after just one application skin is 2.3 times more hydrated. What's so fantastic about this cult cream is it's been proven to fight against moisture loss in testing climates that can dehydrate skin. It will keep skin supple and comfortable whether in the depths of a biting winter chill, in extreme dry heat or a moisture-sapping air-conditioned room.
"Ultra Facial Cream is one of my all-time favourite hydrators and I'm constantly recommending it," says Fiona McKim, Beauty Editor of Woman&Home . "The main thing I love about it is that it has a slippery texture that's magically somehow lightweight and quenching. It never leaves a claggy residue on my combination skin but still does a great job of making it feel all soft and bouncy and comfy." No wonder it's won over 70 international beauty awards!