Baby skincare products mums love to use on themselves!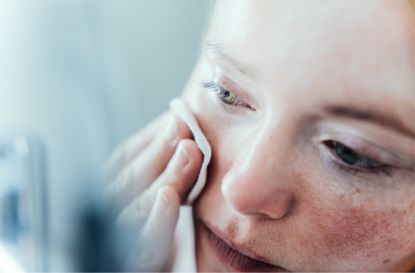 More than half of us proclaim to have sensitive skin, so should we be using gentle skincare designed for newborns? Here's why beauty editor Stephanie Maylor thinks baby buys might be the best thing for mature skin.
Picture a baby's skin. It's smooth, peachy and completely poreless. It's this kind of plump perfection, timed with a rise in skin allergies and sensitive skin, that has got grown-up women turning their backs on high-tech creams and rigorous regimes in favour of a gentler approach to their sensitive skin.
After having my little girl, I was so impressed with the rich, buttery texture of her Weleda Calendula Nappy Change Cream, £7.25, that I started using it on my face before bed in place of my usual serum and night cream.By morning, fine lines weren't as noticeable and my face felt replenished.
If your sensitive skin needs maximum moisture with minimum force, then it could be time to hit the baby aisle and seek out baby skincare products. Here's why…
It's simple
Here on the beauty desk, we're inundated with new products every week. From essences and toners to serums, ampoules and masks, we're encouraged to add multiple steps to our everyday skincare regimes, which makes it hard to work out what our skin really needs. Look at the selection for babies, on the other hand, and it's refreshingly simple – think gentle cleansing, hydration and sun protection (opens in new tab).
A streamlined routine doesn't have to be permanent. A holiday from more potent creams and superfluous add-ons can reboot and de-stress skin, by stimulating natural healing properties. Think of it like a skincare diet for a few weeks. Strip your regime right back to cleanser, moisturiser and SPF.
Childs Farm, whose user base is 27 per cent adult, has just launched SPF 30 Sun Lotion Cream, £12. It's unfragranced and made using organic UV filters so a safe bet for young, old, sensitive and eczema (opens in new tab)-prone skin in the sun. For moisture, try Sophie La Girafe Face Cream, £13.99, harrods.com. The silky lotion absorbs quickly, leaving your face quenched and pampered.
It's gentle
According to Dr Jennifer Crawley, Consultant Dermatologist for Childs Farm, one of the primary causes of sensitive skin is using cosmetics with irritating ingredients. 'We're using more products on our skin and more regularly than ever before, leading to an increase in people experiencing reactions such as redness, dryness and rashes.' she says. Fragrance, in particular, is a big beauty no-no for many people, causing dry skin and inflammation, but products designed for children tend to contain fewer irritants.
Dr Crawley recommends looking out for ranges that have naturally derived ingredients. Organic Babies Baby Wash & Shampoo, £8.50, greenpeople.co.uk, is scent-free, while soothing camomile and aloe vera make for a gentle cleanse.
It's effective
Newborns' skin is 30 per cent thinner than adult skin, and therefore more prone to moisture loss. So it's no surprise then that mini-me ranges are pretty adept at locking in hydration, protecting the outer layer of skin, and making sure it doesn't dry out. This is what makes it so good for older complexions.
'As our skin matures, it becomes thinner and in some respects it becomes like the skin of a baby, so that by the time we are in our 70s or beyond we may feel it is "paper thin" and bruises badly. Our veins appear more prominent, and skin is slower to heal,' explains Jayn Sterland, Weleda's Managing Director.
She suggests slathering your body in baby lotion after washing. We love Burt's Bees Baby Nourishing Lotion, £8.99. 'Another good move is to use a baby body wash in the shower,' she advises. Weleda Baby Calendula Shampoo & Body Wash, £7.95, is made with nourishing plant oils to pamper skin, making it a big hit with adults suffering sensitivities.
Also try La Roche-Posay Cicaplast Baume B5 Soothing Repairing Balm, from £7.50, which can be shared among the whole family to soothe myriad skin strops, from nappy rash (opens in new tab) and eczema flare-ups to chapped lips and insect bites. (opens in new tab)
It's complementary
While baby booty can help with dryness and sensitivity, there are issues it can't tackle, like deep-set wrinkles, sagging and pigmentation (opens in new tab). For these, you'll need your anti-ageing heavyweights, such as retinol, hyaluronic acid, antioxidants and vitamin C. However, as baby creams focus solely on hydration, they make a great foundation on which to add targeted treatments based on your skin's needs.
Try something truly neutral like Petit Pai Apple & Mallow Blossom Face & Body Cream, £22, paiskincare.com, which delivers long-lasting hydration and calms flare-ups. We also like Kiehl's Baby Nurturing Baby Cream for Face & Body, £19.50, with shea butter and fruit oils. And as Jayn says, 'My advice is to keep skincare simple and follow your instincts. Listen to your skin – it doesn't need dozens of expensive lotions and potions.' But the baby aisle seems like a great place to start!
Stephanie is a Beauty Editor across five national women's magazine titles, with more than fifteen years' experience working within the beauty industry. She has been shortlisted for multiple awards at the J&J Beauty Journalism Awards, and was the runner-up at the Wella Hair Journalism Awards in 2009. She has written for many brands, including Grazia, Now, More!, Fabulous, Woman & Home, NW, Woman, Woman's Own, Woman's Weekly, Essentials, Best, Chat, Pick Me Up and OK! Online. In 2010 she launched her own beauty blog, which was also shortlisted for Best Beauty Blog in the 2011 and 2012 J&J Beauty Journalism Awards.