Emma Thompson reveals incredible weight loss transformation after dropping two dress sizes
She's dropped around 8kg in just six weeks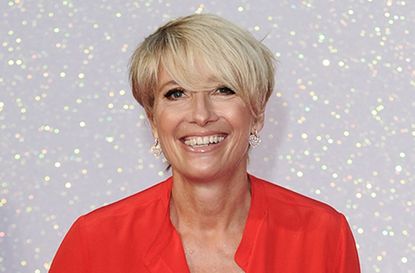 (Image credit: REX/Shutterstock)
Emma Thompson has been looking a lot slimmer lately - and we know exactly why!
The Love Actually actress once told writer Nina Myskow that she had a 'great big zonking bottom', and that she runs outside almost every day so she can 'drink wine' and eat what she 'bloody well want[s] - because around 40, everything changes.'
But now the actress, 57, has since dropped from a size 14 to a size 10 in just six weeks, using a programme devised by Louise Parker, who has also reportedly worked with Kate Middleton.
The Method, as the plan is referred to, shuns fad foods and focuses on an 'anti-diet' approach. Combined with exercise, the weight loss course is said to cost £4,500 for six weeks - and Emma appears to have completed it with some pretty amazing results.
There are four main principles of The Method: wellbeing and good sleep, intelligent exercise, diet and mental positivity.
So, what exactly did Emma do for her fabulous transformation? We investigate...
Make sure your weight loss approach is the right one for you
In the intro to Louise's latest cookbook, Emma is quoted as saying: 'Louise is the only one out there I trust - she's not holier than thou, yet somehow miraculously gets my reluctant arse into gear and sometimes even keeps it there.
'I love that her method is NOT a diet - and is genuinely sustainable - so I can have my glass of wine and manage to avoid spending the rest of the week eating cheesy Wotsits.'
Image: Rex/Shutterstock
Left: Emma in 2009. Right: Emma at the premiere of Bridget Jones' Baby in September 2016
'She toughens me up without driving me round the bend with kale juice and the more depressing style of sprout. She just gets it. We all use her, because she's discreet and funny and that's really important.'
Make wise nutrition choices
The Method avoids foods that have been placed on a health-pedestal - no chia seeds, gluten-free or paleo foods, or kale smoothies here!
'Basically I'm on a mission to top people being organically overweight; that is, eating gluten-free, nut-free, dairy-free, paleo-friendly, chia seed-this and cacao-that things, thinking they're doing all the right things. Instead, they're simply getting fatter, and it's madness,' Louise explains.
Image: Rex/Shutterstock
Emma at an awards ceremony in early 2016
Devotees of the 'anti-diet' can enjoy the food they love in moderation, including bacon, cheese, and even a glass of wine every so often. According to the Daily Mail, Emma would have followed a calorie-controlled diet, consisting of three protein-rich meals a day with low GI carbs and a little bit of healthy fat, and two snacks.
Break a sweat, then get some sleep
As part of Louise's course, Emma underwent daily resistance workouts, six lots of 90-minute resistance training sessions, which involved weights and ballet-like moves. Shewas also weighed every week using some bioelectrical impedance scales, which monitor body fat and muscle weight.
Image: Rex/Shutterstock
Emma at a premiere in early 2016
Good quality sleep is also important after all of that hard work, according to Louise.
'Sleep is a crucial element, as is a digital detox at night. Kindles and mobiles are out, and instead we encourage people to read good, old-fashioned books in bed. It's all boringly simple really, but very do-able.'
Trusted, informative, and empathetic – GoodTo is the ultimate online destination for mums. Established in 2007, our 15-year-strong archive of content includes more than 18,000 articles, 1,500 how-to videos, and 7,000 recipes.