18 struggles every woman with big boobs is having during this heatwave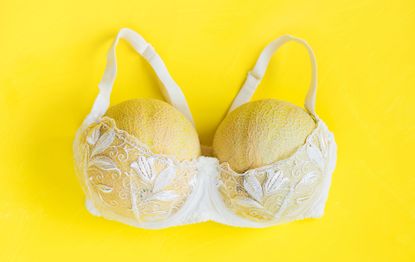 Ah, big boobs. Such a blessing and such a curse.
As much as we love ours, there are times, like during this long, hot summer we're having, that we admit we're in total envy of all the small-boobed women out there.
If you've got a love/hate relationship with your DD+s, you're not alone. Here are the struggles you'll definitely be able to relate to if you're part of the big boob club…
1. That underboob sweat
Ah the underboob sweat. It's a very real problem and one that just loves to taunt us all summer long.
2. And that cleavage sweat
And that's not the only sweat problem we've got going on. Oh no. The struggles of cleavage sweat are just as real. And it's even more on show. Brilliant.
3. You can say goodbye to any exercise
The chances of competing in the parent's race at Sport's Day without nearly flashing the entire school are seriously slim – even with two sports bras on.
4. The summer dress struggle
Let's face it, bigger bras rarely come with nice, pretty straps. Another fact – lovely summer dresses love to come with the thinnest, spaghetti straps going. This is not a winning combo.
5. Your fear of strapless bras
With summer comes our arch nemesis: strapless bras. If you want one that's going to keep those bad boys up for the entire day, you've basically got to look at one 3 sizes too small. You strap 'em in and hope for the best, but know you'll be paying the price with marks for days. Maybe even weeks.
6. Backless dresses – don't make us laugh…
You pick up the perfect, pretty summer dress off the rail, turn it around and...oh, nevermind.
7. Um…built in bras?
And those 'built in' bras, that don't even get over half our bust? Hilarious.
8. Keeping cool = a seriously risqué wardrobe
Everything summery you do decide to wear instantly makes you look like you're ready to perform burlesque.
9. The hell that is bikini buying
Thought packing for your holiday was the hardest part of going away? Yeah right. Finding a bikini you like and that actually fits is pretty much a Crystal Maze mission.
10. First of all you nearly pass out at their prices
Question: why do we have to take out a loan to find a nice looking DD+ bikini? They're either ridiculously expensive or affordable and aimed towards our grandma.
11. You feel like all the stores are against you
And you curse any retailer who sells the top and bottom half in the same size as a set. USELESS!
12. You want to punch the person who thought padded DD+ bikinis were a good idea
PADDING. Like we need any extra help in that department!
13. So you settle with an 'it'll do' bikini
You find one that'll barely just do and hope you never have to get up from the sun lounger or walk faster than 2mph, as you know those lovely lady lumps won't stay put and you're wearing that thing all week - God forbid we have to look for a second one.
15. Sunbathing's far from relaxing
Speaking of sun loungers, there's a reason why we're more tanned on our front half. Good luck trying to get comfy laying on your front for that nice back tan.
16. So you consider buying one of these
Whoever came up with this genius sun lounger for us top-heavy girls deserves all the pay rises!
17. ...and one of these too!
A lilo just for us! Suddenly your boobs don't feel so bad after all.
18. But let's be honest…
You've also definitely started praying for autumn to hurry up. Cardigans and jumpers and days where don't have to risk accidentally flashing anyone, we miss you!