Nick Knowles' estranged wife Jessica reveals her cancer 'guilt' on This Morning
The 28-year-old mother bravely spoke out about her terrible year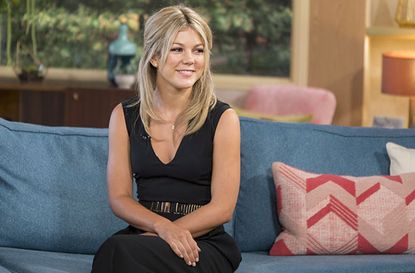 Fitness and lifestyle blogger Jessica Knowles bravely appeared on This Morning to talk about beating cancer, just a week after declaring herself cancer-free on social media.
It's been a difficult year for Jessica, who, at only 28 years old, has suffered the breakdown of her three-year marriage to DIY TV presenter Nick Knowles, shortly followed by a miscarriage and a cervical cancer diagnosis.
But yesterday she spoke out about her experiences on This Morning, admitting to hosts Ruth Langsford and Eamonn Holmes, 'I think one of the hardest things about having cancer, for me personally, was the guilt I felt'.
Being a mother herself, Jessica felt terrible watching her mum's devastation at the diagnosis, 'When my doctor told me I had cancer, I looked at my mum's face and it was the worst thing I could have done. Because I just know as a mum myself. I would take it 100 times over Eddie having it. I think for my mum to have to go through it that was really hard'.
More: What happens at a smear test (opens in new tab)?
Jessica also revealed how she felt she couldn't be the mum she wanted to be for her little boy, Eddie, while recovering from her operation. While telling Ruth and Eamonn that losing her independence has been the 'hardest part', Jessica revealed that after enduring two surgeries 'I haven't been able to lift my son for six weeks, he's only two'.
Jessica looked stunning in a form fitting black jumpsuit that showed off her incredible figure as she said, 'I'm 28, I don't smoke, I don't drink, I'm really healthy' proving that it's important for all women to go get their smear tests (opens in new tab) no matter how fit they feel.
The mum of one originally revealed she'd beaten cancer with a sweet video on Twitter, which showed Jessica telling her 23-month-old son Eddie that she'd recovered.
Jessica can be seen sitting on an armchair, cuddling her son as she asks him 'Do you want to know a secret?'. She continued to tell him the good news, happily repeating 'Mummy is better' while giving him lots of hugs.
She captioned the video, 'After all the love, support and prayers thrown at me from friends and family and all of you, I'm over joyed to tell you, I'm better. Not as over joyed as I was to tell Eddie!'
Jessica, who first revealed her cancer diagnosis at the beginning of July (opens in new tab), tweeted at the time that 'it has been caught early and we are hopeful I can be treated by surgery', and only three weeks later, she was been able to thank Mr. Thomas Ind at the Royal Marsdon for his 'extraordinary work' and successful surgery.
Jessica's estranged husband, TV presenter Nick Knowles, has been supportive throughout her diagnosis, tweeting only four weeks ago 'I, Eddie, & her entire family & many friends love her & stand with her'.
Jessica was able to celebrate in style, tweeting a video with her best friend jumping in a paddling pool in her spacious, country garden while being sprayed with champagne.
The emotional video was set to the music of Katy Perry's song 'Roar' with the words 'Jessica Beat Cancer' filling the screen. Jessica shouted out to her best friend in the caption, which read, 'The PERFECT way to celebrate beating cervical cancer @LaylaLoves BFF in sickness and in health. Real Tears.'
Jessica took a defiant swig of the champagne bottle as she fist-pumped the air and hugged her friend.
Careful to stay safety conscious, the fitness advocate quickly followed up with a cautious tweet warning her 4,600 followers, 'P.s I do not recommend jumping around like that after surgery (was worth it for the moment) compression socks were back on after'
Trusted, informative, and empathetic – GoodTo is the ultimate online destination for mums. Established in 2007, our 15-year-strong archive of content includes more than 18,000 articles, 1,500 how-to videos, and 7,000 recipes.