We earn a commission for products purchased through some links in this article.
John Goodman is looking slimmer than ever, having stuck to his healthy lifestyle over two years after overhauling his eating and exercise habits.
John, 64, was recently photographed at a caricature unveiling looking pleased as punch with his portrait. Wearing a well-fitting grey suit jacket and soft yellow shirt, the actor looked very trim when accepting his picture.
Even his caricature was looking super healthy, as John's face looked visibly slimmer and more sculpted – particularly after a clean shave.
John's weight loss journey began in 2007 when he gave up drinking, but he's since been pushing his goals further with the help of personal trainer Mackie Shilstone.
'This didn't happen overnight – it's been an ongoing process,' Mackie explained in an interview with the New York Post. 'There needs to be strategic planning. This time, he really wanted to do it.'
She added that John had been following a 'Mediterranean-style eating plan' focused around fish, nuts, olive oil, vegetables and fruit, and cutting out sugar in addition to his increased exercise.
John knew something had to change when he got to a point where he couldn't look at himself in the mirror any more.
It was when speaking to ABC News promoting his film 10 Cloverfield Lane last year that John revealed how much his weight had affected his self confidence.
He said: 'I just got tired, sick and tired of looking at myself. You're shaving in the mirror and you don't want to look at yourself. It gets dangerous.'
John caused a stir last year when he was pictured promoting his new Christmas comedy Love The Coopers, wearing a casual blazer-and-jeans combo with a fitted pink shirt that highlighted his slimmer frame as he 'ran' around the premier with his co-stars.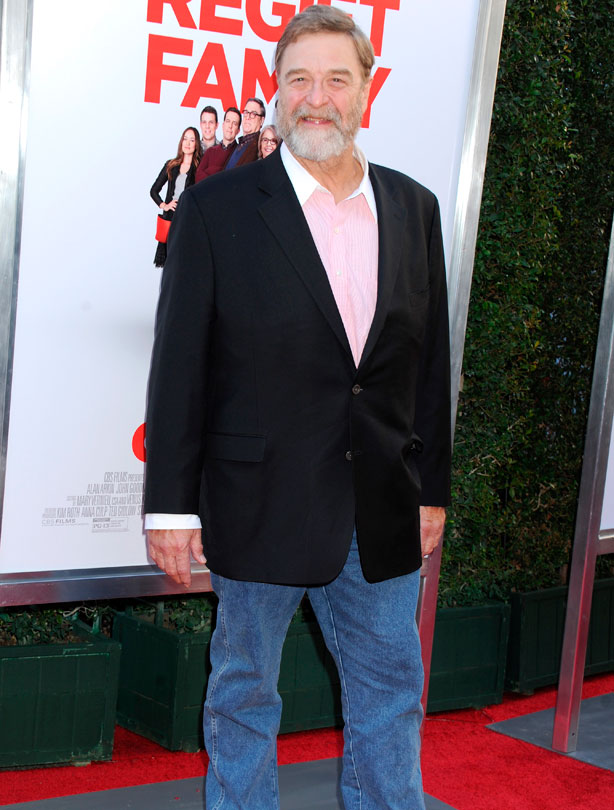 John at the Love The Coopers premiere in November 2015
In 2011, John admitted to David Letterman that at his heaviest, he weighed in at 400lb (over 28 stone).
'I'd get off of Roseanne every spring. I'd lose 60 pounds every spring,' he revealed. 'Then I got too fond of the barleycorn. I'd gain it back and then some, every year. It's going to be an ongoing process for the rest of my life.'
John at the In the Electric Mist red carpet premier in February 2009
Now, through a combination of his healthier diet, training plan and aiming to walk between 10,000 and 12,000 steps per day, John appears to be on the right track.
'It takes a lot of creative energy to sit on your ass and figure out what you're going to eat next,' he said to People magazine.
'I want to live a better life. I'm breaking a sweat but I'm not going nuts.'