Foods for healthy joints: Expert-approved foods for joint pain and bone health
Feeling creaky? Try these expert-approved foods for healthy joints and reduce the niggling aches and pains that come as we age. With some easy tweaks to your diet you can improve your joint pain and overall bone health.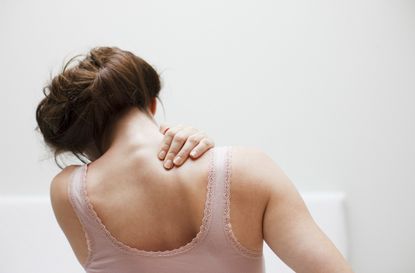 Goodto Newsletter
Parenting advice, hot topics, best buys and family finance tips delivered straight to your inbox.
Thank you for signing up to GoodTo. You will receive a verification email shortly.
There was a problem. Please refresh the page and try again.
Feeling creaky? Try these expert-approved foods for healthy joints and reduce the niggling aches and pains that come as we age. With some easy tweaks to your diet you can improve your joint pain and overall bone health.
'The decline in oestrogen production during the menopause can be partly responsible for loss of bone density,' says Lola Biggs, dietician and Together Health ambassador. 'This loss is felt more for those who have inadequate stores before the dip and as these mineral storage facilities are completed in our mid-20s, we are unable to add to this over a certain age, so what we invested when we were young has to pay off as we age.'
If we're low on minerals, our body leaches them from our bones, depleting joints. But by ensuring our diets are bountiful, you can give your joints the support they need…
Blueberries
'Dark-coloured fruits and vegetables contain antioxidants that combat the oxidative stress caused by exercise,' says nutritionist Fiona Lawson. 'They also contain vitamin C, which helps to make the collagen found in your cartilage, tendon and ligaments.' Stock up on blackberries, blueberries and red cabbage and consider taking targeted supplements that include the joint-supporting vitamin C.
Turmeric
'Turmeric is famous for its anti-inflammatory properties,' says Henrietta Norton, nutritional therapist and founder of Wild Nutrition. 'Research has shown that when used in therapeutic doses, it may reduce joint pain and tenderness, cartilage degeneration and joint inflammation.'
Herbal teas
'Drinking enough fluids is vital for joint health, as it helps to remove toxic metabolic waste and dead cells that are produced in higher quantities where there is inflammation, as well as delivering nutrients to the tissues,' says Emma Thornton. Herbal teas are ideal for this. 'Nettle tea is high in minerals to support bones; green tea may be a good source of antioxidants to combat free radicals; and rosehip tea may have good anti-inflammatory properties,' she explains.
Sardines
'Oily fish, such as herring, mackerel, sardines and salmon, is rich in omega-3, which can have a positive effects on inflammation,' says Emma. 'Sardines are also rich in magnesium, which encourages the proper absorption of calcium. Without sufficient magnesium, calcium may be dumped in excess in and around the joints.' Magnesium not only helps muscles to relax, but those with low magnesium levels tend to feel more pain.
Devil's claw
'Research has shown that herbs, such as Devil's Claw or Sigesbeckia tablets, taken orally may relieve muscle aches, joint pain and backache,' says Dr Dick Middleton, retired pharmacist and director of the British Herbal Medicine Association (bhma.info). Try A.Vogel Atrosan (£10.99, avogel.co.uk), which contains Devil's Claw to reduce aches and pains in joints.
Ginger
Several studies have shown that ginger is beneficial for those with osteoarthritis, says Dr Sarah Jarvis. 'One piece of research, which looked at a large number of studies, showed that ginger was effective and reasonably safe for treatment of osteoarthritis,' she says.' Try 3-4g of ginger per day, whether it's in the form of ginger tea, a teaspoon of ground ginger in your coffee or adding raw ginger to a smoothie.
Boswellia
'One study compared people with osteoarthritis of the knee using boswellia and standard treatments with others who just had standard treatment. People treated with boswellia (a type of plant, taken as a supplement) could function better, had less pain and stiffness and could walk farther than those without,' reveals Dr Sarah Jarvis. 'In another study of patients with knee osteoarthritis, boswellia was as effective as an anti-inflammatory painkiller over six months.'
Cheese
Calcium-rich foods like cheese, yogurt and milk are great for joints. 'Dairy is the obvious choice, but not always fitting with everyone's lifestyle,' explains Lola Biggs. If your consumption of dairy is limited by intolerances, allergies or diet choices, then there are other ways for you to get the calcium intake you need. 'Plant-based sources of calcium include sesame seeds, tahini and leafy veggies that are low-oxalate such as kale, broccoli, and bok choi,' says Lola.
Apple cider vinegar
'Dehydration is often a trigger for joint pain, so keeping well hydrated is important,' says nutritionist Emma Thornton. By adding apple cider vinegar to our diets, the amount of joint pain caused by too much uric acid is reduced. 'Taking a teaspoon to a tablespoon of apple cider vinegar with a teaspoon of honey in a glass of water in the morning can help reduce acidity,' she says.
Pineapple
Got a sweet craving? Skip processed treats and opt for natural sugars from fruits instead. 'Fresh fruits, such as pineapple, papaya, mango and guava all contain digestive enzymes that help reduce acidity in the body,' says Emma Thornton.
Foods for healthy joints: Super supplements
Together Health Joint Aid, £10.99, togetherhealth.co.uk - contains boswellia and curcumin to ease joint inflammation.
New Nordic Free To Move Supplements, £29.95, newnordic.co.uk - with vitamins C and D, plus magnesium to support joint function.
FlexiQule, £16.99, alchemlife.com - fuelled by ginger, these are found to decrease joint pain in 59% of people.
Wild Nutrition TurmaForte Full Spectrum Turmeric, £32, wildnutrition.com - clinically proven to reduce joint pain by 86% in 21 days.
Sense for Joint & Bone Superfood powder, £19.99, senseproducts.co.uk - this powder is great added to smoothies for a hit of calcium, vitamin C and ginger.
Parenting advice, hot topics, best buys and family finance tips delivered straight to your inbox.
During her four years at TI MEDIA, Eleanor has worked on various titles, including Woman & Home, Feel Good You, Woman's Own and Powder, covering beauty, health, nutrition and wellbeing topics. Since graduating from the University of the Arts London in Fashion Journalism, she ventured down the beauty and health path and has worked across digital, social media, video and print, and was highly commended at BSME Talent Awards in 2017. From acne to eczema, she can talk endlessly about skin conditions and has jumped in -180C ice chambers, eaten just salmon for a week straight and tried pore-suction facials in the quest for well-behaved skin. She has also written about sleep, hormones and gut health amongst the latest wellbeing and self care trends. When Eleanor's not working, you'll often find her on a run in London or her hometown of Brighton, where she did her first marathon – but was beaten to the finish line by Scooby Doo. Post-run, she'll most likely be settling down to watch a documentary with a spoon and nut butter jar in hand. Follow her on Instagram @eleanorvousden.