Josie Gibson poses in her underwear after undergoing tummy tuck to remove excess skin
The star famously lost seven stone to shrink from a size 20 to a size 8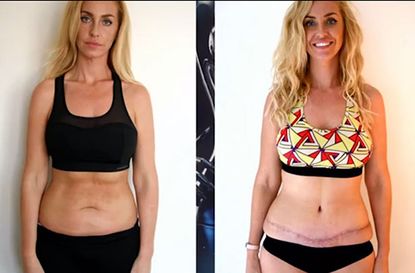 Josie Gibson revealed the results of her tummy tuck operation on an episode of Channel 5's Botched Bodies, which will air this Sunday..
Josie's weight loss has been nothing short of staggering, famously shedding an impressive seven stone to shrink from a size 20 to a size 8.
However, her drastic slimming had left her with excess skin, something which the Big Brother star has openly struggled to accept.
Now, Josie has undergone surgery to remove the unwanted skin, and couldn't look happier with the results as she unveiled her new stomach on the show.
Images: Channel 5
'I spent so many years either being obese or having this skin, now I feel all that bad energy has been cut away and my life has just begun,' she says during the episode. 'This is the size I am meant to be.'
Speaking to new! magazine about the procedure at the end of last year, she said: 'I was so nervous, because I was on my own.
'Then I woke up and I looked down and could just see flatness. I was like "Whoa! I can see my vagina in full vision!"'
Image: © James Rudland for new! Magazine
Josie continued: 'I've had 6lbs of skin cut away! But I'm probably several pounds heavier than I was because I've not done any exercise. I was 10 10lbs before the operation and now I'm 11st 5lb. And I reckon I am a big size 12.'
Opening up about the after effects of the procedure, Josie hinted that not being able to exercise straight away has left her feeling depressed.
'The (affects) have been a nightmare. I've been so depressed... I didn't realise how depressed I'd be without exercise. I am so happy I've had the surgery, but I'm definitely a people's person.'
The Big Brother star has lost a staggering seven stone
The 31 year old also revealed that she waited a long time to have the surgery because of fears over what it meant for her having children. 'I've been debating a tummy tuck since 2013, but I've always been too scared. Then there was a big debate about me having children,' she said.
'I went to one surgeon and he said, "You're 31, I'd rather do it after you've had children". But then I thought, "What if I don't ever have any children?" They're not on the menu. It's like waiting around for a steak when you're in a vegetarian restaurant.'
Josie showed the Loose Women panel her excess skin back in June
Josie appeared on Loose Women in June to talk about the effects of losing so much weight and even revealed her excess skin on the show.
Talking to the panel, she said: 'I'm going to see a surgeon on Monday. I can't do anything about it. I've been to see so many consultants and the only thing they can do is cut it away,' she added.
'Part of me thinks, Josie, be happy with what you've got but the other part thinks, well you only live once you might as well have the body you want to have.'
Read Josie's full interview in the latest issue of new! magazine, in stores now