Lisa Riley's Baggy Body Club: Star reveals her one regret about her 12 stone weight loss
'I just wish I had done it sooner'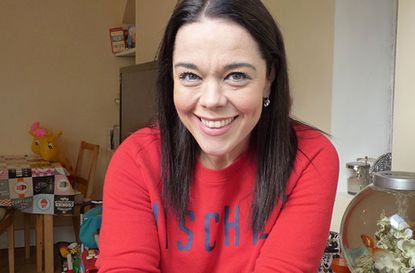 Lisa Riley has opened up about her only regret over her 12 stone weight loss (opens in new tab) as part of her new ITV show, Lisa Riley's Baggy Body Club.
The former Emmerdale star, 41, admitted that she wished her mother Cath had been alive to see her incredible transformation, saying: 'I just wish I had done it sooner so she could see what I have achieved. The other day I found the outfit I wore to her funeral, you could house five people in it.'
'In my head that is the last outfit she saw me in. Now I am a fifth of that size.'
Lisa's mother passed away five years ago after a battle with cancer, and she has since described her as her 'guiding light'.
'I've lost the weight, had the ops, I'm sticking to my food plan and training like mad in the gym. Everything is becoming muscle and toned in the right places. I think my mum would be blown away,' she added.
Lisa began her weight loss journey 18 months ago, and has since lost an incredible 12 stone - a process which left her with significant loose skin. Lisa Riley's Baggy Body Club will follow her as she undergoes several surgeries to remove the excess skin and 'more than 60 stretch marks.'
Speaking to The Mirror, she added: 'When I made the decision to lose weight, I never for one second imagined that I would end up looking like that. It never occurred to me that the loose skin would be so bad. I was revolted by my own image, it was rancid.'
'This documentary is the thing I am most proud of in my life. I wanted people to see that surgery isn't the easy route, it is really hard. But the results I have got are amazing.'
Lisa Riley's Baggy Body Club will air on ITV at 9pm on Tuesday 5th September