'I actually prefer a curvy body' Martine McCutcheon opens up about her weight loss
The actress says her son has changed her views on body image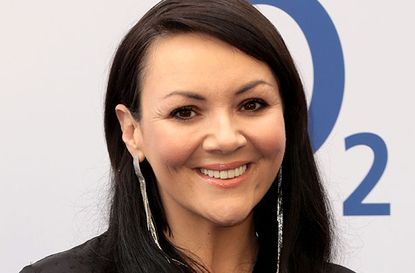 Martine McCutcheon, who welcomed her first child two years ago, has opened up about her relationship with her body after her recent weight loss.
'My cheekbones keep me youthful,' she admitted to the Daily Mail during an interview about her style. 'When you are young, you look like you've a chubby face and then, as you get older, they stand you in good stead.'
'I hate the fact that I am not skinny. I was a size 14 and now I am a 12. I am 5ft 7in and I've big boobs and hips and little waist.'
'I actually prefer a curvy body, but for ease every day, it would be lovely to be straight up and down because then you can throw on anything and it will hang nicely.'
The Love Actually star has recently lost more than a stone on the Cambridge Weight Plan diet, while also struggling with Lyme disease and ME.
'When I was battling ME, we went on a Jason Vale retreat,' she added of her new healthy lifestyle. 'You have juices and then slowly introduce foods that you can digest easily, such as goat's cheese salad. It gives your body a spring clean.'
'Now we have lots of green juices and try to eat as many fruits and vegetables as we can. But I also think it's important that you don't deny yourself anything for too long — when I heard that Madonna has one day off a week from exercising, I thought, that's good enough for me!'
The former EastEnder also revealed that her guilty pleasure is 'eating Toblerone and watching the Kardashians', proving that her sensible eating approach is all about balance!
In an earlier interview with HELLO! magazine, Martine spoke about how her body confidence has changed since her weight loss, saying it now feels more 'genuine'.
'Before I lost the weight I'd switch the confidence on when I needed to. In the industry I've grown up in, you're so scrutinised, it's what you do; you put on your face and go out there, even if inside you don't feel at all good about yourself', she told the publication.
'Now, that confidence feels more genuine. I set myself a goal and I've achieved it and, while a stone might not sound like a lot to some people, on my frame it has made a huge difference, not just to how I look but how I feel about myself.'
Martine also discussed how she managed to achieve her incredible weight loss goals, saying she avoided doing anything 'drastic' as she wanted to feel fit and strong after her previous health battles.
'Because I've spent so long fighting to feel healthy again, I didn't want to do anything too drastic that was going to make me feel lousy, but after having Rafferty I found it so tough to lose my baby weight and that does start to affect your self-esteem.
'I'd tried the Cambridge Weight Plan before and had great results. I needed something that would work swiftly because I think you can lose the will if you're not seeing results quickly enough. But it's rigid enough for me not to stray.'
The former Eastenders actress also said that becoming a mum put everything in perspective, including her weight worries.
'I give thanks every single day that motherhood is something I've been blessed to experience. It sounds like such a cliché but having Rafferty really did put everything into perspective.
'All those things I'd worried about all my life – the career, the weight; all seemed trivial in comparison to this little person we had created. Once I'd got that perspective, the rest seemed to fall into place.'
The mum-of-one has always been very open about the body image pressures of growing up in the public eye.
'People spoke about me like I was a piece of meat and I can't believe that's still going on in this day and age,' she told The Mirror.
'I'm sure people still say horrible things now, but it's water off a duck's back because I have an anchor within myself. But it's so dangerous when you are younger.'
Despite brushing off the comments in recent years, Martine also admitted that it hasn't always been that way, and during her teenage and young adult life she felt huge pressure to fit into sample sizes and to look good on camera.
'Growing up in the public eye, you are judged by everybody and you work hard to try to keep everyone happy… I was always conscious of staying as thin as I could be,' she said before continuing, 'It looked better on camera, meant I could fit into size 8 samples sizes, and it was easier and more affordable with stylists.'
Rosie is an experienced food and drinks journalist who has spent over a decade writing about restaurants, cookery, and foodie products. Previously Content Editor at Goodto.com and Digital Food Editor on Woman&Home, Rosie is well used to covering everything from food news through to taste tests. Now, as well as heading up the team at SquareMeal - the UK's leading guide to restaurants and bars - she also runs a wedding floristry business in Scotland called Lavender and Rose.