Paul O'Grady marries ballet dancer boyfriend Andre Portasio
The TV personality has married his partner in a London ceremony, attended by friends and family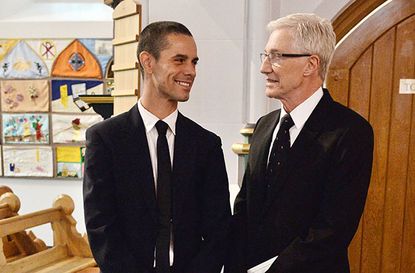 (Image credit: Ray Tang/ITV/REX/Shutterstock)
Happy news for TV favourite Paul O'Grady, who has married his partner of 11 years, Andre Portasio.
The ceremony is thought to have taken place on 5th of August, with the newlyweds keeping their matrimony a secret between just them and a handful of about 50 friends and family.
However, now details have been released from the wedding, and it sounds just as glamorous as you'd expect an O'Grady soiree to be!
Currently filling the shoes of his old pal Cilla Black presenting the revamped series of Blind Date, Paul clearly has love on the brain, marrying ballet dancer Andre in an elegant ceremony at London's Goring Hotel.
The vows were followed by champagne on the hotel's private lawn, after whch guests were reportedly treated to a celebratory dinner of cured sea bream and glazed ox cheeks.
Speaking to The Sun, a source said: 'Paul is as happy as he's ever been to be married to Andre.'
'They kept the wedding to just their closest family and friends and had a big meal afterwards to celebrate.'
The 'closest friends and family' the insider mentions are said to have included Golden Globe winning actor Ian McKellen, and fellow TV personality and comedian Julian Clary.
This isn't Paul's first marriage; he was in fact married to close friend Teresa Fernandes for many years until the early noughties, though the couple were never in a romantic relationship.
'We worked in a club in Westbourne Grove, London, when I was 22. She was from a very strict Catholic family and was always being hassled by them: "Why aren't you getting married?" So I said: "Come on then, we'll get married", and we did,' he explained in the past.
Throughout their platonic arrangement, Paul was dating his manager Brendan Murphy, who sadly died unexpectedly from brain cancer in 2005.