Paul O'Grady's husband, daughter and dog - everything to know about the late star's family life
The entertainer passed away on March 28 aged 67.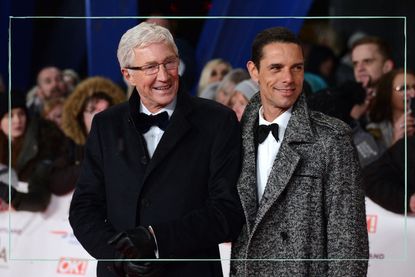 (Image credit: Future/Getty)
Paul O'Grady leaves behind his long-time husband, daughter and a number of beloved rescue dogs.
March 28, 2023, marks a sad day for the British entertainment industry as fans learn the news that Paul O'Grady has passed away aged 67. The much-loved comedian and TV talent rose to prominence in the 1990s for his drag act Lily Savage. During his 30-plus years in entertainment, Paul was behind hits such as Blankety Blank, Blind Date, The Paul O'Grady Show and For the Love of Dogs. Last year also saw Paul quit his Radio 2 show after 14 years on air.
Off screen Paul was happily married to his partner of 17 years, who he married in 2017 at a small ceremony with close friends and family. We share details of Paul O'Grady's husband, his children and the furry friends he was so passionate about.
Who was Paul O'Grady's husband?
Paul O'Grady was married to Andre Portasio - a retired professional ballet dancer who used to perform with the English National Ballet. The two met and began dating in 2006, going on to tie the knot in August 2017.
The private ceremony took place at London's Goring Hotel with celebrity friends including Sir Ian McKellen and Julian Clary in attendance. It was the latter who persuaded Paul to take his relationship to the next level. "Julian put the seed in my head," the comedian recollected. "He said, 'I've got married. You should'. And he's right, then you protect your partner. If anything happens to me, he is pro­­tected. It makes sense."
There was a 25 year age gap between Paul, 67, and his husband Andre, aged 42. According to Kent Live, the two lived together on a farm in Adlington, near Ashford in Kent. The large property includes a fruit orchard and outdoor swimming pool.
In an interview with the Sun, Paul opened up on the couple's living arrangements. Originally Paul and Andre lived apart but moved in together during the pandemic. Nevertheless, the two settled on having separate bedrooms and bathrooms.
"I remember Joan Collins on my show saying the secret to a happy marriage was different bathrooms. She was right — and separate bedrooms also work a treat. I don't like sharing a bed," Paul told the publication. "What if I want to read? I also have to listen to the shipping forecast before I sleep."
In March 2023, Andre dedicated a sweet social media post to his husband, sharing his pride at his partner's work. The post included a promotional poster of the touring Annie the Musical UK production, in which Paul O'Grady was playing the infamous Miss Hannigan. The caption read: "Wishing Miss Hannigan and all the cast of Annie a wonderful week in Scotland. Proud of you @paulogrady for your commitment, dedication and of course TALENT #theatre #musical #edinburgh"
Andre shared the sad news of Paul's death a week later on March 28. In a statement, he confirmed that Paul passed away "unexpectedly but peacefully" at the age of 67.
"It is with great sadness that I inform you that Paul has passed away unexpectedly but peacefully yesterday evening. We ask, at this difficult time, that whilst you celebrate his life you also respect our privacy as we come to terms with this loss.
"He will be greatly missed by his loved ones, friends, family, animals and all those who enjoyed his humour, wit and compassion. I know that he would want me to thank you for all the love you have shown him over the years."
Was Paul O'Grady married before?
Prior to his marriage to Andre, Paul O'Grady was married to Portuguese model Teresa Fernandes, in what the TV star deemed a "marriage of convenience". The two wed in May 1977 and legally divorced in 2005.
Despite being married, Paul maintained that he never had a relationship with Fernandes. He met his first wife at gay club Showplace in 1976 and claims they tied the knot to prevent Teresa's deportation.
Paul said of the union: "Teresa, I call her the lesbian Portuguese barmaid, was lovely. She looked like David Cassidy.
"We worked in a club in Westbourne Grove, London, when I was 22. She was from a very strict Catholic family and was always being hassled by them: 'Why aren't you getting married?' So I said: 'Come on then, we'll get married', and we did."
Though the two were married for 28 years, they lost touch, with Paul admitting he almost forgot the nuptials had happened. "I had no idea we were still married until my manager Brendan said: 'If anything happened to you, everything would go to your wife. It's like a real-life Corrie storyline," he added.
The divorce was finalised in 2005 and a year later Paul met Andre.
Did Paul O'Grady have children?
Yes, Paul O'Grady has a 48-year-old daughter called Sharyn Mousley. The TV star welcomed Sharyn with friend Diane Jansen back in 1974.
Paul and Sharyn had a close relationship, with his daughter joining her dad at Buckingham Palace when Paul received his MBE in 2008. Paul also gave Sharyn away at her wedding to Philip Mouseley.
Of the wedding, Paul said: "It was a really great day. Sharyn looked fabulous and Philip is a smashing fella. They fit together like a pan and a lid. Sharon wore a lovely floaty pale pink dress – because she looks shocking in white. She looked like a Disney princess."
Sharyn made Paul a granddad in 2006, following the arrival of son Abel. Daughter Halo followed in 2009.
In an interview with Women and Home, Paul O'Grady shared how "grandkids are the greatest reward of fatherhood".
"I became a dad at the age of 17 and didn't really get to see a lot of my daughter when she was little, but I did with the grandkids. Watching them grow up is wonderful. I think 'My god. I've kept the chain going!'"
How many dogs did Paul O'Grady have?
At the time of his death, Paul O'Grady and husband Andre shared five dogs together - Arfur, Conchita, Eddie, Nancy and Sausage, known as Soz. Though the comedian was a dog dad to many more during his lifetime.
Many will remember his pet pooches Buster and Olga who appeared with Paul on his ITV and Channel 4 programme The Paul O'Grady Show. Sadly Buster, a shih tzu-bichon frisé cross, had to be put to sleep in 2009 after beign diagnosed with cancer.
Paul acknowledged his death on the show, explaining that Buster had cancer in his neck and face and a tumour on his leg. "The kindest thing for me to do was to let him go," he said.
O'Grady's other famous dog Olga, a Cairn Cross terrier, continued to appear on the show until it went off air in 2009. Paul later announced that Olga was put to sleep in 2018 after suffering kidney failure.
"She was widely loved. She had her own fan club," Paul said at the time. "I'm really sad but there was no choice but for Olga to be put to sleep."
In addition to his TV and theatre work, Paul will be remembered for his love of canines. He fronted the ITV show Paul O'Grady: For the Love of Dogsfor 9 seasons. The show saw Paul visit Battersea Dogs and Cats Home, meeting some of the animals there and the people who look after them.
Details of Paul O'Grady's funeral are yet to be confirmed.
Video of the Week
Emily Stedman is the former Features Editor for GoodTo covering all things TV, entertainment, royal, lifestyle, health and wellbeing. Boasting an encyclopaedic knowledge on all things TV, celebrity and royals, career highlights include working at HELLO! Magazine and as a royal researcher to Diana biographer Andrew Morton on his book Meghan: A Hollywood Princess. In her spare time, Emily can be found eating her way around London, swimming at her local Lido or curled up on the sofa binging the next best Netflix show.