Sue Perkins reveals that her brain tumour diagnosis led to a 'very, very dark time'
She said that the tumour caused 'epic destruction'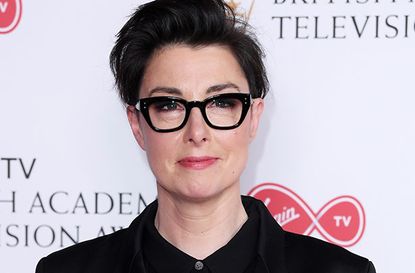 Sue Perkins has opened up about how her brain tumour diagnosis (opens in new tab) led to a 'dark' and 'destructive' period in her life.
Former Great British Bake Off star Sue, 47, first revealed that she'd been told that she had a benign tumour back in 2015, adding that she'd been living with the growth for the previous eight years.
Now, during a recent appearance on Radio 4's Desert Island Discs, she has spoken out about the devastating impact that the condition, which has also left her unable to have children, had on her in the months following her diagnosis.
'In this small, very clinical white side room, this woman said "your bloods are very awry and you have a brain tumour",' Sue said of the moment she was informed.
'It's only really now that I consider the epic destruction this tiny little rice-shaped thing in my pituitary gland has caused.'
She continued to detail how, when the tumour started to 'make its presence felt', it led her into a 'very, very dark time', including the end of a relationship (Sue is now dating Channel 4 presenter Anna Richardson).
'I literally destroyed my life from the inside out,' she admitted to Desert Island Discs host Kirsty Young. 'I always like to think that I'm accountable for everything that I do, but I'll never understand how I did some of the things I did.
'I walked out of my life. I ended a relationship.'
It was only after the loss of her father, who died of a terminal tumour, that Sue was able to seek help.
'It's taken this time to look at the wreckage,' she concluded. 'To piece it together, say sorry and make amends and be healthy and better. I didn't have enough self-love for such a long time to take it seriously.
'It's been a very challenging time and I think the best thing I can do to honour him is to get myself sorted at least to make myself right.'
When she first shared news of her diagnosis, Sue detailed the implications on her ongoing health: 'I'm lucky that it's benign so it's not in itself a worrying thing. Sometimes it's big and makes me mad, and sometimes it's small and is in the background.'
'Sometimes it screws up my hormones. I have various tests now to make sure the side effects aren't too onerous.'