'I'm done with dieting!' Ruth Langsford embraces her post-menopause body
Has This Morning presenter Ruth Langsford finally fallen in love with her body?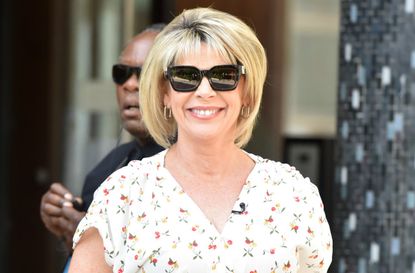 (Image credit: Getty)
GoodTo newsletter
Sign up to the GoodTo Newsletter. You can unsubscribe at any time. For more information about how to do this, and how we hold your data, please see our privacy policy
Thank you for signing up to . You will receive a verification email shortly.
There was a problem. Please refresh the page and try again.
Has This Morning presenter Ruth Langsford finally fallen in love with her body? Our sister publication Woman's Own, took a look at the changes she's made...
"I don't care now, I'm too old to worry," were Ruth Langsford's comments about her looks on This Morning a few weeks ago – a far cry from just six months ago when she admitted she was "sick of gaining weight" and felt "uncomfortable" in her clothes.
After hitting 50 and the dreaded menopause (opens in new tab), Ruth, 59, admits her body changed, and she struggled to come to terms with it. But now, the presenter has a fresh attitude when it comes to her image, and is instead enjoying eating what she likes and living life to the full.
Food first
While this time last year Ruth's social media posts were full of healthy meals (opens in new tab) such as a 'power brunch' of avocado (opens in new tab), eggs and smoked salmon, fast-forward a year and things are remarkably different.
Enjoying a dinner out, Ruth recently shared a video of her food on Instagram and wrote, "Delicious early dinner. Beautiful, fresh, Lebanese food… ate WAY too much!"
It seems food and family time come hand-in-hand for Ruth, as she's enjoying eating out and cooking hearty meals at home with her mum Joan. "Preparing Sunday lunch with my mum… priceless," she gushed on Instagram.
And sharing a picture of their dinner drinks, Ruth wrote, "A chilled sherry for the chef and the potato peeler!! Cheers mum."
Clearly enjoying indulging, she later shared a cake (opens in new tab) she made, admitting, "Sponge has not quite set. Nothing a bit of custard and clotted cream (opens in new tab) can't fix!"
Ditching workouts
It's not just super-healthy meals that Ruth appears to be sharing less with her followers – she's also stopped posting videos of her workouts (opens in new tab) on Instagram in recent months.
Last year, she admitted, "One stone is all I need… to lose." And she added after another workout, "Worn out but happy!"
Plus, the TV presenter has always enjoyed sharing her 10,000 steps a day challenge with followers – even once joking, "Is it called "exercise bingeing" after completing a workout plus a dog walk in one day.
But she hasn't posted a walking video since 29 May, instead focusing on her TV work and QVC fashion range.
Menopause weight gain
After comfortably fitting into a size 12 for most of her life, Ruth admitted that it hit her hard when the menopause came along and caused her weight to balloon.
"When I put on any weight, I can't shift it and that's making me a bit fed up," Ruth told Woman earlier this year.
"I was basically a size 12 all my adult life, and then, when I hit 50, the weight crept up and 12s were feeling a bit snug.
"Eventually I went, 'Ruth, just admit it, you're now a size 14', and I was fine with that. And now everything that is a 14 is tight. I eat healthily and go to the gym, but it's just not shifting."
The only thing that helped her was Strictly Come Dancing in 2017. "When I did Strictly, everything suddenly started to fit and I had my waist again," she said.
"But you can't recreate that kind of exercise in real life. I don't obsess about it, but I feel uncomfortable, like I'm squashed into my clothes."
A fresh attitude
In stark contrast, just a few months later, Ruth is embracing her new curves and is no longer worrying about what size clothes she wears. "I'm a size 14 with big boobs and I wear a size large," she happily confessed to fans last week when hosting a Q&A session about her clothing range on Instagram.
Even when her cheeky husband Eamonn Holmes joked on This Morning, "Imagine how much more gorgeous you could be if you gave up booze," Ruth replied, "Never going to happen, I don't care now, I'm too old to worry."
That's the spirit, Ruth!