Actress Helen Flanagan gets candid about being a 'young mum' and keeping her kids off social media
"I've always wanted to be a mum - I've always been broody"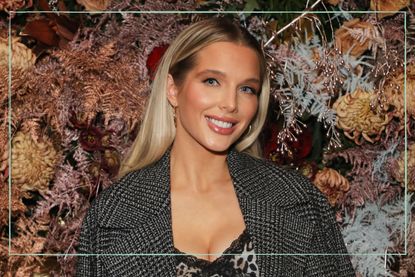 (Image credit: David M. Benett/Dave Benett/Getty Images for Primark))
Former Coronation Street star Helen Flanagan has opened up about her life as a 'young mum' and shared how she deals with co-parenting her three young children.
Last month [April 2023] Helen Flanagan split from her footballer fiancé Scott Sinclair, who is the father of her three children Matilda, eight, Delilah, five and two-year-old Charlie. The seperation means that the pair are now co-parenting, though Helen recently admitted in an interview with Grazia's parenting community The Juggle that she does have the kids 'the majority of the time', as their dad is away playing football for Bristol Rovers a lot.
Following the split, the actress has opened up about her life as a parent, candidly sharing the ins and outs of her journey through motherhood that began when she was 24 years old.
Speaking about being a 'young mum' and watching her friends experience motherhood for the first time as a now mum-of-three, she told The Juggle, "When I was 18 I wanted a baby! I've always wanted to be a mum. I've always been broody.
"I'm 32 and a lot of my friends who are having kids now have already done everything. They've gone on all the crazy holidays and had lots of boyfriends and really lived their lives. I had Matilda younger, so there's still lots of things I want to do. We're very close – I'm so lucky, she's so beautiful and the most well-behaved little girl."
Commenting on her parenting style, the actress admitted that she is 'probably not the most organised mum,' but that she is 'very loving' and the kids always help her to keep a positive mindset.
She said, "What I think is really important, as a mum, is to say sorry to your children when you're in the wrong. If I'm ever snappy because I'm stressed about something and I know I've snapped at them, I always say sorry to my kids. And I always say they can tell me anything and mummy just loves you how you are.
"You don't own your children! They have their own minds. I just say mummy is there to hold your hand with whatever decisions you make. I'm probably not the most organised mum, and I'm definitely ditsy, but I'm very loving.
"All three kids are totally different but I feel really blessed to have my children. Having kids gives you such perspective. You can be having a really bad day where everything is going wrong and you feel like you can't cope but then I just go, 'Are my kids ok?', then I'm like, right, it's not that bad. Even when you're going through things yourself, you just think you've got to keep strong for the kids."
But, like any parent, there are certain things Helen worries about when it comes to her children. She told The Juggle, "I never keep my eyes off my children. They're always with me or my friend – obviously since Scott lives in Bristol I have three kids on my own most of the time so I have a friend who works for me and helps me with my children.
They're either with me, my friend, my sister, my mum or Scott and his mum. They're always with people I know. But I have had it a few times in a supermarket where I turn around and think, 'Where are they?!' and it's the worst feeling in the world."
There's also the world of TikTok for Helen to worry about, especially as her oldest daughter reaches the age where her friends are getting on the app. But while the star is adamant her kids should stay away from social media, she is willing to make a compromise and knows her co-parent will back her up.
"My little girl wants TikTok and I feel bad because a lot of my work is on social media and I'm always on my phone," she admitted. "My little girl who is eight is always like, 'Mummy, can I have TikTok?' and I don't want her to have it. But any big decisions like that, me and her dad make together.
"For example, if she wants to get her ears pierced I'm quite chilled about it but he doesn't want her to, so she won't. If you're co-parenting you have to respect each other. If I didn't want her to do something I know he'd go, 'Helen's a good mum' and it wouldn't be done. But I have said we can start a YouTube together."
Royal News and Entertainment writer
Charlie Elizabeth Culverhouse is royal news and entertainment writer for Goodto.com. She began her freelance journalism career after graduating from Nottingham Trent University with an MA in Magazine Journalism, receiving an NCTJ diploma, and earning a First Class BA (Hons) in Journalism at the British and Irish Modern Music Institute. She has also worked with BBC Good Food and The Independent.